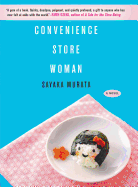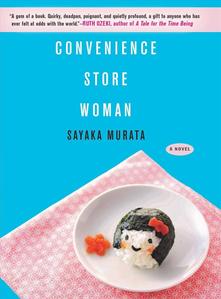 In the opening pages of Convenience Store Woman, Keiko Furukura is in her element, at work in the Hiiromachi Station Smile Mart. She knows what the displays need, how properly to promote the day's featured item, when the cold drinks need replenishing; she reads her customers expertly: "Instantly I deduce that he will use electronic money." She is a valued employee and good at her job. The mingled beeps, dings, rustles and clacks of the convenience store form a "sound that ceaselessly caresses [her] eardrums."

Few situations in Keiko's life have been so easy. In primary school, she often responded to the world in ways others thought wrong: offering to cook and eat a dead bird on the playground, applying a shovel to the skull of a classmate in order to break up a fight. She wasn't a violent child; these just seemed like practical strategies. She couldn't understand why the teachers at school got upset. Life presented a series of puzzles she could not decipher, until the day she went to work at the Smile Mart. The convenience store offers Keiko a uniform, a series of set lines to be spoken to customers and a manual for staff behavior. She copies her coworkers' choices in clothing and cosmetics, mimics their speech patterns and facial movements, and learns to play the part. She's never felt so successful: no one notices that she's different anymore. "Here in the convenience store we're not men and women. We're all store workers." And so she has been a store worker for 18 years.

Convenience Store Woman, Sayaka Murata's English-language debut, is a compelling novel about conformity in society, and the baffling rules applied in work and life. Murata's protagonist is likable, if a bit baffling herself. Ginny Tapley Takemori's translation feels just right for the slightly off-kilter reality of this thought-provoking story: Keiko's first-person narrative is earnest, if continually challenged, in attempting to decode the world around her.

Keiko is attuned to the ways people act, speak and move; she suspects they are all imitating each other, just as she is imitating them. She studies these behaviors to lower her own profile, but remains honestly unclear why careers, marriage and children are desirable goals. When a new employee comes along who also has trouble fitting in--but who hasn't mastered the act as much as Keiko has--she is intrigued. Tired of everyone questioning her lack of a husband or a "real job," Keiko takes a risk. But it may cost her the carefully constructed mask she's learned to wear.

This brief, brisk novel is an engrossing adventure into an unusual mind. Is it a subversive, satiric criticism of societal norms? Is it a surrealist take on extreme workplace culture? Or simply the perspective of a woman wired a little bit differently? Murata holds the reader rapt, wondering what Keiko will do next. Convenience Store Woman is for all kinds of readers, for anyone who's ever questioned the status quo. --Julia Kastner, librarian and blogger at pagesofjulia

Shelf Talker: A quirky novel about a convenience-store clerk who seems to be the ideal employee.