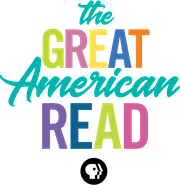 The first episode of The Great American Read, the eight-part television series focused on finding the country's favorite book, makes its debut tonight on PBS. Hosted by journalist Meredith Vieira, The Great American Read will start with a list of the country's 100 favorite novels, which was unveiled last month at an event in New York City, and over the course of the summer and fall select "America's Best-Loved Novel" with the help of a public vote.
Following tonight's premiere, watchers and book lovers will be encouraged to vote online for their favorite titles. The series will then resume in the fall with themed episodes, before the finale unveils the winner. A plethora of authors, actors and other celebrities, including Morgan Freeman, Armistead Maupin, Seth Myers, Ming-Na Wen and others, will also be involved in the celebration of books.
Some independent booksellers are already getting in on the action: The Bookman in Grand Haven, Mich., is hosting a Great American Read viewing party at a local bar tonight. Customers are encouraged to stop by and watch the show live, and Bookman staff are planning to stick around after the program ends to talk about the books featured on the list.