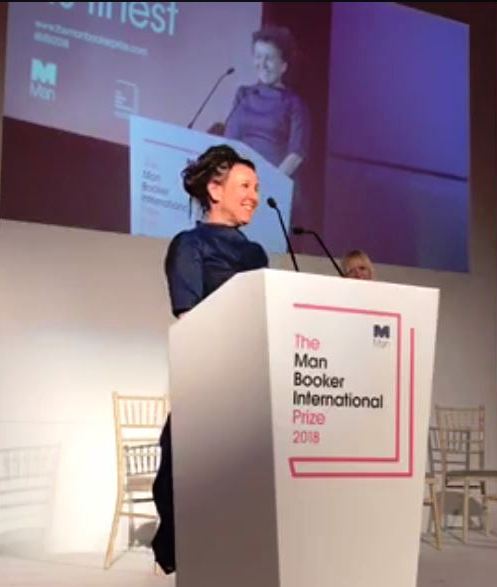 Olga Tokarczuk accepting the Man Booker Award.
Polish author Olga Tokarczuk won the £50,000 (about $67,170) Man Booker International Prize, which celebrates the finest works of translated fiction from around the world, for her novel of linked fragments, Flights, translated by Jennifer Croft. The cash award is divided equally between author and translator, who also both receive £1,000 for being shortlisted.
Chair of judges Lisa Appignanesi commented: "Our deliberations were hardly easy, since our shortlist was such a strong one. But I'm very pleased to say that we decided on the great Polish writer Olga Tokarczuk as our winner: Tokarczuk is a writer of wonderful wit, imagination and literary panache. In Flights, brilliantly translated by Jennifer Croft, by a series of startling juxtapositions she flies us through a galaxy of departures and arrivals, stories and digressions, all the while exploring matters close to the contemporary and human predicament--where only plastic escapes mortality."
---
This year's longlist has been announced for the AU$60,000 (about US$45,535) Miles Franklin Literary Award, which honors a novel "of the highest literary merit and presents Australian life in any of its phases," the Age reported. A shortlist will be unveiled June 17, and the winner named August 26 in Melbourne. The 2018 Miles Franklin longlisted titles are:
A Long Way from Home by Peter Carey
No More Boats by Felicity Castagna
The Life to Come by Michelle de Kretser
The Crying Place by Lia Hills
The Last Garden by Eva Hornung
Some Tests by Wayne Macauley
Storyland by Catherine McKinnon
Border Districts by Gerald Murnane
From the Wreck by Jane Rawson
The Restorer by Michael Sala
Taboo by Kim Scott