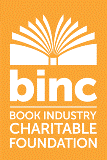 The Book Industry Charitable Foundation has named the 27 recipients who will receive $109,000 in education scholarship funding as part of Binc's Higher Education Scholarship Program. They were selected from 159 applicants, including bookstore owners, booksellers, former Borders Books employees or their dependents. A complete list of recipients, who represent 23 stores in 21 states, can be found here.
Included among them were two $10,000 scholarships, 24 $3,500 scholarships, and one $5,000 Karl Pohrt Memorial Scholarship, which is granted to an independent bookstore employee candidate who has overcome learning adversity or is a non-traditional student. Since 2001, the foundation has supported the educational goals of more than 600 booksellers, granting over $1.9 million in awards.
"Booksellers are people who make the world a better place," said Binc executive director Pam French. "We hope that by providing them with the opportunity to learn and grow through higher education, we are helping them change the world even more. Congratulations to all of the college scholarship winners!"
Binc received an outpouring of thank-you notes and letters following the scholarship announcement. Hannah Richardson of Malaprop's Bookstore/Café , Asheville, N.C., said, "I cannot express how incredibly grateful I am to you and the Binc team for offering me this scholarship. As you well know, no one pursues a career in bookselling or education with the ultimate goal of having deep pockets, but the economic challenge to make this happen can be overwhelming. Thank you for helping to ease this burden, supporting my education and making me feel like an important member of the book community."
Former Borders employee and scholarship winner Jennifer Rojas cited Binc's origins as the Borders Group Foundation in her thank-you note: "When Borders was still open, I witnessed how the foundation supported my employees with both scholarships and during times of financial difficulties. I am incredibly grateful that the Binc Foundation has been able to continue supporting current and former booksellers throughout the industry."