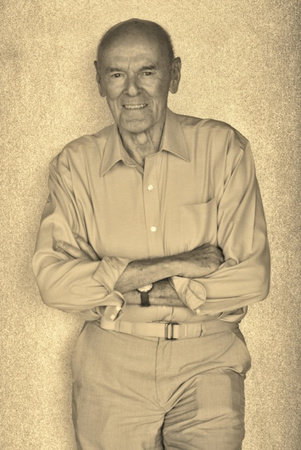 Richard Peck
(photo: Sonya Sones)
Richard Peck, a prolific, award-winning author of historical and contemporary children's books and YA novels, died May 23. He was 84. Peck's literary career spanned 45 years and included 35 novels for young people, four novels for adults, a short story collection, a picture book, and two memoirs. His latest book, ​The Best Man​, published in 2016, received a Boston Globe-Horn Book Award Honor.
In 2001, Peck won the Newbery Medal for his novel ​A Year Down Yonder​. The prequel, A Long Way from Chicago​, was a Newbery Honor book and a finalist for the National Book Award. His novel ​The River Between Us was also an NBA finalist​. Among Peck's many honors were an Edgar Allan Poe Award, the ALA's Margaret A. Edwards Award, the Scott O'Dell Award for Historical Fiction, the Anne V. Zarrow Award for Young Readers, and the Dorothy Canfield Fisher Children's Book Award. In 2002, he received a National Humanities Medal from President Bush.
Peck's first YA novel, ​Don't Look and It Won't Hurt, ​was published in 1972 and later adapted into the film Gas Food Lodging. His books include A Year Down Yonder, A Season of Gifts, The Teacher's Funeral, Fair Weather, Here Lies the Librarian, and On the Wings of Heroes.
Earlier this year, when Avid Bookshop, Athens, Ga., withdrew from a book fair at an area private school after the administration requested that The Best Man, along with all other books featuring "objectionable" content, be removed from display, Peck wrote directly to Avid, saying: "Just when I thought my book was being taken entirely too calmly, you at Avid took your principled stand. You prove all sorts of points: that an attack upon one book is an attack upon all; that an independent bookstore has all sorts of supple strength that the frightened school and the vast and unlocal chain bookstores don't have.
"I thank you for not knuckling under and in the hope that your well-timed actions will inspire other stores and provide any number of teachable moments in classrooms far from Athens. I thank you as the former teacher I was. I thank you in the names of all the gay members of the book banners' extended families."