Next week at BookExpo, we'll be talking about forthcoming titles and the future of the book trade, but for a moment let's consider the past, in the form of 5,600 hours of interviews Studs Terkel conducted for WFMT-FM from 1952 to 1997. The first installment has just been made available to the public.
Nobody listened to us better than Studs did.
In the archive I found a 1968 interview with the late British bookseller Una Dillon, founder of Dillon's University Bookshop in London. Listening to her talk about launching a bookshop 80 years ago became my unusual, if strangely appropriate, way to prep for BookExpo.
"I was a bookseller from about 1938," Dillon recalled. "I had an itch to own something of my own. It was a very rash thing to do because I gave up quite good job prospects. My father gave me £600 (about $800). I borrowed another £200. And with £800, I started to be a bookseller, which looking back on it seems to me quite mad.... I had a tiny shop, which I ran myself with one half-time person near the University of London because that was my idea. I thought they weren't being served with books enough in that area apart from our friends Foyles in Charing Cross Road, which is a good way away.
"So I settled down in this little shop. We went through the war in it. We got bombed on one side, moved across to the other.... And then in '56, the University of London bought some shop property just around the corner from where I was, and they wanted a big bookshop there. And they asked me if I would amalgamate with another local man. It would have been very good because he had all the knowledge, and I had perhaps the more fashionable side. But he didn't want it. So that fell through."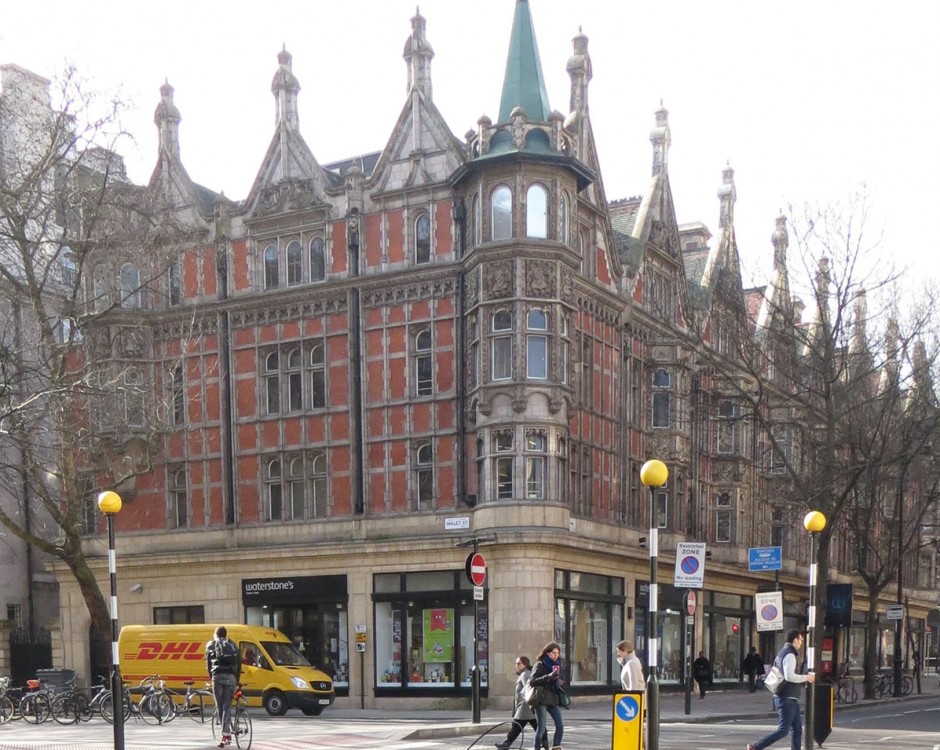 Dillon opened the store in 1956, in a small area on the ground floor. The location is now a Waterstones.
After further inquiries elsewhere, the university "had to come back to me," Dillon said. "We started with a staff of about four, and I left it two months ago with a staff of 103. So, you can imagine; in 11 years that was terrific growth."
Dillon attributed her success partly to location: "It is a wonderful position right in the heart of several of the colleges, opposite the student's union. Also I think because I like students, I like the people, we wanted them. The atmosphere I hope has been one of welcome, you know, and a bit of warmth all the time. And I was lucky."
Although many of her colleagues complained that students during the late '60s no longer purchased books, Dillon countered: "I say this is absolutely wrong. There are a few of course who will never buy a book all their lives. They're not that type. But from personal experience, I've seen them in that shop, for instance, at lunch time. They're like round the honey pot in the paperbacks department.... They do buy books, and I get rather annoyed with the way that people run them down. I think they're an inquisitive generation. They want to know."
Her approach to bookselling will sound familiar to us: "A bookshop is not, to me, a supermarket. It's not somewhere where people go in, look round and pick up a book. There must be quite an amount of personal service in it, I think. Even if you don't have much time to talk to customers.... But it's something about the approach to customers. I think it's terribly important. And I think the danger is we're losing this here. You have people say, oh this is terribly extravagant waste of staff. Why don't you turn it into a great self-service store? All right, but to me that's not a bookshop."
Terkel wondered if the personal approach in retail generally was dwindling. "It is disappearing," Dillon replied. "I'm afraid, in a sense, it comes down to economics again, that if you're going to have personal service in a shop you must have the right people, the right type of staff, and you must let them have the time with which to be a bit personal. I think it can be done, but there are people in the trade who are almost against it and say it's an absolute waste of time and money and everything. Turn it into a great supermarket and let people look after themselves.... I don't mean to say you should worry people. I don't like as soon as you go into a shop somebody rushes up to you. It's very bad. You let people wander about.... You must like your customers, I think."
Her analysis of corporate threats to small business ("the trend of the times") echoes through the decades as well: "After all, it's the same trend you have in the last of the small grocers, in the domestic hardware stores. They're disappearing. I know why, because they can't afford to keep going. And it's all going into the hands of the big supermarket; and of course, you have the book departments within stores. Some of them are very good but it isn't the same to me as a bookshop."
She was prescient. Dillon's University Bookshop's Gower Street location is now a Waterstones branch featuring Dillons coffee shop. But I think she would have enjoyed the current indie bookstore renaissance. When she died in 1993, the Independent's obituary described Dillon as "a generous and kind person, with a personal gracefulness, but she also had a residual toughness that enabled her to succeed in what was then still a man's world of bookselling." Her spirit, in every sense of the word, will be my guest at BookExpo.