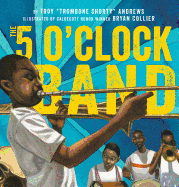 In his author's note, Troy "Trombone Shorty" Andrews says, "When a group of individuals collaborate in harmony--with sincerity, spirit, and soul--they create something beautiful." Though explicitly about making music, this statement is equally relevant to
The 5 O'Clock Band
. Andrews's second collaboration with illustrator Bryan Collier is, indeed, something beautiful.
This worthy follow-up to their Caldecott Honor and Coretta Scott King Award–winning
Trombone Shorty
guides readers through the spirited streets of New Orleans. Having missed his band's practice, Shorty questions whether he has what it takes to lead. Wandering the streets in search of his friends, Shorty encounters different members of his community and asks these mentors and idols what he needs to take the helm of his group successfully.
Andrews's words blanket the audience in the sights, sounds and smells of all these encounters, while Collier's bold illustrations heighten their effects. Andrews describes street musician Tuba Tremé as "a giant of a man" who was "sweet as pecan pie--and the sounds that floated out from his horn were even tastier." Tuba Tremé begins a rendition of "When the Saints Go Marching In," the first tune Shorty learned to play. "Pride swelled in Shorty's chest as he and Tuba played the same notes together that Louis Armstrong had played many years before them in these same city streets." Tradition, Tuba Tremé tells Shorty, is important to leading--every bandleader "needs to know where music came from in order to move it forward." Collier depicts a rich history of musical greats in the notes that emanate from the instrument, his masterful use of pen and ink, watercolor and collage illustrating the resonance in both Shorty's sound waves and the New Orleans musical tradition.
"Lola, the Creole Queen" next fills Shorty's belly with delicious food--and his heart with sage advice. Shorty asks her how she makes such amazing food and she answers simply, " 'Love. There's love in my food, because I love every dish I make.... As long as you love what you do, you will always be a success.' " Shorty's final encounter is with Big Chief, the "chief of the neighborhood Mardi Gras Indian tribe," whose majesty is palpable. Shorty needs dedication, Big Chief tells him. " 'Each year, all the Indians make new suits, hand-sewn from scratch,' " Big Chief says. " 'It takes a lot of time and patience, but when we hit the streets, it's worth it.' " Collier's depictions of the brilliant greens, pinks and oranges of the suits of "the soul of Mardi Gras" pop from the page.
Troy Andrews's tribute to New Orleans and the music it has created is melodious and invigorating. Bryan Collier's visual interpretation carries the audience along on a distinctive and beautiful parade, much like the popular musical parades of New Orleans. The combo of text and illustration is well-tuned, and readers of any age are sure to find themselves thoroughly entertained. --
Jen Forbus
, freelancer
Shelf Talker: A young musician wanders the lively streets of New Orleans in search of the secret to being a great bandleader.