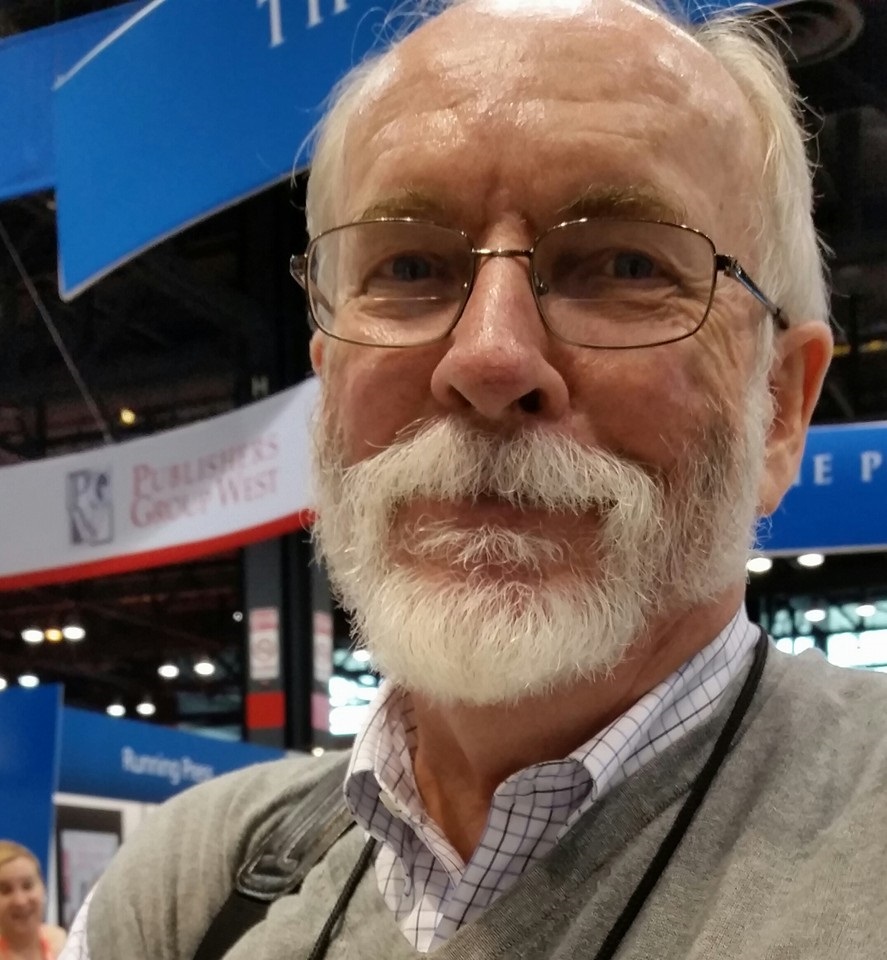 Robert Gray has been an editor and columnist with
Shelf Awareness
for nearly 12 years. From 1992 until 2006, he worked as a bookseller/buyer for the Northshire Bookstore in Manchester Center, Vt. Gray has written for numerous publications, including
Tin House
,
Alfred Hitchcock's Mystery Magazine
,
Cimarron Review
and
Words Without Borders
. He lives in Saratoga Springs, N.Y.
On your nightstand now:
I don't have a nightstand, but next to my desk there's a small table with an ever-developing skyline of book piles. I'm reading and loving The Flicker of Old Dreams by Susan Henderson, Happiness by Aminatta Forna, The Aviator by Eugene Vodolazkin, The Art of Reading by Damon Young, The Long Hangover by Shaun Walker, The Kremlin Ball by Curzio Malaparte and Waiting for the Last Bus by Richard Holloway.
Favorite book when you were a child:
For my first Christmas, one of my aunts gave me an autographed and inscribed copy of The Blue Cat of Castle Town by Catherine Cate Coblentz, illustrated by Janice Holland. It was a Newbery Honor Book in 1950, the year of my birth. My aunt lived not far from us in Castleton, Vt., which served as the 19th-century setting for this tale of a blue cat searching for "a hearth where a mortal understood and sang that song" of beauty, peace and contentment. My initial review was probably that it tasted good when I chewed the cover, but the story was read to me until I could read it myself. I still have it.
Your top five authors:
I continue to read and reread Aleksandr Solzhenitsyn, Thomas Merton, May Sarton, Brian Moore and Tim Winton.
Book you've faked reading:
Here's a confession from my bookseller days: Sometimes I fictionalized my reading history just a touch. Call it a retail survival skill. You can't be an idealist through an entire eight-hour shift. For example, a customer might ask if I'd read a particular novel. Not wanting to lose complex handselling momentum (Let those among you who haven't done this cast the first stone.), I might begin with a parrying move on the national ("It's been getting great reviews.") or local ("Everyone in the bookstore who's read it loves it.") level. Sometimes, however, in a moment of weakness, I may have said, "Oh, I'm reading it now."
Book you're an evangelist for:
Catholics by Brian Moore, an amazing, underappreciated writer. I love all of his works, but there's a special place in my heart for the speculative novella Catholics. The Vatican dispatches a young, radical priest to Muck Island, off the Irish coast. He must confront the elderly abbot at an isolated 13th-century monastery regarding the monks' rebellious persistence in celebrating Latin Mass, which is drawing ever-increasing crowds and international media attention. A deeply moving exploration of doubt, faith and human nature.
Book you've bought for the cover:
River of Hidden Dreams by Connie May Fowler. The HC cover was gorgeous (I think I initially saw it on the ARC), and then I opened to the first page and read the opening--"My mother and grandmother died while they were dancing. With each other. In a saloon in Chokoloskee."--and I was hooked.
Book you hid from your parents:
My parents didn't really know or care what I was reading, so thankfully that was never an issue.
Book that changed your life:
In 1970, I was scanning a paperback spinner rack in our small Vermont town's diner/we-sell-everything-shop and found, tucked among the romance, sci-fi and mystery novels, a copy of Solzhenitsyn's The First Circle. My perspective on life and the world shifted permanently within days.
Favorite line from a book:
"It was as though he had imagined every possibility in advance, and therefore he was never surprised by what happened. Inherent in this attitude was a pessimism so deep, so devastating, so fully in tune with the facts, that it actually made him cheerful." --Paul Auster, In the Country of Last Things
Five books you'll never part with:
Zen Art for Meditation by Stewart W. Holmes and Chimyo Horioka (Holmes was one of my undergrad professors, though I didn't know or appreciate him enough at the time.); The English Patient by Michael Ondaatje (autographed to me for handselling the hell out of it in 1992); One Day in the Life of Ivan Denisovich by Aleksandr Solzhenitsyn (a tattered, Bantam movie tie-in edition from 1971); Riprap and Cold Mountain Poems by Gary Snyder (bought for $1.50 in 1970 when Snyder was 40 years old and I was 20, but if I picked it up now I'd probably still highlight the same lines.); Walden by Henry David Thoreau (decrepit Modern Library edition I purchased new in my late teens and then underlined more sentences in it than I left alone).
Book you most want to read again for the first time:
Rings of Saturn by W.G. Sebald. Anyone who has read it knows why.