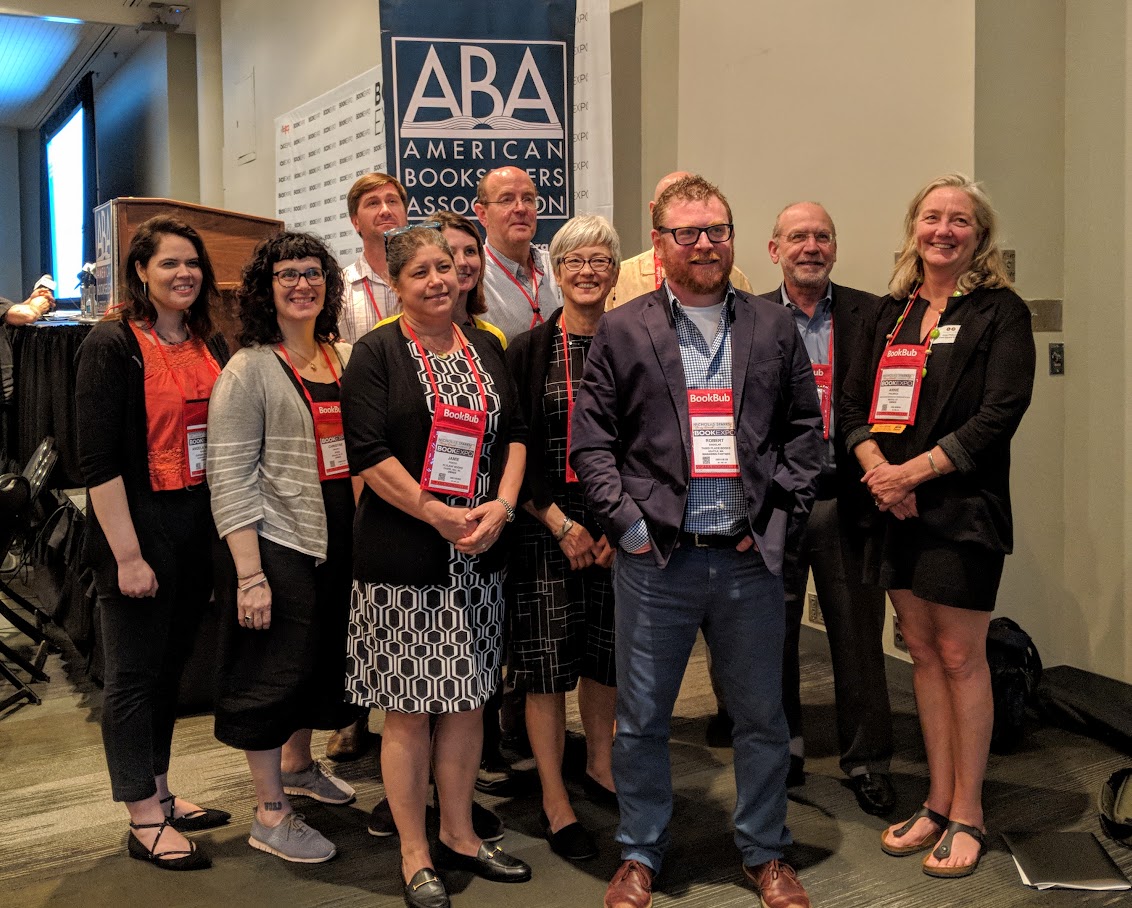 The ABA Board at yesterday's Town Hall.
At the American Booksellers Association's annual Town Hall yesterday, topics of discussion included an update from the Diversity Task Force, the ABA's new code of conduct, exclusive deals bypassing indie bookstores and more.
Diversity Task Force Update
Members of the ABA's Diversity Task Force, including Hannah Oliver Depp of WORD Bookstores in Jersey City, N.J., and Brooklyn, N.Y., Angela Maria Spring of Duende District Bookstore in Washington, D.C., BrocheAroe Fabian of Quail Ridge Books in Raleigh, N.C., and Paul Yamazaki of City Lights Bookstore in San Francisco, Calif., gave an update on the task force's activities. The group is working on resource guides for booksellers pertaining to topics like intra-staff diversity and inclusion training, and the task force set up a table in the ABA Lounge at BookExpo featuring diverse book recommendations and other resources.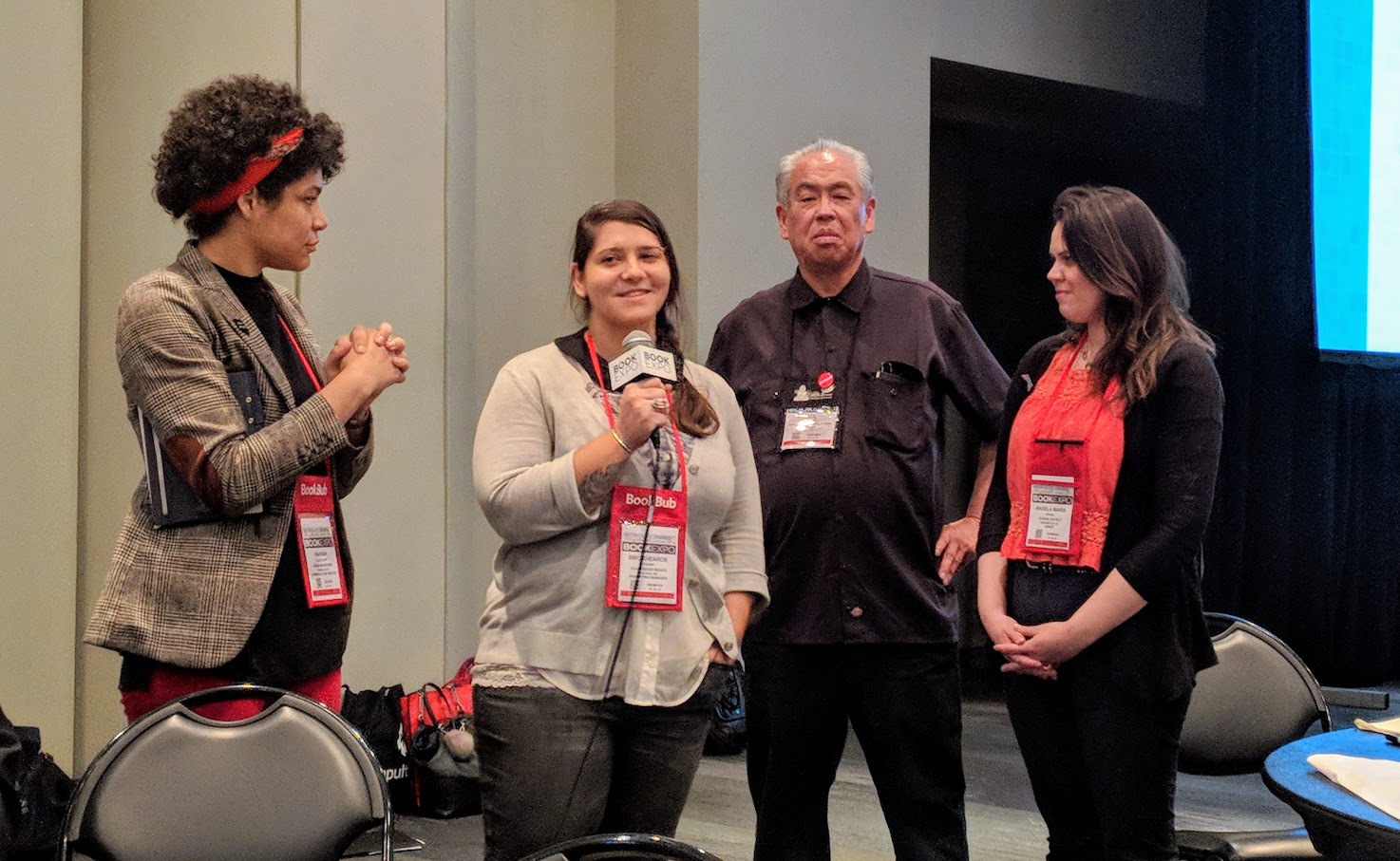 Members of the ABA's Diversity Task Force: (l.-r.) Hannah Oliver Depp, BrocheAroe Fabian, Paul Yamazaki, Angela Maria Spring.
There will be diversity and inclusion education sessions at the upcoming Children's Institute 6, along with a Diversity Task Force station. They also suggested booksellers join the official ABA Diversity Task Force Facebook group, which is open only to booksellers and features resources and lots of ongoing discussions.
Exclusive Content Bypassing Indies
Several booksellers brought up the recent, frustrating instances of exclusive content either initially or permanently bypassing indie bookstores. One example was John Oliver's Marlon Bundo, which was unveiled on Last Week Tonight and at first available only from Amazon, and another was the recent announcement that Reese Witherspoon's company Hello Sunshine would exclusively partner with Audible for original audiobook productions.
In the former case, Carol Price, owner of BookPeople of Moscow in Moscow, Idaho, wondered whether publishers could be encouraged to create something akin to the "indie vault" that Ingram uses and thereby be better prepared for when a book like Marlon Bundo or even Michael Wolff's Fire and Fury sees a huge spike in popularity.
In the latter case, BrocheAroe Fabian asked if there had been conversations about or efforts made to let celebrities like Reese Witherspoon know that there are independent alternatives to companies like Audible. Robert Sindelar, board president and managing partner of Third Place Books in the Seattle, Wash., area, acknowledged that it was a tough issue and driven by what's going on in other media sectors, where "exclusive content is the name of the game." He said that the board will continue to remind publishers that indies do not want exclusive content for themselves or anyone, and would prefer a level playing field on which they can simply "do our jobs well." Others also suggested proactively searching out "like-minded influencers" and making them aware of Libro.fm and other indie alternatives.
Bookselling as a Career
On the subject of bookselling as a career and the longevity of future booksellers, ABA v-p/secretary Jamie Fiocco of Flyleaf Books in Chapel Hill, N.C., said that the recent changes to the Dodd-Frank law may make it easier for young, prospective bookstore owners who may have student loans to receive startup money from medium-sized banks. Sindelar pointed to the proliferation of new store offers and programs, which many publishers now have and can sometimes be extremely favorable, as a shift in the right direction. He also said there was a lot more to be done with regard to sharing best practices and information about things like bookseller living expenses.
ABA CEO Oren Teicher also mentioned that the ABA has had ongoing conversations with the Book Industry Charitable Foundation about the possibility of helping to incubate new stores with things like start-up loans.
Code of Conduct
Lucy Kogler, manager of Talking Leaves Books in Buffalo, N.Y., brought up the ABA's new Code of Conduct for events, which was released in March and, starting with CI6 in June, will be posted prominently at ABA events. She was concerned about the speed with which it was created and its "amorphous" nature. Board members acknowledged that it was not a perfect document and that it was done quickly, but out of a need to address issues that were shaking the book business. Sindelar suggested that anyone with feedback, or examples of successful codes of conduct from other industries, send it along to the ABA board. --Alex Mutter