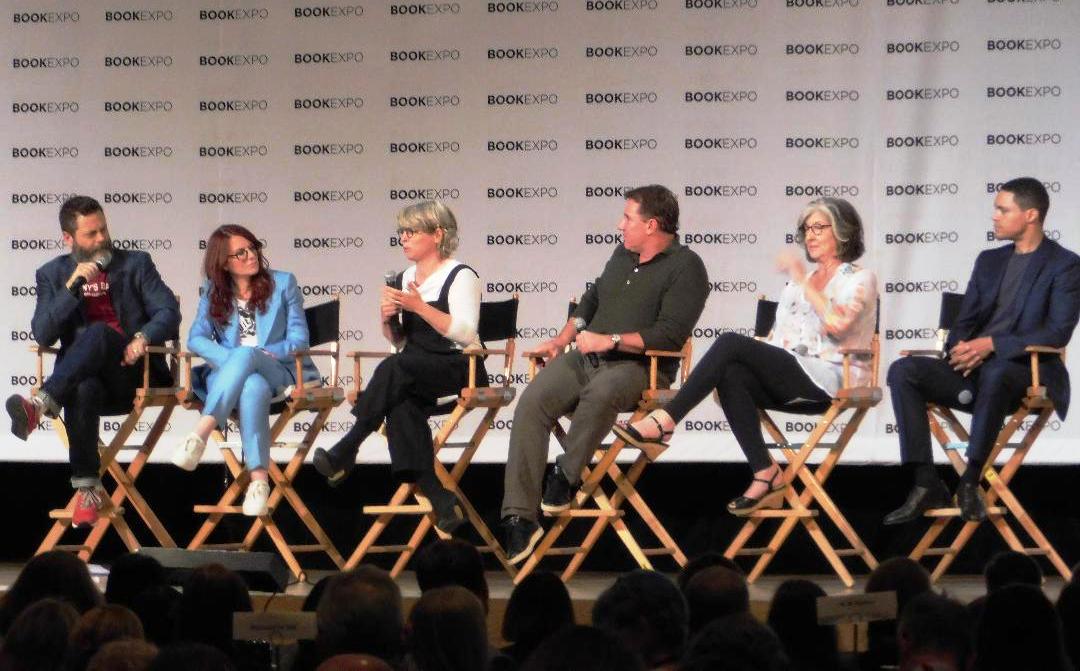 Breakfast with (l.-r.) Offerman, Mullally, Lepore, Sparks, Kingsolver and Noah.
A generous mixture of political awareness, humor and reminders of the critical importance of storytelling were on the menu for yesterday's Adult Book & Author Breakfast at BookExpo, hosted by Megan Mullally and Nick Offerman, co-authors of The Greatest Love Story Ever Told: An Oral History (Dutton, October).
Joining them onstage were Trevor Noah for The Donald J. Trump Presidential Twitter Library (Spiegel & Grau, July), Barbara Kingsolver for Unsheltered (HarperCollins, Oct.), Jill Lepore for These Truths: A History of the United States (Norton, Sept.), and Nicholas Sparks for Every Breath (Grand Central, Oct.).
Mullally summed up their book as a "multi-generational, multi-genderational, post-modernist deconstruction of the greatest love story ever told... meaning, our relationship." Offerman joked: "We were talking about Lincoln in the Bardo backstage and it occurs to me that's the book this is probably most similar to. It's written in sort of a back-and-forth dialogue style, takes a while to figure out what's going on. So, if you need a touchstone, look to George."
Noah was introduced by Offerman as "host of the Daily Show and thereby, strangely, one of the nation's leading journalists."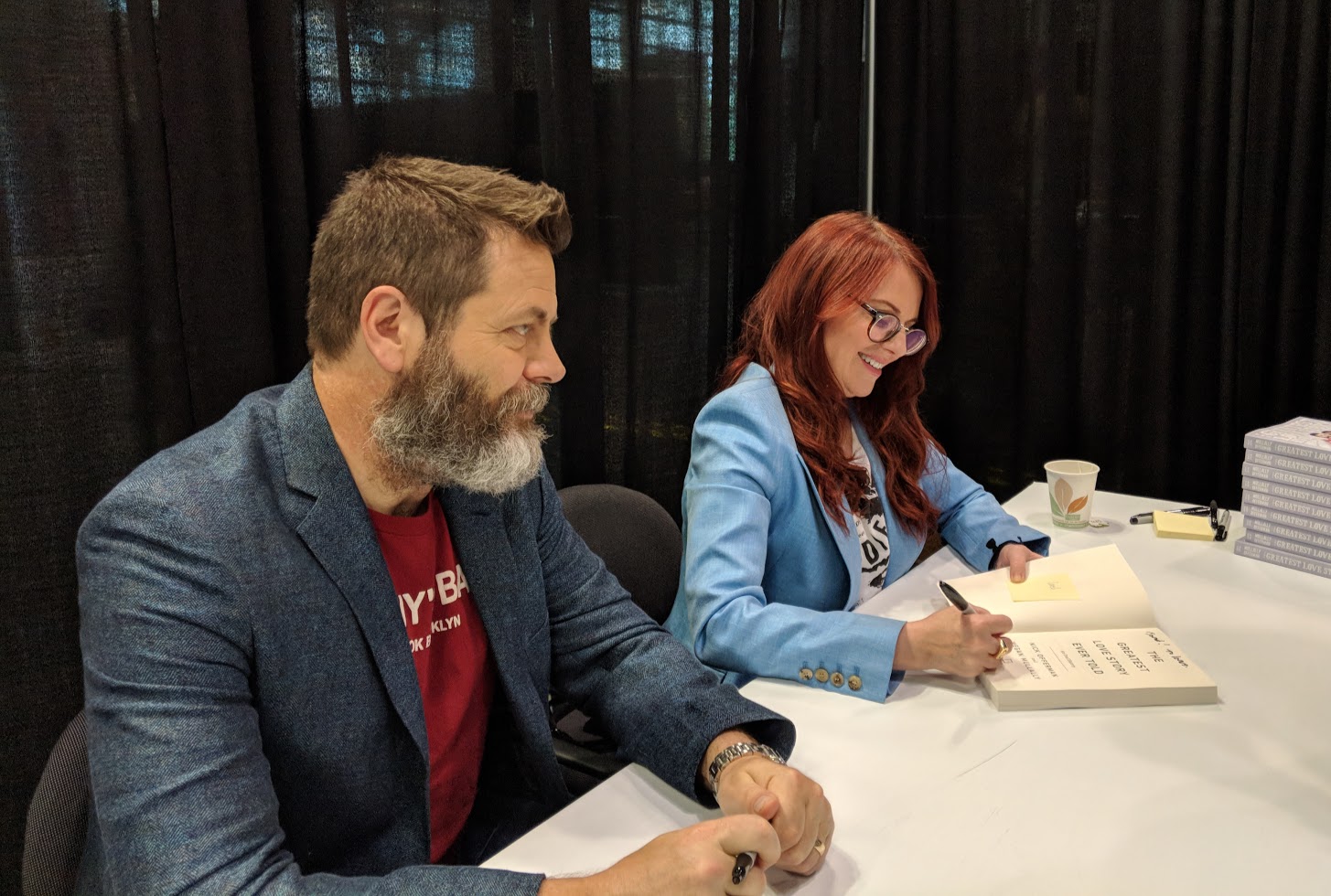 Offerman and Mullalley signing in the ABA Lounge.
Exploring the "inspiration" for his new book, Noah said, "For me, Donald Trump is an emotional paradox. Logically I can process him, but emotionally I struggle. On the one hand, I am terrified many days of the notion that he's president of the most powerful nation in the world, but I also must admit that many days I wake up knowing that he's going to make me laugh.... Many times it feels like there's a giant asteroid headed towards the earth, but it's shaped like a penis."
He has learned to decode the president "through his written materials, which unlike his predecessors is not in any book form.... To truly delve into the mind of Donald Trump, you have to live in the world that he lives in all the time. And that is the Twitter."
Noting that booksellers, publishers and writers "are not rule followers by our nature," Kingsolver observed: "Books change lives. Literature is subversive in its nature.... What I do know is that we need stories; that stories anchor us when we are afraid or feeling lost.... I think stories will get us through times of no leaders better than leaders will get us through times of no stories."
She also expressed her appreciation for booksellers: "Thank you so much for letting me mostly stay home and do the one thing I love to do, which is write stories. I owe that to you. I know this. I think about you every day."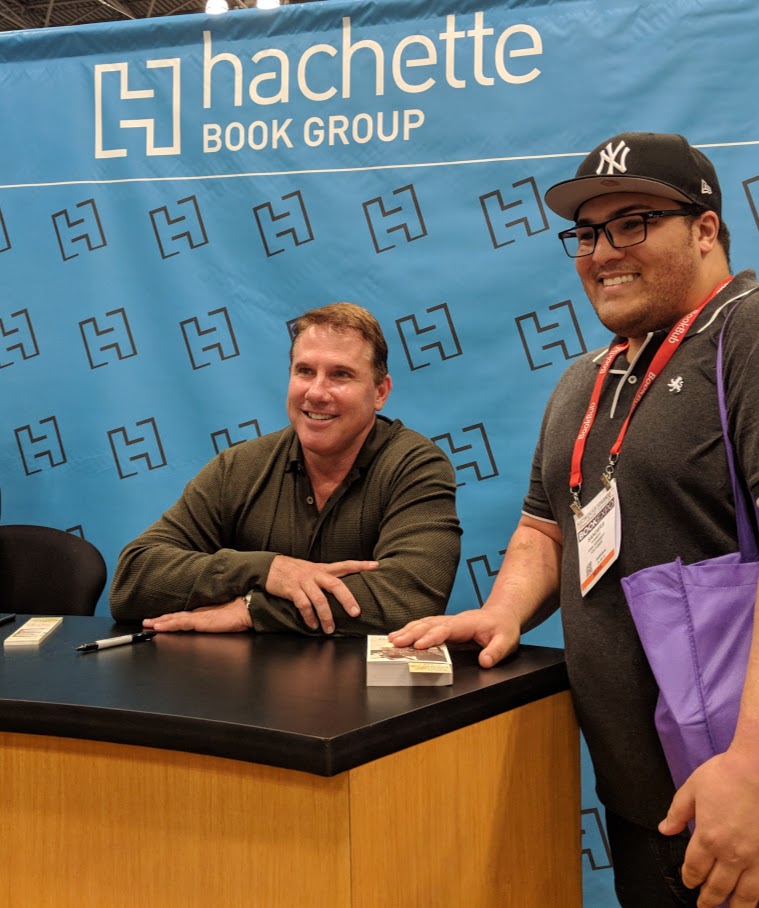 Nicholas Sparks signed for a long line of fans on the show floor.
To introduce mega-bestselling author Sparks, Offerman cracked that he was "very excited to present a newcomer.... He's well on his way to making something of himself."
"Believe it or not, it is just as much fun for me to sit up here and listen to other writers and crafters of stories, to hear how they think, to hear how they come up with the ideas for their stories," Sparks noted. "It's always fascinating to me when anyone comes up with a story.... For me as an author, it's like trying to grab air. I don't know where the ideas come from."
Lepore said that "much of what we see in our political discourse has really long origins, and if you can see those origins more clearly you can understand."
Citing artist Glenn Ligon's Double America, inspired in part by the opening lines of A Tale of Two Cities ("It was the best of times, it was the worst of times..."), she observed: "It still is the best of times and very much the worst of times. And I want to suggest to you that history is important to investigate, to inquire into, to examine, to immerse yourself in, because like art, history can allow us to see that double vision of how a time and place can be both its best and its very worst self. How it can be full of tragedy and agony and even horror, the way American history is, but how it can also be full of beauty, invention, courage and hope. And especially, I think, of daring." --Robert Gray