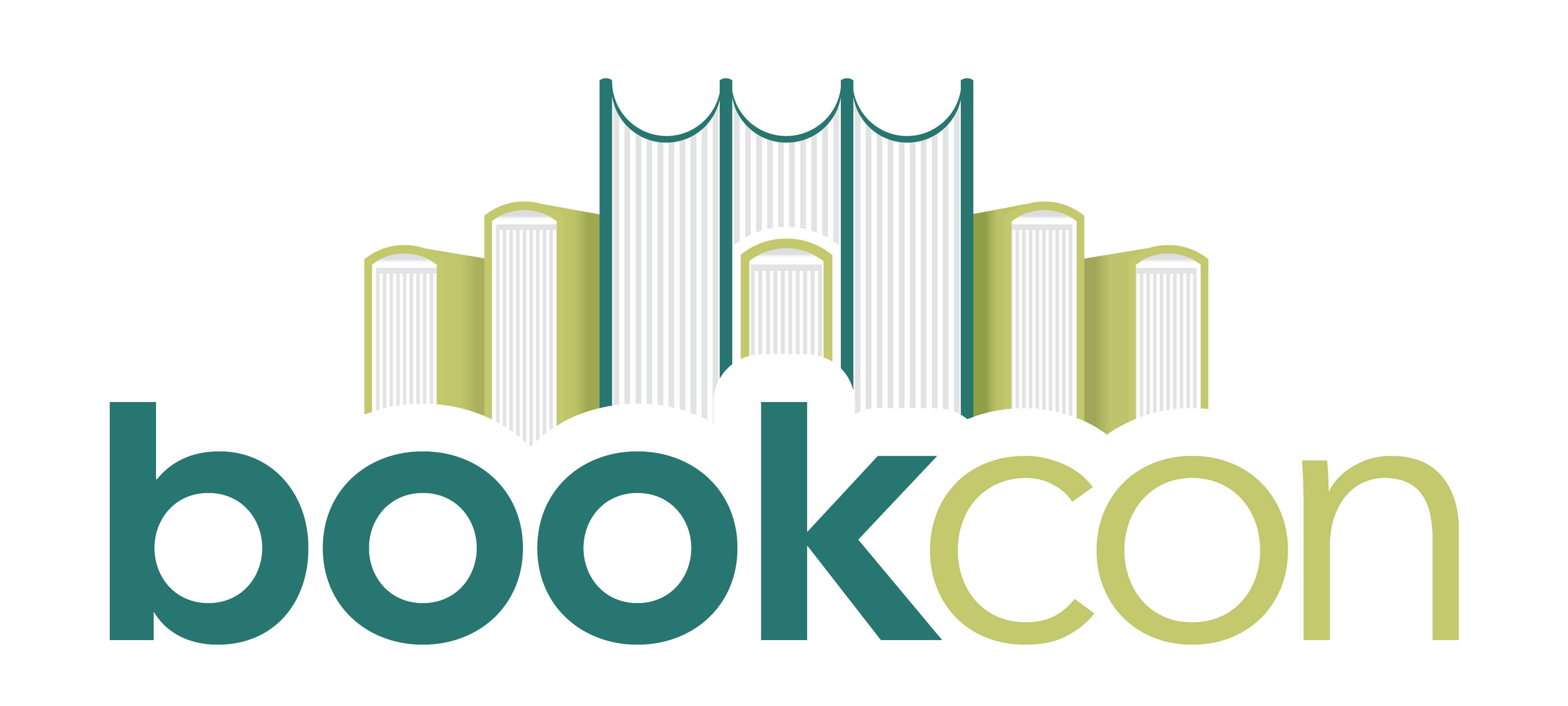 At the fifth BookCon, held over the weekend immediately after BookExpo, attendance undoubtedly rose again--after doubling from approximately 10,000 readers in 2014 to 20,000 in 2016. BookCon offered almost 300 events during its two-day span, and eager fans were prepared and willing to wait to get signatures, books and swag and hear their favorite authors speak--and wait they did. Lines looped around booths, snaked down hallways and took over full rooms, in some cases overwhelming the ReedPOP employees who were forced to turn people away from events (one fan was overheard determinedly asking a ReedPOP employee to show some "human compassion" and let her into a closed panel).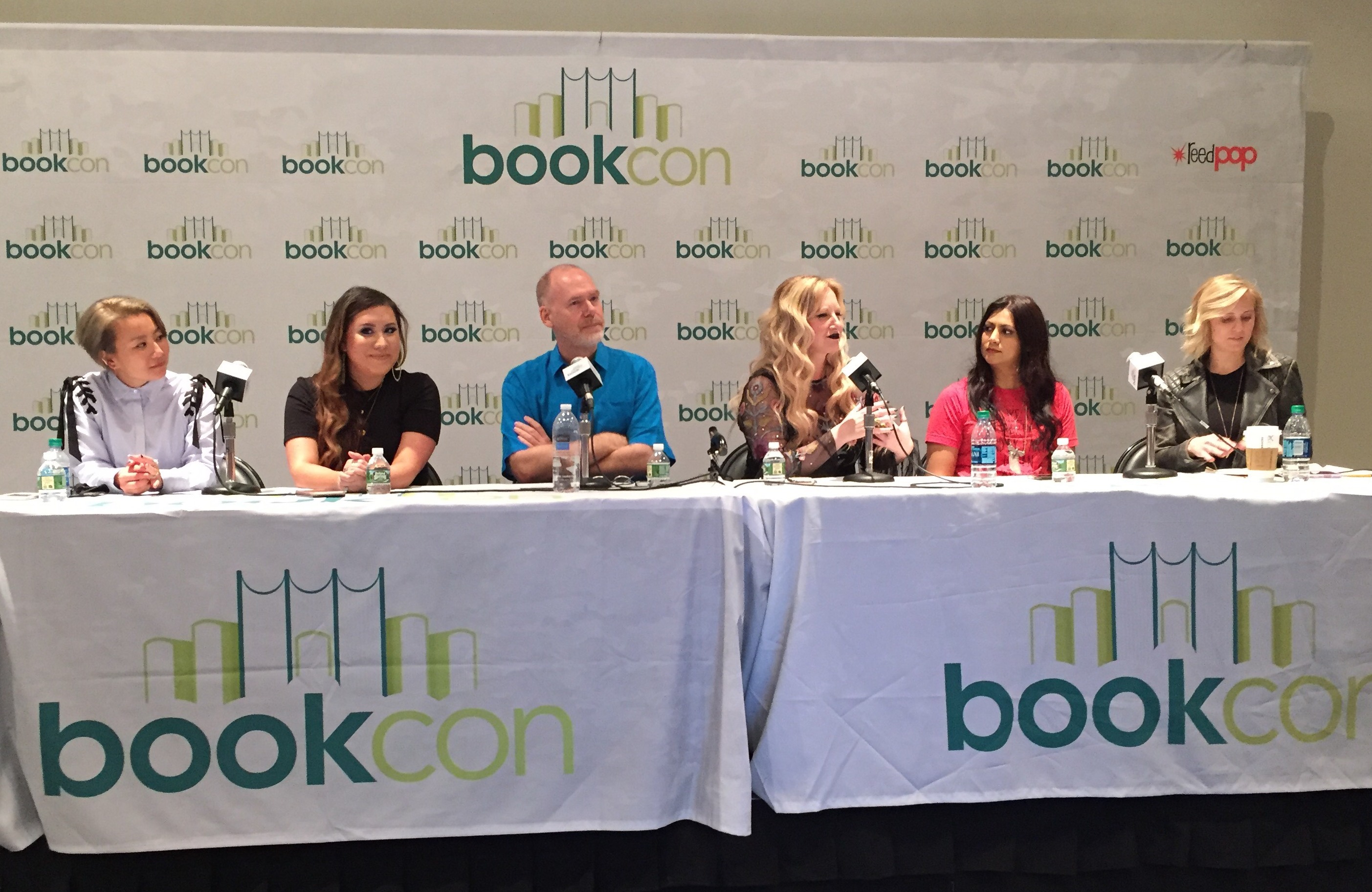 The Magic of Worldbuilding: (l.-r.) Marie Lu, Renée Ahdieh, Scott Westerfeld, Leigh Bardugo, Sabaa Tahir and moderator Sarah Enni.
Lucky readers who made it into that panel, The Magic of World Building, leaned against walls and sat on the floor to hear Marie Lu (Warcross, Putnam), Renée Ahdieh (Smoke in the Sun, Putnam), Scott Westerfeld (the Uglies series), Leigh Bardugo (Six of Crows, Holt), Sabaa Tahir (A Reaper at the Gates, Razorbill) and moderator Sarah Enni (Tell Me Everything, February 2019, Scholastic). They started the conversation with food. For Ahdieh, "food is... an integral part of worldbuilding" that helps root readers in the fantasy or sci-fi realm. Bardugo agreed saying, food itself "build[s] a world. Our version of decadence and excess," she explained, "should look different" from another culture's, thus helping to bring the differences between the worlds into light. For Tahir, a lot of worldbuilding revolves around creating languages--being dual lingual is really helpful for developing other languages, she said, especially "if you're lazy." To that point, Westerfeld noted that "the way [his characters, the] Uglies talk is just Australian." From food and language, the panel moved into discussions of Lu's tech-focused world and then on to experiences with ethnicity and race. "This is my land, this is my country, and I'm told I should not be here," Tahir said, explaining that she draws on her own experiences to create worlds that "mirror" her struggle. Ahdieh sympathized, saying that she has always struggled with never being "Korean enough" and that experience has helped shape her fantasy worlds.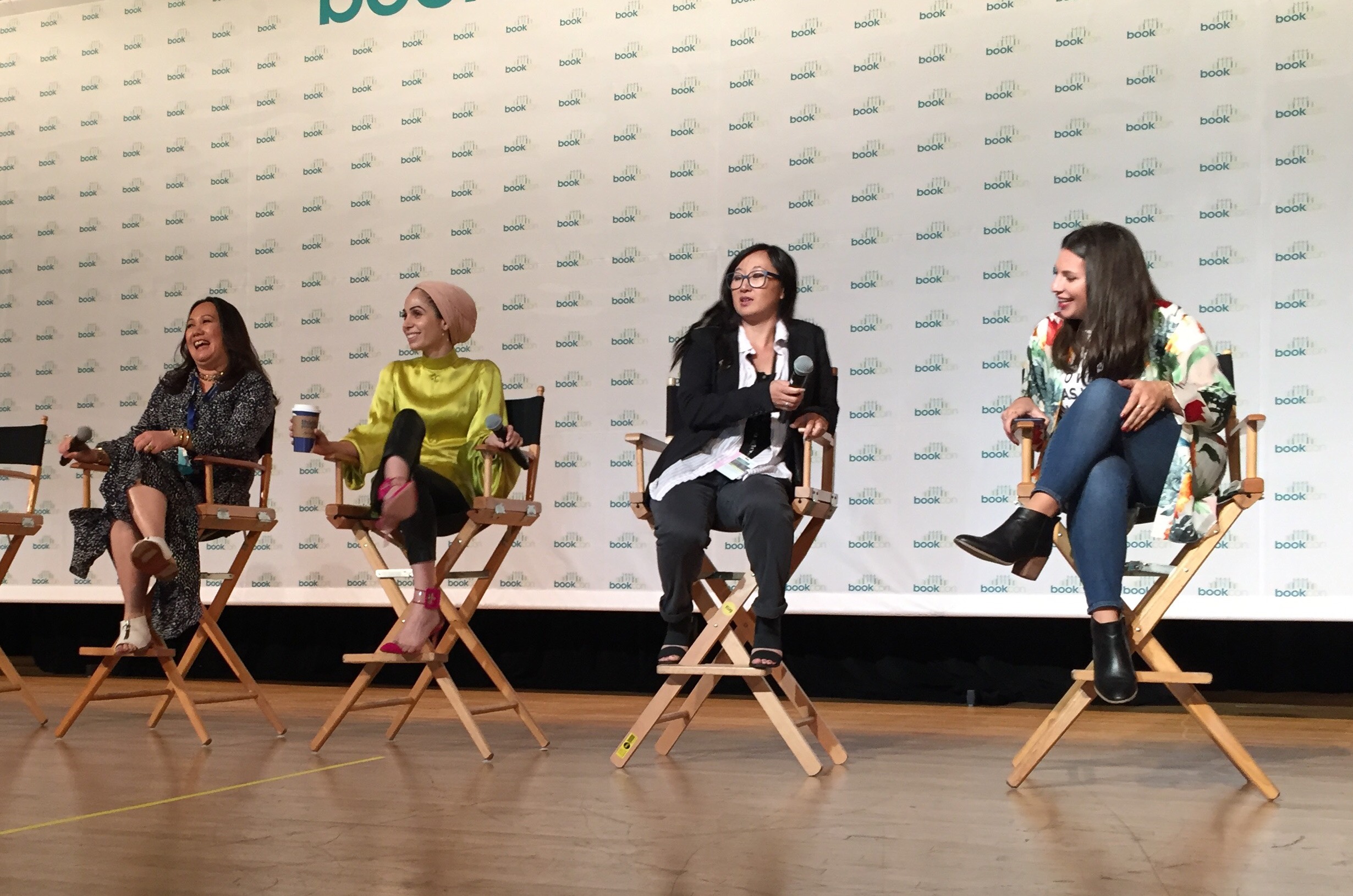 Power Moves: (l.-r.) Melissa de la Cruz, Tahereh Mafi, Kendare Blake and Victoria Aveyard (not pictured: moderator Sarah Enni).
In another panel, moderated by Sarah Enni, Melissa de la Cruz (Love and War: An Alex and Eliza Story, Putnam) Tahereh Mafi (A Very Large Expanse of Sea, October, Harper), Kendare Blake (Two Dark Reigns, September, Harper) and Victoria Aveyard (War Storm, Harper) spoke about women and "Power Moves" in young adult literature. "We are here," Enni began, "to talk about fierce women." Why, she asked, do we talk about female characters differently than we do about males? De la Cruz began saying that, while valuable, continually having the "strong women" discussion can be tiresome. "All women are strong," she said, "We've been strong all the time... of course we kick butt. We've always kicked butt." Aveyard followed by commenting on how aggressively readers (and viewers) will call out a Mary Sue (a seemingly perfect female character) even as they idolize a Gary Stu, the Mary Sue's male counterpart. Blake took this idea a step further, expressing her frustration with our culture's contempt for "unlikable females"--male antiheroes are beloved, but their "unsympathetic female" equivalents are scorned. Enni also asked the panelists about their recent or upcoming works, wondering how Mafi researched for her semi-autobiographical work that takes place immediately after 9/11. "It was more difficult," Mafi said, "to go back in time 15 years than to go back in time 1,000 years.... It's a bunch of tiny shifts" that make that time period "feel like a totally different world." For example, she said, "Remember when you had to call the Internet to see if it was around?" (Unfortunately, the mostly teen audience did not, in fact, remember this.)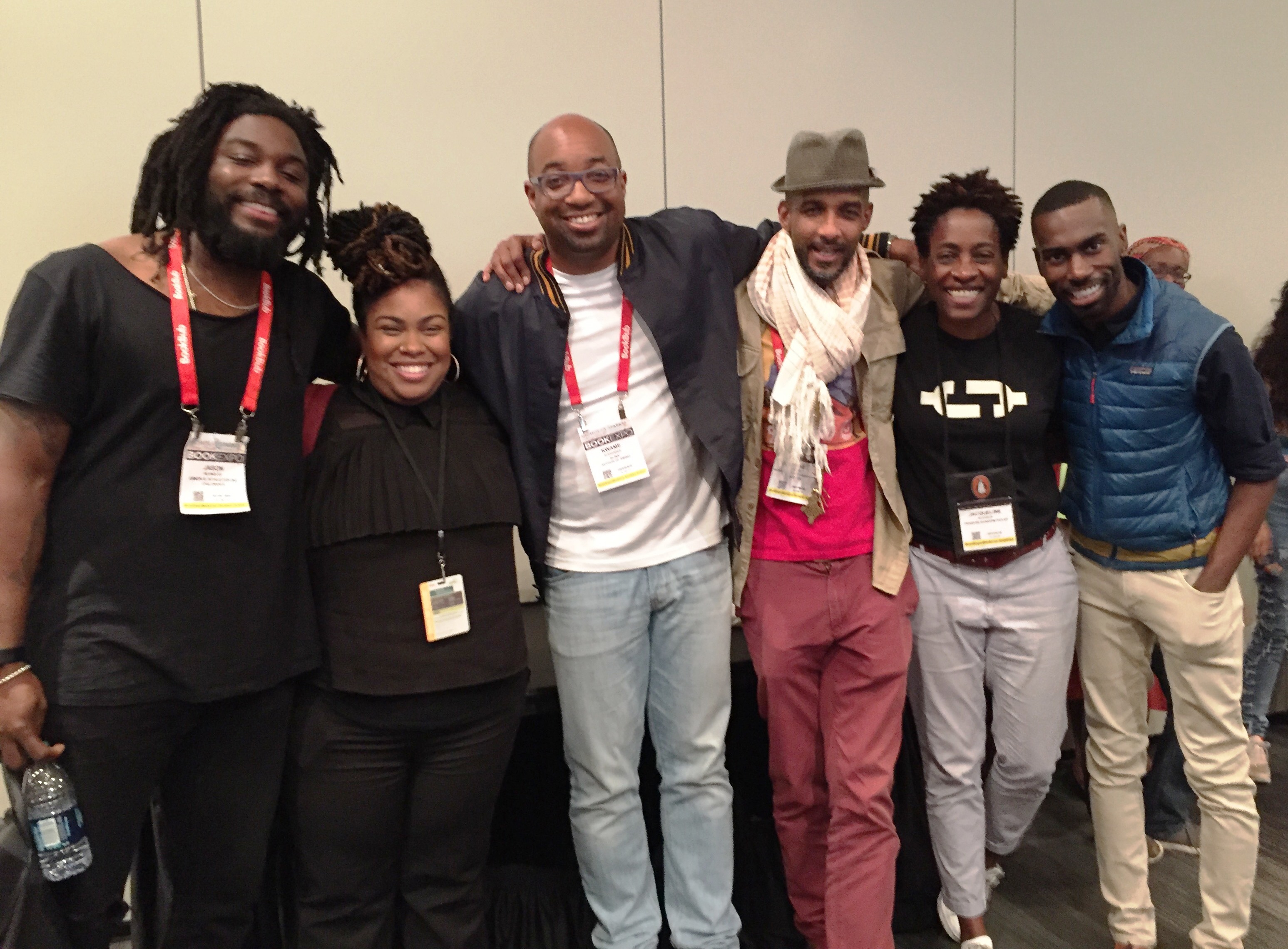 SJWs: (l.-r.) Jason Reynolds, Angie Thomas, moderator Kwame Alexander, Shane Evans, Jacqueline Woodson and Deray Mckesson.
Another highly attended, SRO panel, Social Justice Warriors: Redefining Youthful Rebellion, was moderated by Kwame Alexander (Rebound, HMH) and featured Jason Reynolds (Lu, October 23, Atheneum), Angie Thomas (On the Come Up, February 5, Balzer + Bray), Jacqueline Woodson (Harbor Me, August 28, Nancy Paulsen Books) and Deray Mckesson (On the Other Side of Freedom: The Case for Hope, September 4, Viking). Alexander began the discussion by asking each panelist a different question to answer in, "like, three minutes." Their rapid-fire, insightful conversation touched upon Thomas's desire to make all her works "mirrors, windows and sliding glass doors"; Mckesson's concern "that people are more in love with the idea of resistance than the work itself"; Reynolds's belief that the books they "create can be catalysts... [that] can't do all the work... but [they can] spark the mind"; and Woodson's direct questioning of the adult gatekeepers who don't work to get diverse books into the hands of all their students.
While BookCon is certainly about storytelling and popular culture colliding--about creating a Comic Con-like event for the young adult market--it is clear that it's also becoming a place of inclusion. In 2015, "We Need Diverse Books peeps bogarted BookCon," according to Woodson, "because BookCon was all white." This past weekend, as Shelf Awareness attended panels, walked the floor, looked at the signing lines and the authors at their head, we could see that the Con is working to present greater diversity in race, ethnicity, sexuality, disability and gender expressions. It's possible that BookCon is taking on a role that will, in time, not only allows fans to let their nerd flags fly, but also to do so in a comfortable, inclusive environment. --Siân Gaetano, children's and YA editor