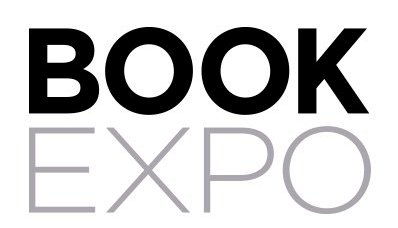 At BookExpo in New York City last week, members of the American Booksellers Association's Diversity Task Force led a discussion session aimed at providing booksellers with some "tactical takeaways" for making their bookstores more diverse and inclusive spaces.
The three task force members, Hannah Oliver Depp of WORD Bookstores in Jersey City, N.J., and Brooklyn, N.Y., Veronica Santiago Liu of Word Up Community Bookshop in New York, N.Y., and BrocheAroe Fabian of Quail Ridge Books in Raleigh, N.C., began by offering some practical tips from their own stores.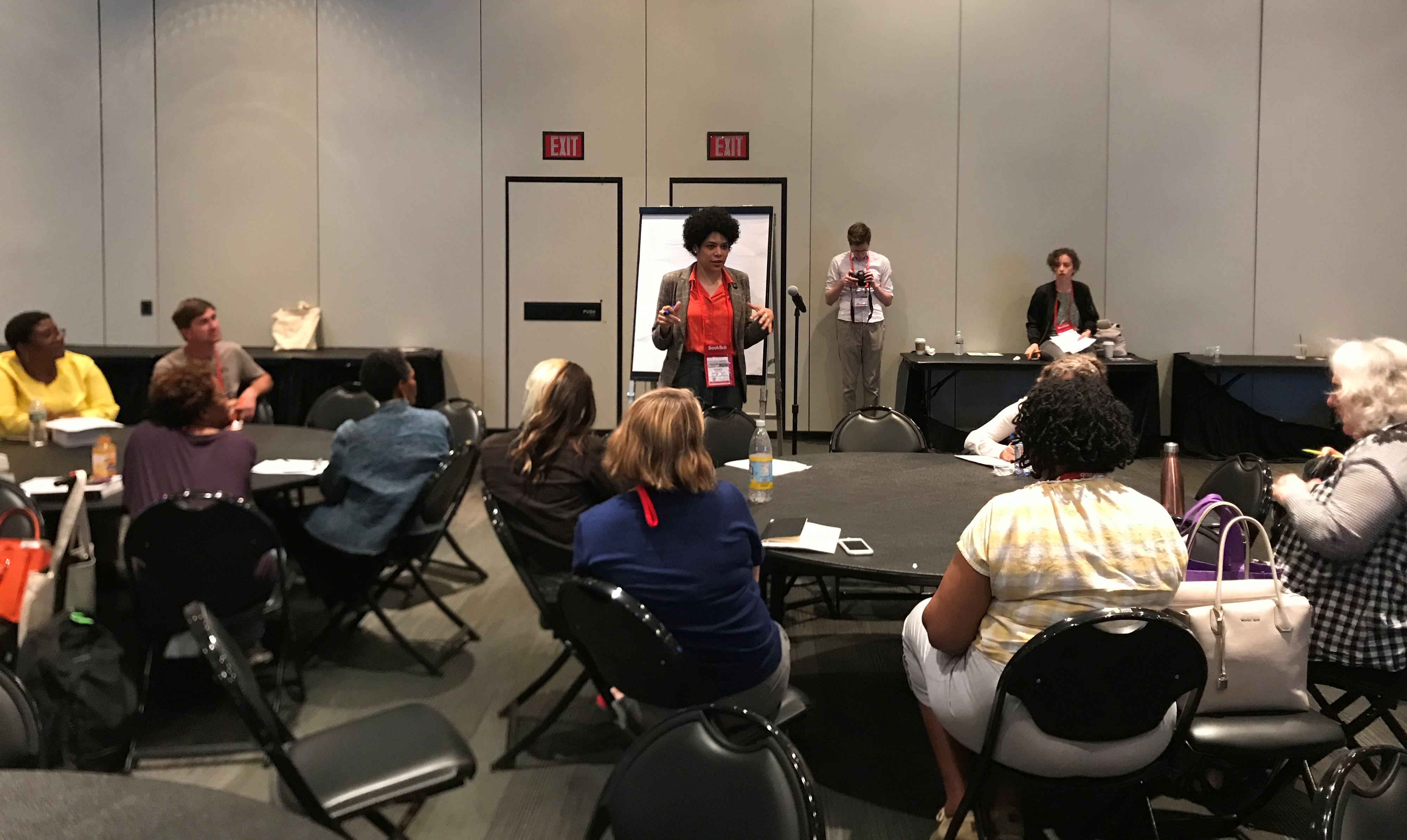 Hannah Oliver Depp leading a group discussion during BookExpo.
Depp recalled that one of the first things she addressed was WORD's hiring policies. In an attempt to reach out to people who may have already "self-selected out" of bookselling, the store began advertising open positions on social media and at local community colleges. She said she realized eventually that although the store's buying was "on point" in terms of bringing in diverse titles, those titles were not prominently featured and, as a result, the shelves were "extremely homogeneous." WORD then made sure diverse books were more visible on shelves, and merchandising became "day two" of staff training.
Prior to opening Word Up in northern Manhattan, Liu had "all day" meetings with staff and volunteers during which they pored over local census data in order to determine how best they could reach different parts of their community, including distributing flyers and running advertisements in a variety of languages. Liu said that Word Up has lowered price points to help make the store more accessible, and she noted that while events can be a great way to connect with the community, she made sure to keep some nights free so that people can come in, relax and get to know other community members. Word Up has also established writing programs so they can make books alongside "everyone in the community."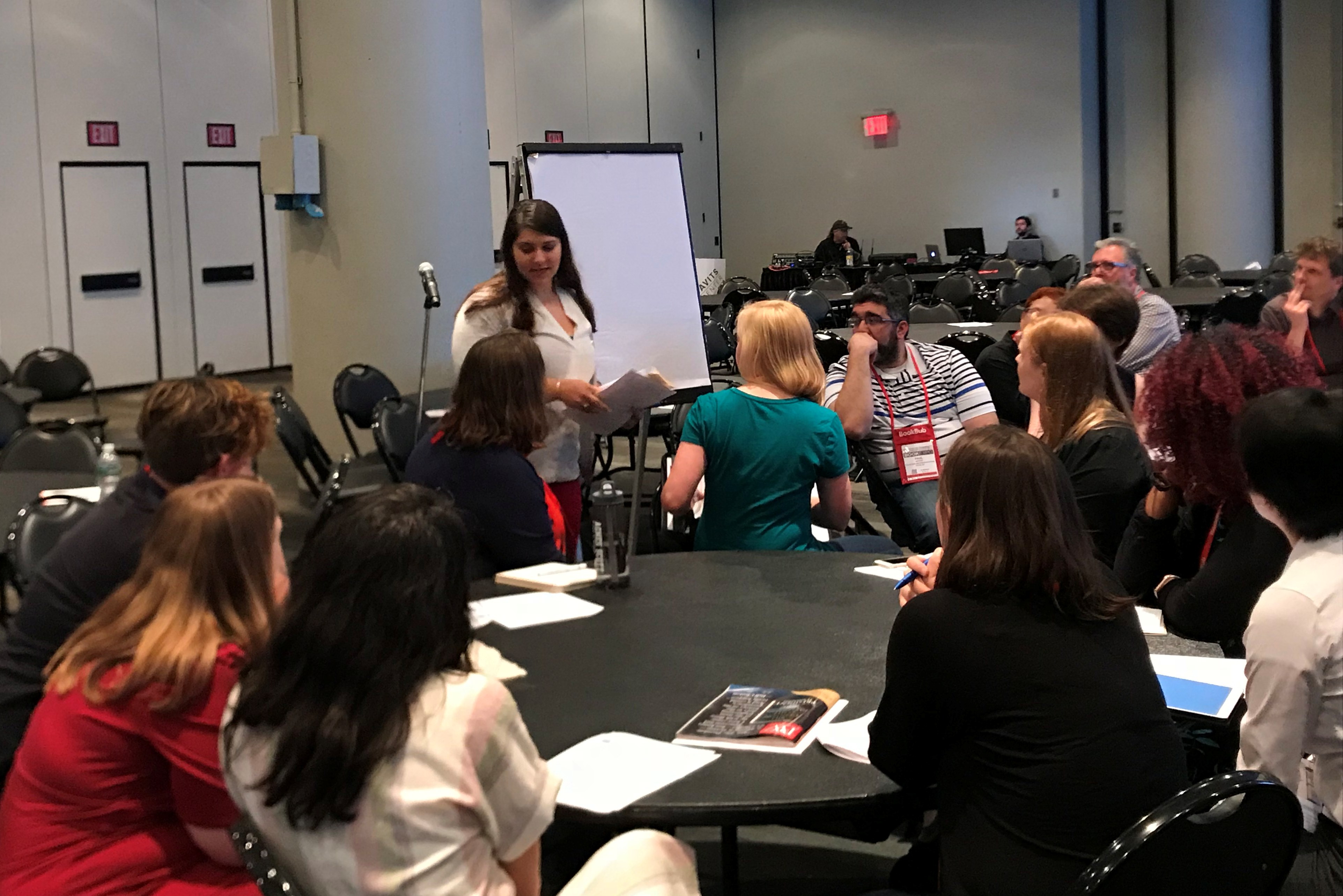 BrocheAroe Fabian at BookExpo.
Fabian reported that one of the biggest community building projects Quail Ridge has undertaken was the creation of a consignment program for North Carolina-based authors. The store maintains a database of local authors, and staff members keep track of whether they've been contacted and if there's been any follow up. While she acknowledged that consignment can be "tricky" and the program requires a lot of effort, it has brought returns in both community inclusion and profits. Fabian also suggested that if booksellers decide to make a permanent clearance section in-store, not identifying it as sale or clearance might make shoppers from a lower socioeconomic background less self-conscious about browsing there.
During the open portion of the discussion, a bookseller recommended off-site and authorless events as ways to extend a store's reach into a wider community, and it was further suggested that bookstores that want to bring in a more diverse audience need to make an effort to "go where the people are," whether that be community centers, churches or other similar organizations. Liu, Depp and Fabian all recommended getting involved with local government and attending community meetings, while a librarian in attendance pointed out that most libraries should have resources for finding American Sign Language interpreters for events.
When it came to stocking and finding diverse books, Fabian urged booksellers to ask any Edelweiss representatives they interact with to request keyword tags from publishers that pertain to diverse and inclusive books. Keywords are not only helpful for learning about new diverse titles, she said, but also come in handy for finding titles related to a specific subject in one's own inventory. Publisher keywords, she explained, were the "start of the pipeline." --Alex Mutter