"I often say that books are these really handy, wonderful empathy delivery devices.... And at a time like now, when I feel we could use empathy more than ever, the fact that you can just stick these wonderful empathy delivery devices in your ear and go makes me profoundly grateful." --Gayle Forman
June is Audiobook Month, a season launched annually with the Audie Awards gala in New York City, followed the next day at BookExpo by the Audio Publishers Association's Author Tea, where this year's featured speakers were authors Laini Taylor, Jason Fry and Gayle Forman, along with actress/writer Kathryn Hahn.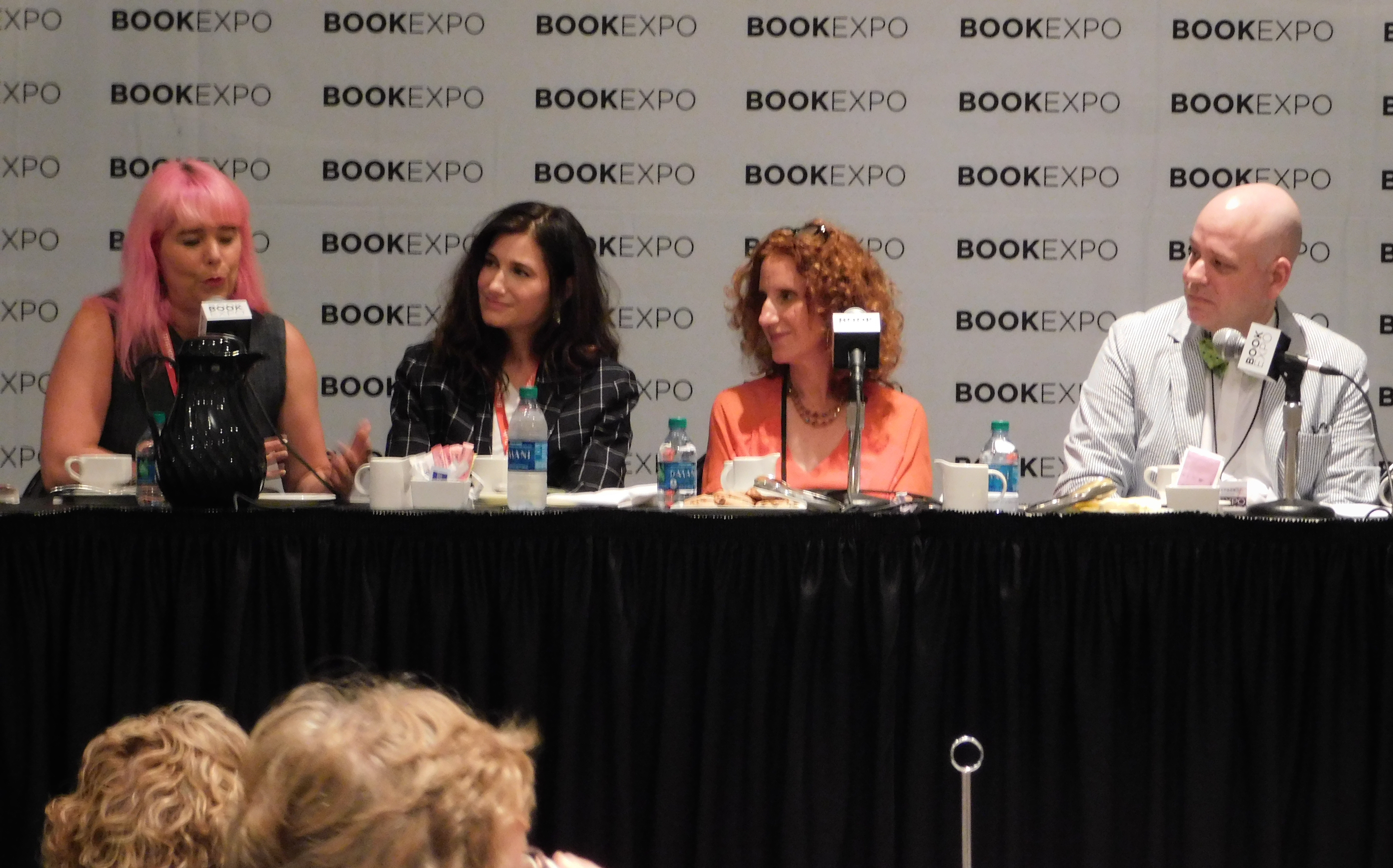 Laini Taylor, Kathryn Hahn, Gayle Forman and Jason Fry
"The main thing I love about audiobooks is that I'm an author who reads aloud as I write," said Taylor (Strange the Dreamer, Hachette Audio). "The music of the language is so important to me that I read it out loud to myself. And I'm a perfectionist, so by the time I've finished a book I'll have read it something like 8,000 times.... For me the great gift of an audiobook narrator is that I can hear it anew and it can come alive for me again. It's a selfish thing. They can bring my book back to me. But as a civilian listener of books, they are ways of squeezing more stories into my life. I listen to them with my daughter. They're such a gift."
Noting that she is "somebody who truly loves audiobooks," Forman (I Have Lost My Way, Listening Library) agreed that it is "amazing to hear your work translated in this different way." As a listener, she gravitates toward "the kind of big, chunky nonfiction that, since having children, I have been unable to concentrate through. It's fantastic."
It is as a parent that audiobooks have changed her life. Although one of her daughters is a voracious reader, the other "has a harder time with reading," Forman said. Last summer, however, in preparation for a family trip abroad, "I took a leap of faith and I bought about 10 different audiobooks. I bought the entire Jason Reynolds collection, Wonder, some Jackie Woodson, Sharon Draper, loaded them on, crossed my fingers. And over that summer she listened to these books over and over.... The surprising thing was that when we came home in the fall, suddenly she wanted to listen to chapter books read out loud.... And so now, three nights a week, I'm upstairs reading to her."
Describing himself as "probably the biggest newbie in the room, but also as a really enthusiastic convert," Fry (Star Wars: The Last Jedi, Random House Audio) confessed that his first experience with an audiobook occurred just two days before the event on a drive to Boston with "my new pal Sylvain Neuvel's book Sleeping Giants as my inaugural audiobook. I had such a good time. It was wonderful. And it got me thinking as I passed these hours in really good company with Sylvain's book--What took me so long?"
As he considered the different reading experiences, Fry came to believe "the secret is that the eye can take in so much. The eye can fill in the blanks and jump and assess things all at once. The ear is really dependent on each word one at a time, carrying its own weight. The ear is the really musical editor.... I'm the newbie in the room, but I can't tell you how much fun that all was and I'm just so excited that there is a giant world is now open to me and I'm very glad to be a part of it."
Although not a regular audiobook listener, Hahn (My Wish for You, Scholastic/Orchard) said she'd been thinking about a scene in the film Lady Bird where the mother and daughter "are listening to The Grapes of Wrath and they have that big plastic thing with all the cassettes. That brought back such memories of being in the station wagon with my mom and hearing her swear trying to organize the tapes back in the box, with some tapes having their labels rubbed off because they'd been checked out of the library so many times. And there was a lot of Anne Tyler we were listening to.... But there was that sound of the written word, that sound of language, of having a weight to it, that I'm sure somehow informed me wanting to be an actor"
"The Eternal Question" inevitably came up near the end of the program: Is listening to an audiobook reading?
Forman readily took up the gauntlet: "I got into an argument with somebody recently who said you can't call it reading. That it's not right. And I understood what they were kind of saying you're being a stickler about words, but is it not reading if you're reading a book with Braille? Do you have to read a book with your eyes? And the issue I had with this person was not that they were saying what is reading, but they were suggesting that audio was less. I'm so used to defending audio like I'm used to defending YA as equal to. So, I'm happy to say, you do read books on audio."
"I feel like it's that same autonomy," Hahn agreed. "It's yours, what's in your head, what you're seeing in your mind. It's that autonomy of story."
And Taylor added: "I think you're still having to do all the work of translating those words into images in your brain.... To quibble with that does seem petty."
I agree, but look forward to next year's cogent answers to that question. Maybe we should create an anthology of responses. Could be an audiobook, too. --Robert Gray, contributing editor (Column archives at Fresh Eyes Now)