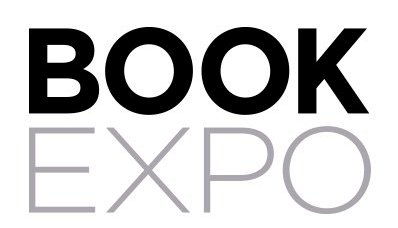 At the Celebration of Bookselling luncheon during BookExpo, many E.B. White Read-Aloud, Indies Choice Book Awards honor and winning authors, and Indie Champions appeared and spoke. Many of them offered heartfelt thanks to booksellers and insight into how they created their books:
Thyra Heder, writer and illustrator of Alfie (Abrams), an E.B. White Read-Aloud Picture Book honor book: "I was trying to put a very long, big book into a very small package, and I'm really honored that people got it."
Holly M. McGhee, author of Come with Me (Putnam Books for Young Readers), an E.B. White Read-Aloud Picture Book honor book: "In the early '90s, I was a sales rep for Farrar, Straus & Giroux in the Boston territory, so I know how hard it is sometimes to convince people like you to buy a book or buy three copies, and sometimes there's a complete pass... Thank you for connecting to this book, for connecting the book to its readers and its readers to the world. As small and insignificant as it sometimes may seem, our part matters to the world."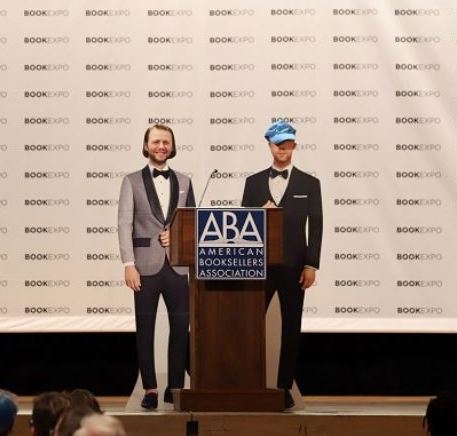 Standout cutouts of Mac Barnett and Jon Klassen.
Mac Barnett and Jon Klassen, author and illustrator of The Wolf, the Duck & the Mouse (Candlewick), the E.B. White Read-Aloud Picture Book winner (who appeared as cardboard cutouts): [Mostly Barnett] "When Candlewick wanted to send us on a European book tour during the E.B. White Awards luncheon, we said no. Cancel the tour!... Who would want to be in Edinburgh, when we could be here in America's Edinburgh, the basement of the Javits Center?... The kind of books that we make are the kind of books that need passionate advocates out there, putting them in readers' hands, and you have been advocates for our work from the start, and we're so grateful. We have careers because of you."
Pablo Cartaya, author of The Epic Fail of Arturo Zamora (Viking Books for Young Readers), an E.B. White Read-Aloud Middle Reader honor book: "The first person who offered me a job when I was in Miami was Mitchell Kaplan of Books & Books. Being around Mitchell, I saw the effect that a bookstore can have on the community. Bookstores are the heartbeat of a community. When I was writing The Epic Fail of Arturo Zamora, which is in effect about a community in Miami, you better believe that I put an independent bookstore in that novel, and the bookseller in that book is modeled after Mitchell Kaplan. I'm in awe of you. I thank you for the work you do to make our communities what they are."
Nikki Grimes, author of One Last Word: Wisdom from the Harlem Renaissance (Bloomsbury USA), an E.B. White Read-Aloud Middle Reader honor book: "This [book] was absolutely a labor of love.... I am especially grateful for independent booksellers who have embraced this title and run with it."
Alan Gratz, author of Refugee (Scholastic), an E.B. White Read-Aloud Middle Reader honor book: "One of my earliest jobs was selling books at Davis-Kidd, the dearly departed Davis-Kidd, in Tennessee. So I'm really thrilled to be recognized by the ABA. Refugee has been read aloud in so many classrooms, and so many kids are reading it and responding to it... So many letters from kids and parents and teachers and librarians tell me the impact that it has on the kids and what they're doing to work for change because of that, raising money for UNICEF or volunteering with their local refugee organization or in some cases, calling up their Congresspeople and advocating for change.... It all starts with you guys because you're the ones who put it in their hands to begin with when you handsell those books... You are making a real change in the world."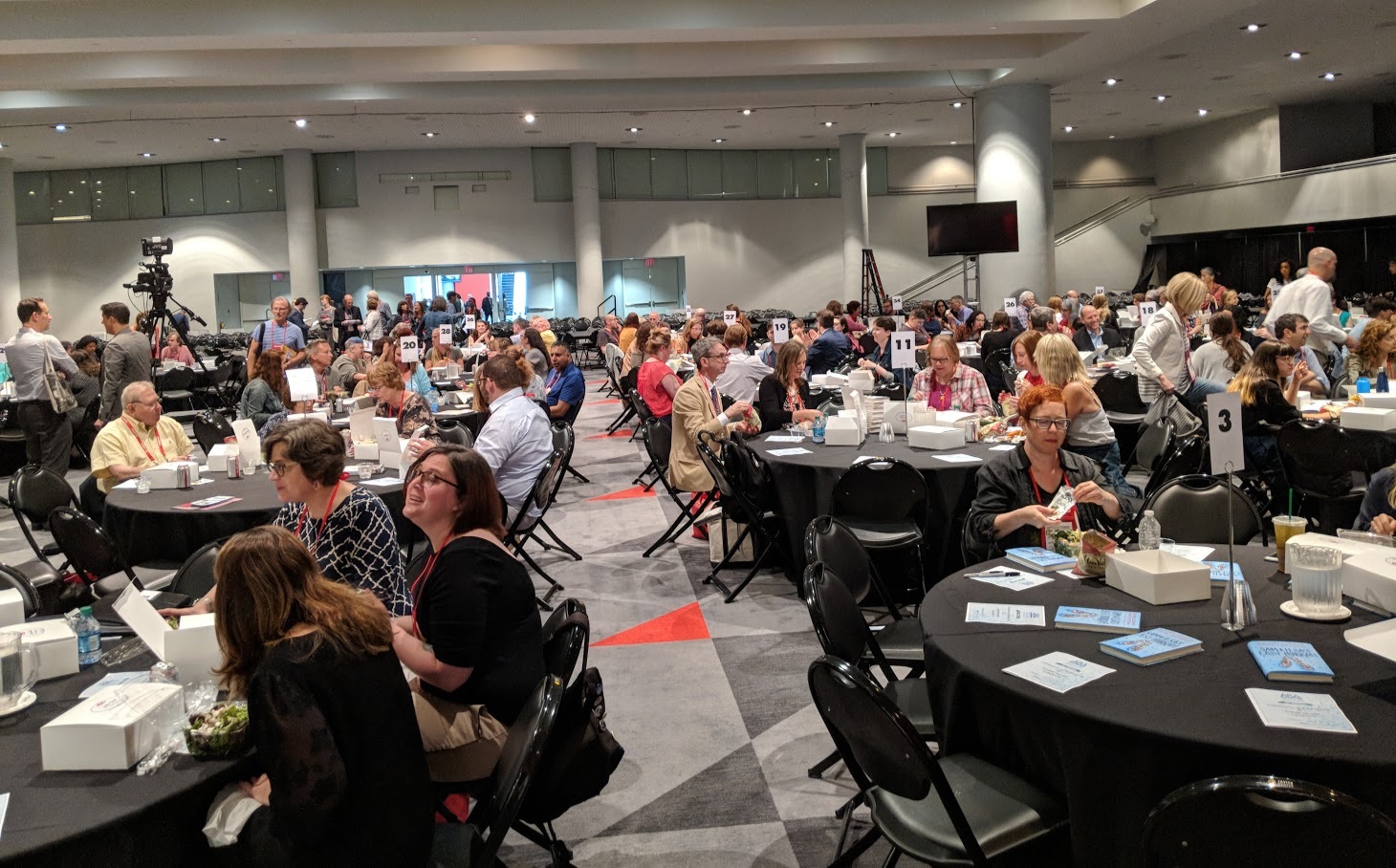 Gearing up for the celebration.
Katharine Applegate, author of Wishtree (Feiwel & Friends), the E.B. White Read-Aloud Middle Reader winner (via a video): "Indies, bookstores, you change people's lives, and you change the fabric of communities. You are especially right now beacons of hope and light. That is an absolute fact. That is not fake news, and I cannot thank you enough for everything you do."
Andrea Beaty, author of Ada Twist, Scientist (Abrams), Picture Book Hall of Fame Inductee. "On behalf of all of us, I want to thank you booksellers and educators and librarians. You are the life blood of great children's literature. It cannot exist without you."
Kadir Nelson, illustrator of I Have a Dream (Schwartz & Wade), Picture Book Hall of Fame Inductee. "Given the current environment, I hope that this award will continue to further Dr. King's message of inclusion and tolerance and inspire many to carry the torch."
Lincoln in the Bardo, read by George Saunders, Nick Offerman, David Sedaris and a full cast (Random House Audio), Audio Book of the Year [accepting the award, George Saunders by video]: "I want to thank all the booksellers in the room who supported this weird book so beautifully for the last year."
Nic Stone, author of Dear Martin (Crown Books for Young Readers), Indies Choice Young Adult Book honoree: "Thank you that in a world where cars are beginning to drive themselves, you guys are keeping paper and cardboard books alive, and I could not be more appreciative.... Booksellers, you all rock. Keep it up."
Angie Thomas, author of The Hate U Give (Balzer + Bray), Indies Choice Young Adult Book of the Year (via video): "Thank you to each and every one of you booksellers for the love and support you've given my book. It honestly, probably would not be where it is right now if it wasn't for you guys cheerleading like you did.... I often say that booksellers are superheroes and you wear that cape well."
Lisa Ko, author of The Leavers (Algonquin), Indies Choice Adult Debut honoree: "When I published [The Leavers], I realized you do so only with the help of community from readers and bookstores and everybody who has believed in this book.... Thank you being there and for all the important and necessary work that you continue to do."
Gabe Habash, author of Stephen Florida (Coffee House Press), Indies Choice Adult Debut honoree. "I went to Winter Institute last year in Minneapolis, and I met booksellers from all over the country. You all are so generous and smart and warm and so excited about the book, and that means so much to me.... Multiple and most meaningful moments in this whole publishing process have been because of you guys."
Carmen Maria Machado, author of Her Body and Other Parties (Graywolf Press), Indies Choice Adult Debut Book of the Year: "Politics & Prose is in walking distance from American University, where I went to college. Unlike every other big-box bookstore I'd been to in my life, which had what I needed but seemed pretty interchangeable, Politics & Prose was a destination. It was a place that I'd go that felt different from other bookstores... Independent bookstores are one of the few institutions who can perform essential sorcery, one of the few to make their stores and the culture at large actively better and more exciting places."
Jesmyn Ward, author of Sing, Unburied, Sing (Scribner), Indies Choice Adult Fiction Book of the Year (via a video filmed at Pass Christian Books, Pass Christian, Miss.): "Independent booksellers have been so important to me in my career. You handsold my work, and in this way you connected my stories to readers who need them."
David Grann, author of Killers of the Flower Moon: The Osage Murders and the Birth of the FBI (Doubleday), Indies Choice Adult Nonfiction Book of the Year: "Independent bookstores and independent booksellers are so essential to our culture. So many of you have advocated for the story, introduced it to readers and shared with readers in a way that only you can. And it's not just this story. You have shared so many other neglected histories that deserve now more than ever to be part of our national conscious."
David Levithan, Indie Champion Award honoree: "It's important more than ever to embrace everybody and everything that is a force for good. When I think about independent bookstores and the elaborate apparatus behind all the books that are in bookstores, I think about what a force for good we are.... The YA posse of writers who are in the room--we are an army of empathy, and we are fighting for that and trying to be a force for good.... If we were half as rich as James Patterson, we would give you twice as much money."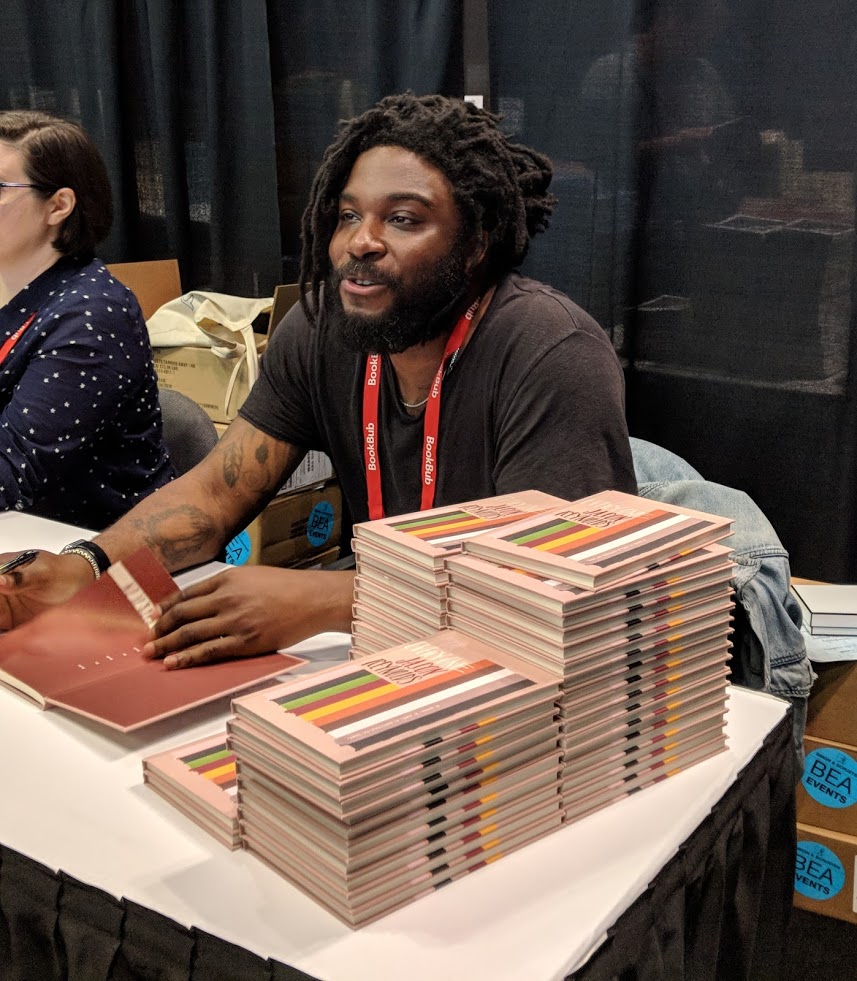 Jason Reynolds signing in the ABA Lounge.
Jason Reynolds, Indie Champion Award winner and Indies Choice Young Adult Award honoree for Long Way Down (Atheneum/Caitlyn Dlouhy Books): "The indie bookstore world--you all are the brick house that can never been blown down no matter how strong the winds may get. And in that house--as the great Alice Walker recently said--are our wounds and our medicines. Everything is there. There's space for all of us to come and be in accord, whether we like books or not, whether we're interested or not. They're community spaces that serve as hubs for the neighborhood, a meeting ground for people who may not normally run into one another.... I want to challenge you all: as you run your incredible companies, as you hustle and work really hard to make the rent, take a moment, look around, and think about whether or not you can reach out to some of those kids, the ones that are following around the stores, the ones that everybody has something to say about, see if you can do some outreach to them. Give them a job. You want to see something change in your community: let's see if you can provide some jobs at a bookstore, an internship--it could be unpaid. Let somebody do some restocking for you, some alphabetical orders. Get one of those young kids who reads a little bit to write you recommendations. We need to figure out how to incorporate kids, the ones that aren't always the comfortable ones, the ones that aren't always easy to get along with. Let's figure out how we can pull some of them in so that they can one day stand up here like me, because I was that kid."