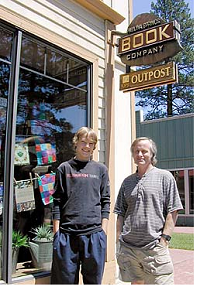 Brad Smith (r.) and son Austin
Brad Smith, co-owner of Paulina Springs Books in Sisters, Ore., died May 20 after a five-year battle with cancer, the Bend Bulletin reported. He was 63. Smith purchased the bookstore with wife, Randi Schuyler, in 2003 after moving to Central Oregon from Bellingham, Wash.
In 2008, Smith and his sister, Cynthia Claridge, opened a second location in Redmond. At both stores, Smith "made community engagement a focus, hosting a variety of events and providing sponsorships and donations to many area organizations," the Bulletin wrote.
The owners decided to sell the Redmond store in 2013, when Smith was initially diagnosed, but continued to own and operate the Sisters location. Earlier this year, due to Smith's declining health, they listed the Sisters store for sale.
"His death was earlier than any of us were really ready for," Claridge said. "But we're not walking away from the store--it was very important to Brad." A memorial is being planned at the store, but details have not been finalized.