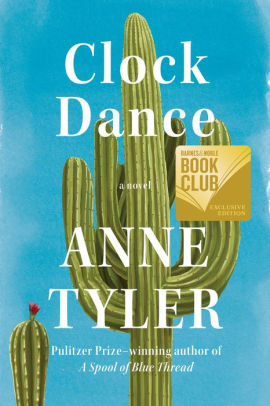 Barnes & Noble has chosen Clock Dance by Anne Tyler (Knopf) as its second, summer selection for the Barnes & Noble Book Club. The company will sell an exclusive edition of the book that includes an essay by the author and a Reading Group Guide for discussion. It is also hosting a book club night to discuss the book in B&N stores across the country on Wednesday, August 8, 7-8 p.m. Customers can order the book in advance and sign up for the book club in local stores or online.
B&N described Clock Dance as "the latest novel from the critically acclaimed author Anne Tyler, who is loved by readers for books including The Accidental Tourist, Breathing Lessons, and A Spool of Blue Thread. Clock Dance follows the arc of a woman's life from childhood to adulthood, and is filled with wonderful characters and surprising twists."
Senior director of merchandising Liz Harwell added: "Ms. Tyler is one of the most beloved and respected writers working today, and Clock Dance adds to her incredible repertoire with a story of second chances."
B&N launched the book club earlier this year with The Female Persuasion by Meg Wolitzer.