photo: Nelwyn Del Frate
Julia Dixon Evans is the author of the novel How to Set Yourself on Fire (Dzanc Books, May 8, 2018). Her work can be found or is forthcoming in McSweeney's, Literary Hub, Pithead Chapel and elsewhere. She works, edits and teaches for the literary nonprofit and small press So Say We All, is nonfiction editor for Noble / Gas Qtrly and hosts the Foundry reading series in San Diego.

On your nightstand now:

My nightstand is a weirdly methodical mess--the on-deck, the references-too-often-to-put-away and the oh-my-god-why-can't-I-finish-this-one? In order: Elle Nash's new Animals Eat Each Other, Hanif Adburraquib's They Can't Kill Us Until They Kill Us, Jeffrey Eugenides's The Virgin Suicides and the second goddamn book in Stephen King's Dark Tower series that I have been trying to read for three goddamn years.

Favorite book when you were a child:

It's hard to not say Matilda by Roald Dahl here. I remember secretly wishing my parents were more evil and dastardly so I could be more like Matilda. Unfortunately, my parents were all right.

Your top five authors:

Jeffrey Eugenides (I even loved The Marriage Plot), Shirley Jackson (I came to Jackson as an adult, as a mother, and I subsequently ate her writing up with a spoon), Laura van den Berg (she was probably the first writer I fell for since trying to be a writer myself), Roald Dahl (because he made a reader out of me), J.D. Salinger (because when I read Franny and Zooey in high school he made an obsessed reader out of me).

Book you've faked reading:

I faked reading a lot in school because I was always overworked. I loved lectures and discussions, and could bullsh*t a top-notch essay based on that. The only time I was ever proud of this was when I read maybe five pages of Edmund Spenser's 1,000+-page ye olde English The Faerie Queene for an entire class that was just about that book. The class was an 8 a.m. lecture by a 90-year-old professor, and I got a B.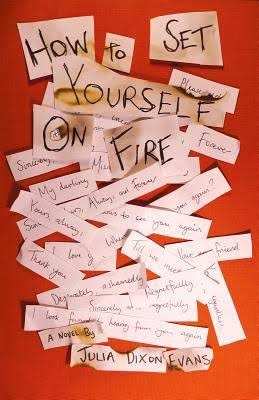 Book you're an evangelist for:

The Virgin Suicides by Jeffrey Eugenides. See? I've mentioned it in three answers now.

Book you've bought for the cover:

All of them.

Book you hid from your parents:

The first book I hid from my parents was Judy Blume's Are You There God? It's Me, Margaret because periods and boobs and boys, and omg, it felt so good to have a secret. I still love that feeling, like when I'm reading something pervy or violent in public and wonder if anyone can tell. And weirdly, I can't wait for when my own daughter reads Are You There God....

Book that changed your life:

Isle of Youth by Laura van den Berg. I read this when I was trying to stitch together a new-ish life: small children getting less small, me trying to write and grasp at this emerging identity, me being old and thinking I was too old to have my life changed. LVDB's writing is stunning and quietly transformative for sure, but I wonder if maybe this is more a function of my life changing around me while I happened to be reading this book.

Favorite line from a book:

" 'Have a carrot,' said the mother bunny." This is the very last line of The Runaway Bunny by Margaret Wise Brown. I love last lines, and this one is delightful. I say this to people a lot, and I never really mean what the book means (which I think is: despite every ridiculous thing you have done to me, I am here for you and I will not make a big deal out of the ridiculous things you have done to me, let's eat). I usually just mean, Can you eat this piece of vegetable please? But it always makes me smile. Because how many volumes have been written about motherhood? That (kinda disturbing) book catches it in three words. That's what parenting means, that's what unconditional love means, that's what friendship means.

Five books you'll never part with:

Franny and Zooey by J.D. Salinger, The Virgin Suicides by Jeffrey Eugenides (strike 4), In the Heart of the Valley of Love by Cynthia Kadohata (because 18-year-old me, transformed by this book, wrote long tomes in the margins with pink glitter gel pen, and no used bookstore will ever take it and my book margins are the closest thing I have to a journal), Bookmarked: Stephen King's The Body by Aaron Burch (same, except not with a pink glitter gel pen. I will never part with the things I wrote in those margins) and Horror Business by Ryan Bradford, which is out of print and that's a crying shame.

Book you most want to read again for the first time:

Well, for the fifth time I'm gonna have to say The Virgin Suicides by Eugenides. The magic is how the plural narrator gets under your skin. I love recommending this book to people, but I also feel a weirdly forceful envy of them. It's not fair that they get to read it for the first time.

Are you sponsored by The Virgin Suicides?

Yes.