Something different. That's what I look for every year at BookExpo (or, before that, the American Booksellers Association Convention, and then BEA). Although I search, that "thing," that bit of magic, almost always finds me instead. To be more accurate, what I actually do is wait for it to find me. The star-struck new bookseller who went to his first ABA Show in Miami in 1993 still, decades later, wants a little taste of the magic as a complement (Or is it an antidote?) to all of the business as usual.
This year, the "thing" I couldn't resist was the theatrical nature of BookExpo, with its nucleus located near the Theatre Communications Group booth, nestled among the other publishers in the Consortium Book Sales & Distribution aisle.
Suzan-Lori Parks at BookExpo
On Thursday and Friday, I kept being drawn back to the booth, first for signings by Pulitzer Prize-winning playwright Suzan-Lori Parks (100 Plays for the First Hundred Days) and then Tony Kushner (The Intelligent Homosexual's Guide to Capitalism and Socialism with a Key to the Scriptures, October), whose landmark play Angels in America is currently in revival.
I returned once again to meet the creators of The Band's Visit, which I saw last December, not long after it had opened on Broadway. I was deeply moved and entertained by this gem, adapted from the compelling, funny/heartbreaking 2007 film about an Egyptian band stranded overnight in a small desert town in Israel. (I could not, however, have predicted it would go on to sweep the Tony Awards last Sunday.)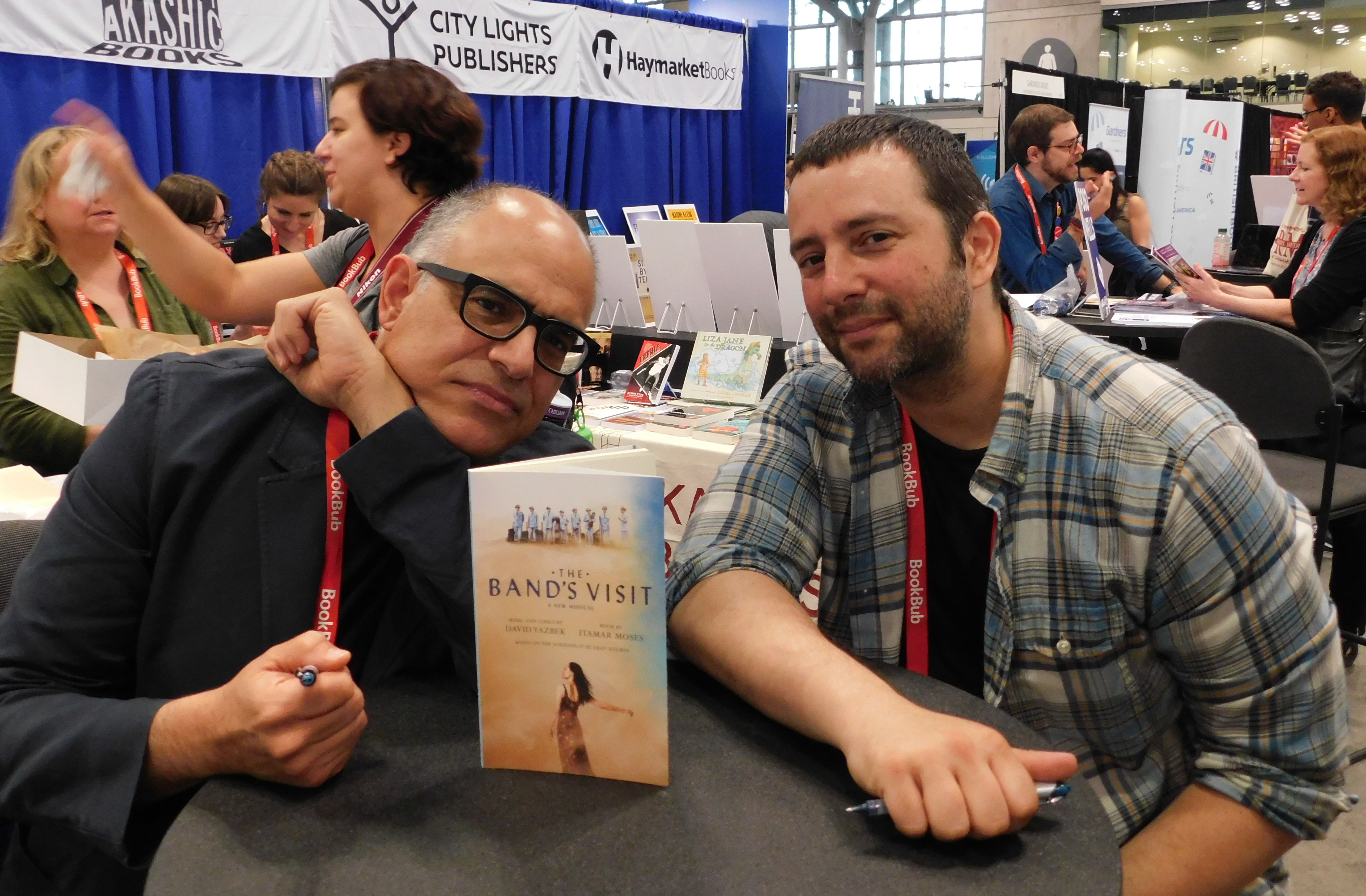 David Yazbek and Itamar Moses
"You saw it when it was fresh," joked David Yazbek as he signed my copy of The Band's Visit: A New Musical at TCG's booth. Yazbek composed the music and lyrics for the production and was appearing at BookExpo with David Moses, who wrote the book.
It was only a moment, but it was a moment.
A few years ago, I considered the idea that BookExpo fit under a definition of theatre proposed by legendary British producer/director Peter Brook in his book, The Empty Space: A Book About the Theatre: Deadly, Holy, Rough, Immediate: "I can take any empty space and call it a bare stage. A man walks across this empty space whilst someone else is watching him, and this is all that is needed for an act of theatre to be engaged."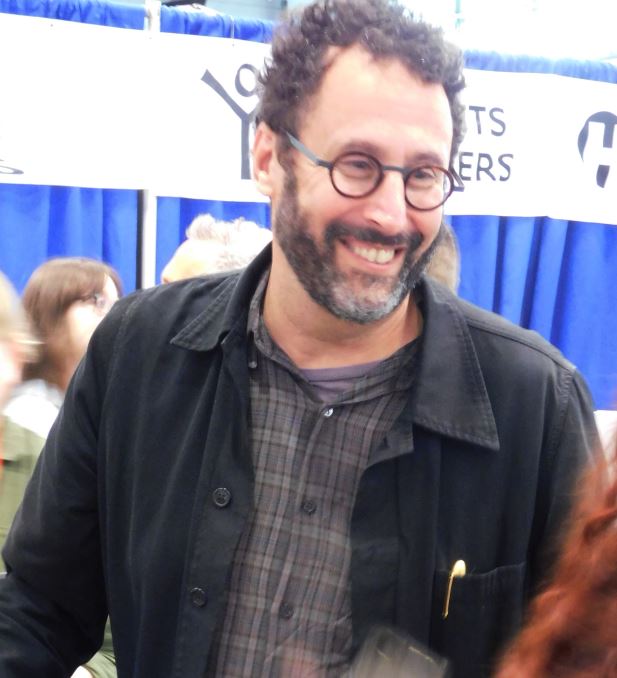 Tony Kushner
From my early days as a bookseller, I understood that handselling is performance--sometimes subtle, sometimes overt, always passionate--and the bookstore sales floor is a stage set. BookExpo is Broadway-scale handselling. Setting it in New York City enhances the production values, as does staying at a hotel within walking distance of the theater district.
I mean, really... the Javits Center's exhibition hall during BookExpo literally had an Uptown Stage, Midtown Stage and Downtown Stage. The connection was further enhanced when the creators of Tony-winning musical Dear Evan Hansen took to the Downtown Stage to discuss Dear Evan Hansen: The Novel (Poppy/Hachette).
The Downtown Stage was also the setting for the theatrics of BookExpo's high moment of drama (or comedy or tragedy, depending on your political leanings), when former White House Press Secretary Sean Spicer appeared after bomb-sniffing dogs had "secured the premises" while stern-looking folks with earpieces and, in at a least one case, dark sunglasses, surveyed the audience. If anyone can convince me that scheduling former Secretary of State John Kerry at the same venue as the next event wasn't a conscious "act of theatre," I'd love to hear their definition of the word coincidence.
When the curtain finally came down on BookExpo, my next move was to see a play, as I often do for a post-show encore. This year it was the incredible revival of Edward Albee's Three Tall Women, starring Glenda Jackson, Laurie Metcalf (who both won Tony Awards) and Alison Pill.
I thought again about Peter Brook's "act of theatre" concept, as well as something Glenda Jackson told author Mary Gordon in a March New York Times interview. During the '60s, Jackson had been directed by Brook in Marat/Sade. She recalled that working with him "was like coming across an oasis in the desert. Like all great directors, he creates the kind of world in which everyone's responsible for the whole play. That sense of the total being greater than the sum of the parts is very, very strong in Lear."
I said earlier that BookExpo is Broadway-scale bookselling. I'll amend that statement. The real magic of the show--those "moments" like mine at the TCG booth this year, and yours elsewhere--happen when individual players, whatever our role/job description may be, find ways to become "responsible for the whole play."