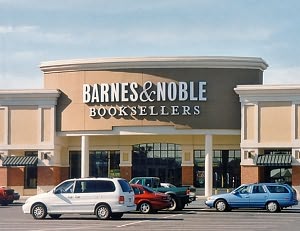 Barnes & Noble Wilkes-Barre, before the tornado.
Barnes & Noble will reopen one of its bookstores damaged by a tornado that touched down Wednesday night at the Arena Hub Plaza in Wilkes-Barre, Pa., causing widespread destruction, the Times-Tribune reported.
In a pair of tweets, BN Arena Hub posted: "Hey folks. Firstly we want to let you know that all staff that was in the building during the storm has been accounted for and nobody was injured. Thank you to all who have reached out for your thoughts and prayers...." This was followed by: "We will work hard to assess the damage and begin repairs as soon as possible. We love our Wilkes-Barre community and look forward to serving you again soon."
The National Weather Service confirmed yesterday that a tornado had touched down at the major shopping hub. The Times-Tribune wrote that "only six people were injured in the storm, but a number of businesses at the Wilkes-Barre Township Commons and Arena Hub Plaza had collapsed roofs, broken windows and damaged signs. Power lines were downed in the streets and parking lots, along with overturned cars."
A front window of the B&N store "just came flying in as if something hit it," said staff member Patrick Abdalla. "When that happened, I was like I have to get closer to the inside of the store. I turned to run, and that was when I saw the back wall was just gone. The whole back wall. You're looking out and where you should see a wall there's thunder and lightning and stuff floating around."