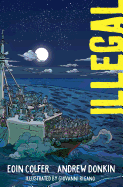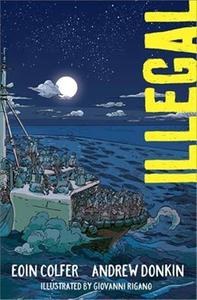 Eoin Colfer, Andrew Donkin and illustrator Giovanni Rigano, collaborators on the Artemis Fowl graphic novels, team up once again on the powerful, moving
Illegal
. Their middle-grade graphic novel is told in two timelines: "Nineteen months earlier" and "now." The book opens with "now": a "Seahawk Inflatable Rubber Dinghy. Maximum safe load 6 people. Currently carrying 14 passengers." The 14 people on this decrepit dinghy are hoping to reach safety in Europe. Razak, whom 12-year-old Ebo and his older brother, Kwame, met along the way, is, like the other people on board, angry--angry at the others, angry at the situation and angry at those who put them in this position: "They don't care if we die here in this boat. They already have our money. They cheated us on the gas and the boat. Even on the number of people.
He
should not be here."--referring to Ebo. There is no more fuel and no more water, and Ebo is just more weight and another thirsty mouth. Ebo tries to calm everyone down: "If we don't fight and tip over then soon we will reach our new home. People are rich there and will be ready to give us blankets and food. We have a long way to go. This is the beginning...."
Nineteen months earlier, Ebo's brother disappears from their village in Ghana, just like their older sister, Sisi, did years ago. Ebo knows his brother is going to Europe--where Sisi is presumably safely settled---and refuses to be left behind. He collects what's his ("not much") and heads out to find his brother. He has no money to pay his bus fare but is known in the village for his beautiful voice; he sings a crying baby to sleep and the driver allows him to stow away among the luggage on the roof.
Now: the boat begins filling with water. Ebo finds the rip and explains to the other passengers that, if they flip the boat over, they'll be safe. Even though none of them can swim, they survive. They "have no food, water, or gas. [They] are drifting on the tides, lost and alone." "We're going to die, aren't we?" Ebo asks his brother. "Don't say it," Kwame responds.
The narrative continues, moving back and forth through time, depicting every new, painful trial--murder, poverty, dehydration, repeated dehumanization--with sensitivity and nuance. Rigano's illustrations show the beauty of the unforgiving landscapes and the individuals desperately seeking a better life; Colfer and Donkin's text is deep and evocative.
Illegal
is not an easy read but the creators have made the story both approachable to and captivating for a young audience. With the timely subject material and backmatter dedicated to both the refugee experience and the art of creating a graphic novel,
Illegal
is sure to be a bookseller, librarian and teacher favorite. --
Siân Gaetano
, children's and YA editor,
Shelf Awareness
Shelf Talker: The team behind the Artemis Fowl graphic novels collaborates again, for Illegal, a middle-grade graphic novel about a Ghanian boy's escape to Europe.