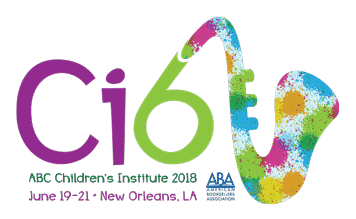 On Wednesday at the ABC Children's Institute 6 in New Orleans, La., a group of booksellers discussed ways they have found success handselling young adult literature to adults. The panelists--Destenie Fafard of Cellar Door Books in Riverside, Calif.; Kim Brock of Joseph-Beth Booksellers in Cincinnati, Ohio; Jordan Standridge of Powell's Books, Portland, Ore.; Emily Lloyd-Jones of Gallery Bookshop & Bookwinkle's Children's Books in Mendocino, Calif.; and moderator Javier Ramirez of the Book Table in Oak Park, Ill.--began with audience involvement, asking the crowd to decide whether a certain passage was taken from an adult or young adult work. After the room full of booksellers guessed correctly on the first quiz, they were shown two new passages to identify. But the second was a trick question: the passages were from The Perks of Being a Wallflower by Stephen Chbosky and The Book Thief by Markus Zusak, signaling the complicated nature of the discussion ahead.
Ramirez began by asking the panelists what, exactly, YA is. Answers were varied. Standridge suggested that coming-of-age works are generally YA; Lloyd-Jones said, "YA is not so much a genre as it is a targeted audience"; and Fafard worked to sum up the assorted opinions by saying, "YA is such a blurred line [that] even publishers will sometimes get it wrong." The main point, they agreed, is that YA has a stigma attached to it and, in order to get adults buying and reading it, booksellers have to get buyers over it. Lloyd-Jones suggested that, in order to fight the stigma, we have to first explore why there is a stigma: YA, she said, is primarily written and edited by women and read by teen girls. She went on to say that our society sees anything that teen girls like as "frivolous or tainted" ("Uggs are comfortable!"), meaning that YA is generally not taken seriously by adults.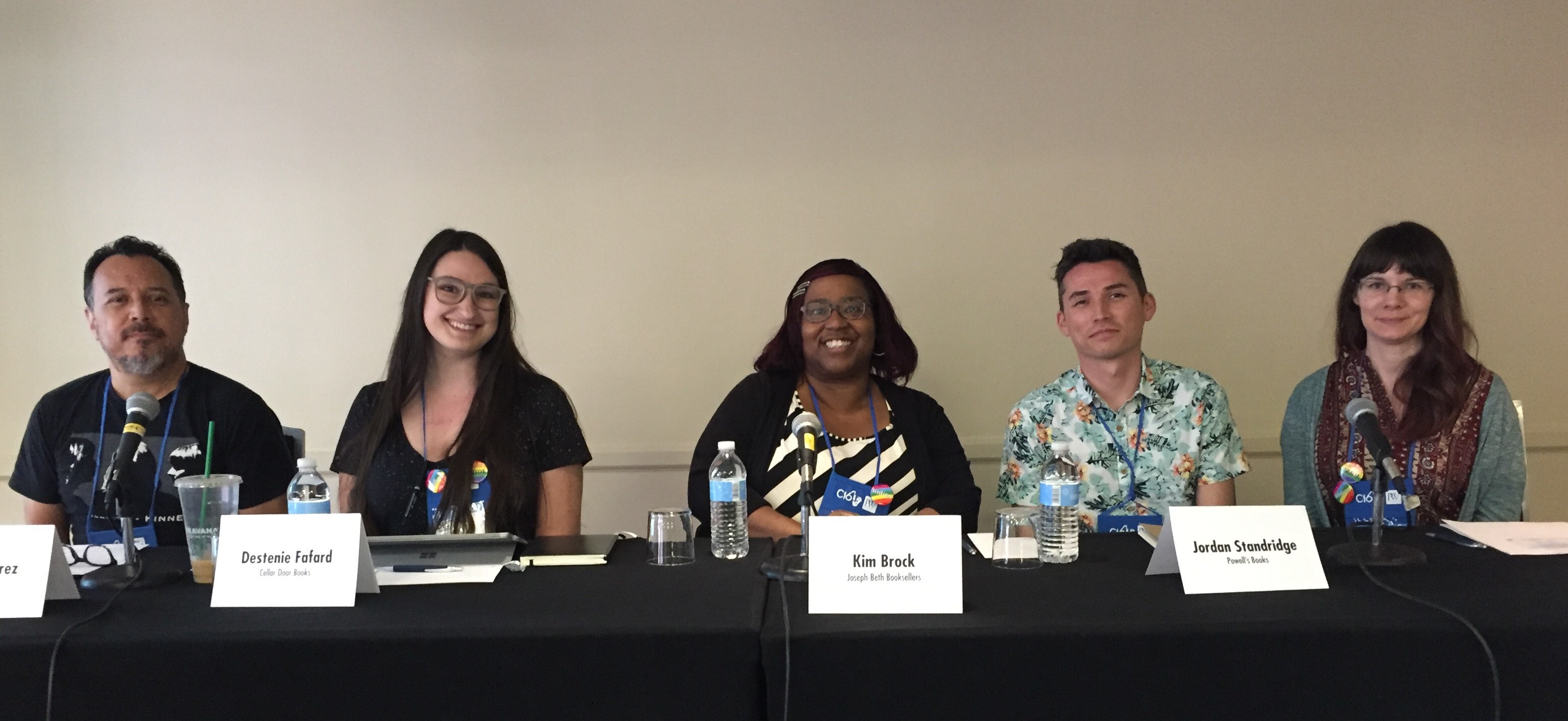 (l.-r.) Javier Ramirez, Destenie Fafard, Kim Brock, Jordan Standridge, Emily Lloyd-Jones
So how, then, does a bookseller go about selling YA to adults? Standridge expressed it is "important to speak from the heart about why you really like this book." Brock added to that by suggesting that booksellers pitch everything they love about the book before telling the adult buyer that the title is YA, if they tell them at all. They pointed out that the language used when pitching the book is important, Fafard noting that the fastest way to get an adult to buy a YA book is to say, "Oh my gosh, it's written so well" (adults also love the word "complex," Brock added). Standridge said he thinks "young adult [books are] the quickest to address" social issues, meaning readers seeking more contemporary experiences are likely to find them in YA before they find them in adult books.
This led to other practical suggestions from the panelists and booksellers in the audience. Ramirez advised including YA in Staff Picks sections; Fafard suggested creating topic-based displays that feature both adult and YA works (for example, an Afro-Futurism display she did included Black Panther by Ta-Nehisi Coates, works by Nnedi Okorafor and Children of Blood and Bone by Tomi Adeyemi); Brock recommended strategically placing the young adult section, moving it away from the children's section and closer to subjects adults might be perusing. The panelists and audience also discussed book pairings, noting that in many of their stores, they had recently seen a rise in parents seeking out books on contemporary issues to read with their teens. This is a great handselling opportunity--a bookseller can pair something like Between the World and Me by Ta-Nehisi Coates with The Hate U Give by Angie Thomas, giving the teen and the parent the opportunity to crossover their reading.
However a bookseller may get a YA book into the hands of an adult, all of the panelists agreed that young adult literature is about discovery and, as Lloyd-Jones put it, "discovering who we are is a universal process." --Siân Gaetano