Andrew Smith (senior v-p and publisher, Abrams children's books), Chrystal Carr Jeter (children's services specialist, Willoughby, Ohio) and author/illustrator Bryan Collier at the Coretta Scott King Award breakfast banquet.
With more than 20,000 librarians in attendance, the convention floor of the American Library Association's annual conference, in New Orleans, La., officially opened on the evening of June 22, following an afternoon conversation between former First Lady Michelle Obama (Becoming, available from Crown November 13) and Librarian of Congress Carla Hayden. (During the conversation, Obama gave a shoutout to 57th Street Books, Chicago, Ill., a video of which the store shared on Facebook.) Before the former First Lady took the stage, New Orleans local Troy "Trombone Shorty" Andrews and a band of talented children from his Trombone Shorty Foundation entertained the crowd. Mayor LaToya Cantrell followed, welcoming the almost 10,000 librarians in the room and reminding them that ALA was the first convention held in New Orleans after Hurricane Katrina.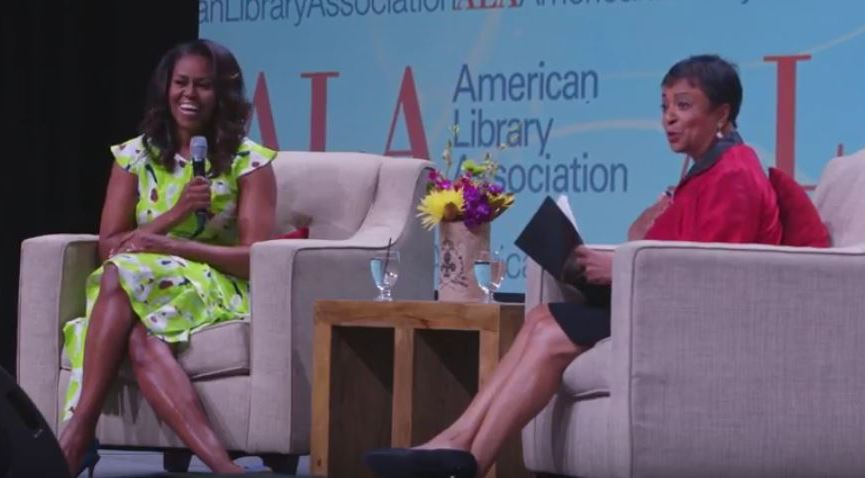 Michelle Obama and Carla Hayden
On Saturday, June 23, the board of the Association for Library Service to Children (ALSC) announced that, after a long and comprehensive review, it had unanimously voted to change the name of the Laura Ingalls Wilder Award (which "honors an author or illustrator whose books... have made... a significant and lasting contribution to children's literature") to the Children's Literature Legacy Award.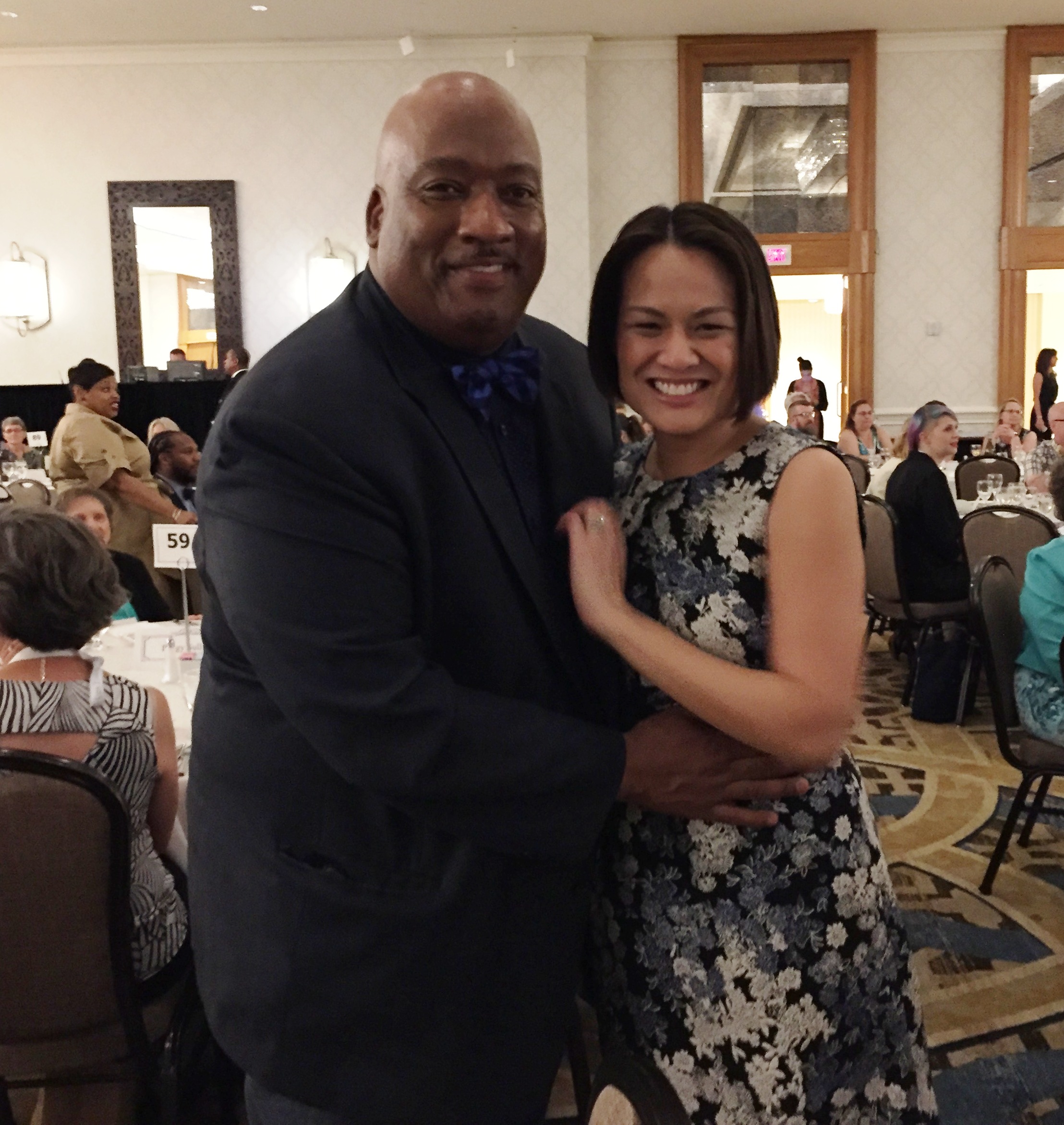 Author/illustrator Bryan Collier and Lisa Moraleda (publicity director, Simon & Schuster) at the Caldecott/Newbery/Legacy Award dinner
At the Caldecott, Newbery and Children's Literature Legacy Award banquet the next evening, ALSC President Nina Lindsay said the new name would "more precisely acknowledge the respect" conferred upon the winners, whose books "demonstrate integrity and respect for all children's lives and experiences." Lindsay went on to "humbly apologize" to those in the community who had sat "uncomfortably" as awards were announced in Wilder's name, whose "legacy, as represented by her body of work, includes expressions of stereotypical attitudes inconsistent with ALSC's core values of inclusiveness, integrity and respect, and responsiveness." Jacqueline Woodson (Brown Girl Dreaming, Nancy Paulsen Books), the 2018 recipient of the award, referred to this change in her speech (written just that afternoon): "While I am deeply honored to be on this stage... I stand here reminded of writing's complicated journey. How it continues to reveal us. How it continues to reveal ourselves to us. How it shows us our grace.... My hope is that it continues to remind us of the work ahead and the people we're doing the work for: the future generations." ALA concludes tomorrow. --Siân Gaetano