Anna Thorn, book strategist at Busboys & Poets, Washington, D.C., was a participant in the Bookselling Without Borders program at the recent Turin Book Fair. The program provides American booksellers with travel fellowships to attend international book fairs and is financed by an annual crowd-funding campaign. This year it's supported by Catapult, Europa Editions, Graywolf Press, Other Press, The New Press, Princeton University Press, Rutgers University Press, Frankfurter Buchmesse, Ingram Content Group and Shelf Awareness.
Here Thorn offers a piece about her experience that she calls "How I Spent an Entire Vacation Working and Still Came Away Happy," unofficially brought to you by Martini and Lavazza!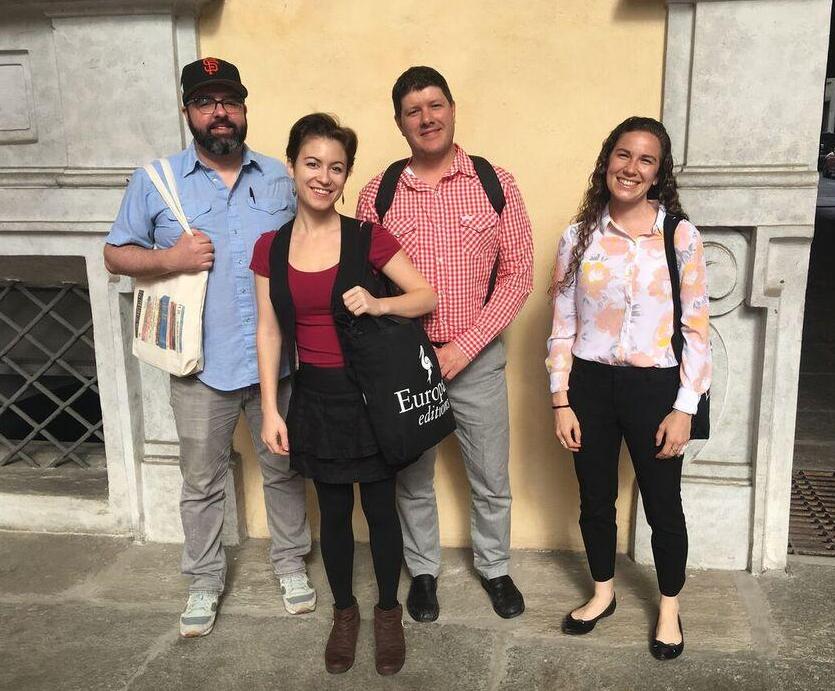 Booksellers Without Borders: (l.-r.) Nick Buzanski, Anna Thorn, Hans Weyandt, Rachel Kaplan
At the end of my week in Turin, I sat at a café in Linate Airport, hunched over a double espresso and staring at a blank page. My suitcase, plumper than when I left thanks to some Italian sartorial and culinary acquisitions, stood at my knee. I was attempting to record my thoughts about the experience I'd just had with Bookselling Without Borders, and I wasn't having much luck. While I'm usually a pretty obsessive journaler, on this trip I had written almost nothing--for the excellent reason that I was utterly engaged in what I was doing. But despite that engagement, I was now staring at a blank page rather than scribbling for two reasons: first, I was delirious from lack of sleep; second, I was intimidated by the magnitude of experiences and ideas that I felt I had to capture. The sheer number of fascinating conversations about everything from innovative publishing models to the role of booksellers associations to effective displays defied the faculty of my tired brain.
By the time I finished the espresso, I had managed a bare-bones outline that did little to capture the full experience. Since getting back home and resting up, I've added more coherent reflections as well as tested the patience of my friends and family with my stories of the trip. I still don't feel that I've been able to fully explain why BWB is such a brilliant and valuable program, why publishers should support it, and booksellers covet it, but I've done my best here to at least convey a bit of what it was like.
Six days before that espresso at Linate and my writer's block, I had arrived in Turin early for some sightseeing. I visited the amazingly extensive Egyptian Museum, several independent bookstores and stalls (they are thick on the ground), and some charming parks. These places were all delightful, although, because I hadn't slept on the red-eye over (so it began), I was only vaguely aware of my delight. That first day, it was a pleasure and a relief to get to my Airbnb in the old town and climb into bed with a book. I made it through one and a half pages of Calvino before falling asleep so deeply that I woke up 11 hours later with the book still in my hand, open to the same page. Bless that sleep. It lasted me the rest of the trip.
I left my Airbnb the next morning, after making myself an amateur espresso that would have horrified the Italians and walked to the Hotel Roma Cavour. I was refreshed and excited. The sun was shining, two old Italian gentlemen wished me "buon giorno!", fountains jetted to life as I walked by. Basically, it was like being at the point in a rom-com where the protagonists realize they're in love.
We all met for the first time at a restaurant near the hotel called Stars and Roses. "We" being: Michael Reynolds, editor-in-chief at Europa, founder of BWB, and international publishing celebrity; Steve Kroeter of Archetypes Associates and Designers and Books and shoo-in for nicest man ever; Rachel Kaplan, the events coordinator at Avid Bookshop in Athens, Ga.; Nick Buzanski, the manager at Book Culture in New York City; and Hans Weyandt, manager at Milkweed Books in Minneapolis, Minn.. (Terrie Akers, marketing director for Other Press, joined us later that day.) Immediately, we began talking about what we did in our respective stores, while Michael rattled off our order to the waiter. I caught the word "pizze" several times, which boded well. The wining and dining had begun.
Our second day began at il Circolo dei Lettori, an organization that hosts literary workshops and events and provides space for writers and scholars to work in their absurdly beautiful old palazzo (complete with café). We chatted with the organizers about their impressive schedule of events, the organization's structure, their marketing strategies, their audience (while each of us thought about how we could make the model work in our respective cities). Then we got a full tour and admired the plastered-and-painted ceilings, creaky wood floors, and stunning art. (If I ever disappear from my daily life, I will be found some months later reclining in the velvet chaise lounge in the blue-and-black-damasked back room of the Circolo dei Lettori, an espresso and a book in hand.)
After the tour, Michael, Hans, and I took the subway to the Turin Book Festival (il Salone Internazionale del Libro di Torino). It was huge, vibrant, varied, and bustling with a mix of readers and publishers. There were big crowds and tall stacks of books everywhere. Think BookExpo++. Hans and I spoke at a panel that morning to a packed room of booksellers, mostly from the bookseller school that the Italian booksellers association (ALI) runs. They were full of excellent questions (and audibly gasped when I mentioned the quick turnaround time for U.S. orders). The next morning, Nick and Rachel spoke on a panel on distribution, and we learned how great the variation is in efficiency between German, French, American, and Italian systems. There was much grumbling from the audience. The discussions about different distribution structures were eye-opening to me, making me realize that something I took for granted was not a given and may not even be the best way of doing things.
While at the Festival, we had frequent meetings with diverse publishers (Black Coffee Edizione, Corraini Edizione, Edizioni E/O and others); the head of the Italian booksellers association (discussing how he sees his role, its strategies for dealing with Amazon, its advocacy efforts); and booksellers from Rome at the Otherwise stand. Outside of the Festival, the meetings with bookstore managers continued. My fellow booksellers and I asked questions and inspected every store (I loved that Italian publishers have strong personalities and, in stores, titles are traditionally shelved together by publisher, rather than by genre). We made international publisher connections, stole display ideas, schemed ways to market and source international books, and then at the end of each day refueled with pasta and wine.
The conversation was constant and engaging throughout the whole week because, even when we weren't meeting with a host of different book industry people, I was always talking with the BWB hosts and my fellow booksellers. After a packed day of meetings, all I wanted to do was to keep chatting late into the night (booksellers really are that insatiable in their desire to discuss the minutiae of books and bookstores). Our idea exchanges were especially creative and profitable since we spent each day questioning our assumptions about bookselling--ways of organizing and displaying, our stock and vendor choices, even bookstores' place in the book ecosystem.
At breakfast on the final day, we debriefed and struggled to think of any criticisms of the program, but instead talked about the ideas that we were excited to bring back to our stores. Each of us got something a little different from BWB. The reasons my experience was valuable may not be the reasons that an events coordinator or newer bookseller find it valuable--the program adapts beautifully to different roles, and there is something there for everyone who is really engaged with the book industry. Later, we made our farewells confident that we would see each other again. (We have since, and I would happily host any of my fellow BWB booksellers anytime.)
Bookselling Without Borders accomplished what I had anticipated, namely a ton of useful conversations with book industry folks, but also much more. Spending time with the publishing world, as represented by Michael and Terrie, but also by the many Italian publishers we met, I understand the book ecosystem in a new way. They gave me new insight into how the publishing world works (or doesn't) and how our spheres fit together. Like a good novel, it showed me a different perspective on things that I thought I knew backwards and forwards. It's also a bit of a rarity to be given the red-carpet treatment as a bookseller (walking through an Italian book festival or party with Michael Reynolds is a good way to get rock star treatment), and having a week of like-minded, smart people shower us with compliments, respect and free food left me very motivated.
BWB gave me both a big-picture perspective and a myriad of little ideas, new connections and great memories. And the fact that we spent the entire time talking about work, and it still ranks as one of my most enjoyable vacations is pretty damn impressive. Though it is possible that I was simply deliriously tired and wine-tipsy the whole trip.