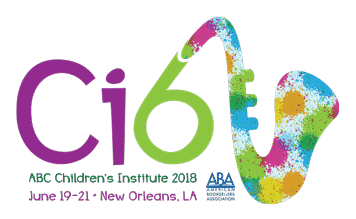 On the last day of Children's Institute 6 in New Orleans, La., Ariana Paliobagis, owner of Country Bookshelf in Bozeman, Mont., and John Cavalier, co-owner of Cavalier House Books in Denham Springs, La., shared what they wished they'd known when they bought and opened bookstores of their own. Shoshana Smith, owner of Flashlight Books, planned to open in Walnut Grove, Calif., moderated the discussion.
On the subject of navigating an opening order, Cavalier said that he and his wife were lucky in that they had already been operating a book fair business for several years before opening a store of their own, so they already had accounts with major publishers and distributors. He reported using Baker & Taylor's STEPS program and advised prospective owners to not be too afraid of making a mistake. Not everything you order is going to sell right away, and part of any bookstore's growth is figuring out how to better cater their inventory to suit their customers. Said Cavalier: "You're gonna have to get creative with it."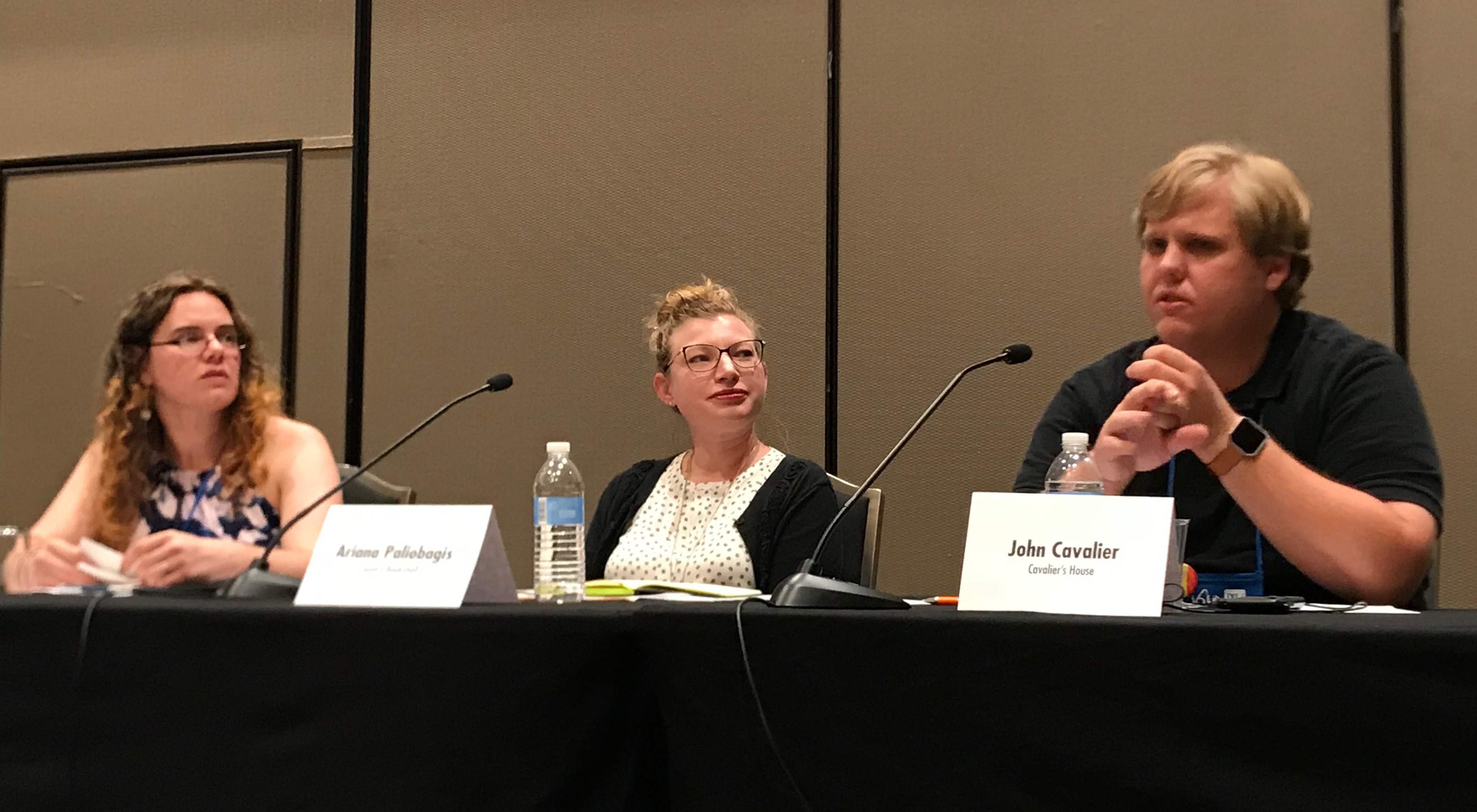 Smith, Paliobagis and Cavalier
While Paliobagis did not have to start from scratch in terms of inventory, she did suddenly have a lot of what she deemed "stale inventory" on her hands when she bought Country Bookshelf. She found that while she had to create brand-new accounts with publishers and distributors, the store's credit reputation did transfer, and at the time it wasn't very good. With many of these new accounts she had to initially pay up-front, and she had to pay fees on many returns because they were technically on a different account. In order to revitalize the store, she did bite the bullet and pay the fees, but she suggested that anyone buying a currently existing store make sure they do returns before the ownership transition. She also warned against clearing out too much old inventory at once, as customers will see the empty shelves and get nervous.
A significant topic of discussion was maintaining a healthy work-life balance as a new bookstore owner. Paliobagis recalled working 12- to 14-hour days, six or seven days per week for a long time, and was frank in saying it eventually led to a serious breakdown that "almost ended a lot of things for me and my store." She decided to tell her staff what was going on and that she needed their help, and advised anyone in a similar situation to not be afraid to ask for help or to delegate.
"I think our culture celebrates overwork, and I think we really need to acknowledge that, and acknowledge that that's not a good thing," said Paliobagis. "Yes, you're dedicated and you love what you do, and, yes, the business is hard and it requires a lot of work, but if you're going to keep doing it, you have to take care of yourself."
Cavalier reported that he now makes a point of scheduling free time and time away from the store, even if it's only a couple of hours. He and his wife, with whom he co-owns the store, also specifically schedule time off together. Cavalier also noted that he and his wife make a big effort to "separate work arguments from life arguments and work-happiness from life happiness," because the former could especially "compound so quickly."
Both Paliobagis and Cavalier suggested creating guidelines in advance for things like working with independent authors and how to respond when people or organizations ask the store for charitable organizations. Cavalier said he tries to create a "cheat sheet" for doing any specialized or technical store task so that anyone can refer back to it later. His store also utilizes an "end of day" form, which is a GoogleForm filled out by whoever closes out the store each day. It includes data about sales, but also "lets us relay information to whoever is going to be at the store on the next day," such as a heads up about a receipt printer acting up or the need to follow up with a customer about a special order.
Cavalier and Paliobagis each discussed having to deal with sudden, unexpected crises. Paliobagis explained that Country Bookshelf is on the ground floor of an old, historic building with terrible plumbing that has 18 apartments in it. She has had to deal with significant water damage issues at various times and since the storefront is not owned by the same person who owns the building's apartments, it can be difficult to "make sure that the people who are responsible live up to their responsibilities, but they're not going to do that without you pestering them." She stressed having your insurance on speed-dial, making sure "you know who is responsible," and when you need answers or accountability keep at it and "be noisy."
Cavalier, meanwhile, described an incident about six months after his store opened when an entire wheel sheared off of a passing truck, rolled down the street and crashed through the window of their children's section--thankfully, in the middle of the night when no one was present. And in 2016, about 90% of Cavalier's community suffered severe flooding, which caused not only a huge amount of direct damage but nearly a year's worth of "economic fallout." Cavalier emphasized the importance of being familiar with any and all emergency operations procedures, knowing your emergency and disaster plans, and said he's a "big proponent of preparing for the worst and hoping for the best." --Alex Mutter