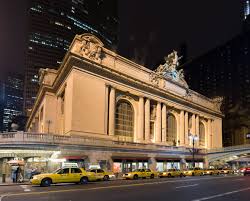 Penguin Random House and MTA Metro-North Railroad are partnering on a program called Grand Central Reads that will bring literature celebrating New York authors, New York City and Grand Central Terminal to commuters and visitors using recently improved free wi-fi and wireless service by AT&T, Sprint, T-Mobile and Verizon Wireless. Readers can download free book excerpts from inside Grand Central Terminal, on platforms and in the Park Avenue Tunnel. The program began yesterday and runs through August 31.
Grand Central Reads titles include thrillers and romance, children's and young adult, and a variety of political, self-help and cookbooks. Titles include Reading Jackie by William Kuhn; The Masterpiece by Fiona Davis; Shake Shack: Recipes & Stories by Randy Garutti, Mark Rosati and Dorothy Kalins; DK Eyewitness Travel Guide: Top 10 New York City; and The Girl on the Train by Paula Hawkins. Readers can make selections tailored to the length of their commute with a "read time" feature. They can also purchase the full e-books.
"Penguin Random House is pleased to partner with the MTA to offer book selections tailored and timed to the length of individual commutes," said Madeline McIntosh, CEO, Penguin Random House U.S. "Books are fantastic companions that add inspiration and entertainment to the commuting experience, and we're delighted that Grand Central Reads puts our books together with visitors to this wonderful historic landmark."
Metro-North President Catherine Rinaldi added: "We create partnerships and experiences like Grand Central Reads to help us consistently evolve and improve how Grand Central Terminal serves the 750,000 people who pass through and visit daily. We're excited to give people an opportunity to ignite their passion for reading, connect with each other, and experience the heart of New York City in new ways."
The program is well-timed: participants noted that yesterday was the 40th anniversary of the Supreme Court's decision that saved Grand Central Terminal from destruction.
In 2016, Penguin Random House offered a similar program called Subway Reads in partnership with Transit Wireless, an eight-week-long promotion that allowed commuters to sample e-shorts and excerpts in New York City subway stations that had wireless service.