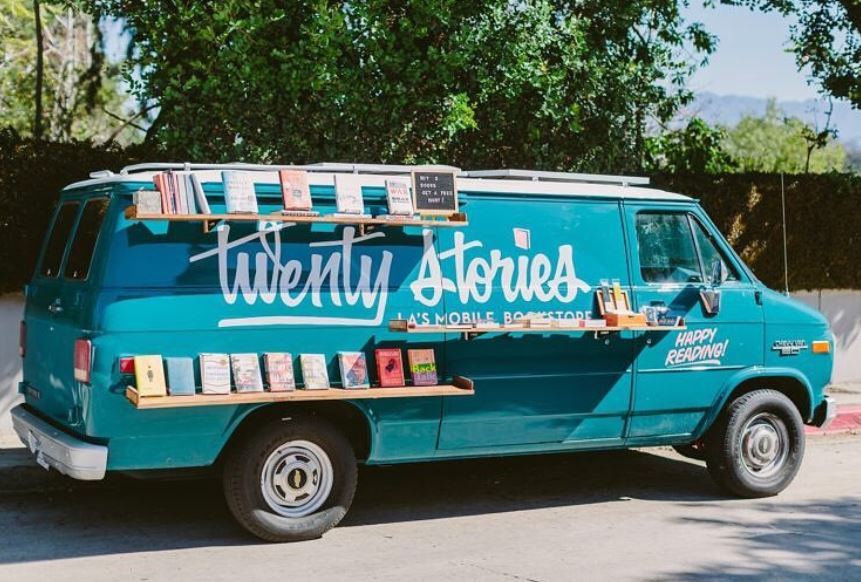 Twenty Stories, the bookstore-in-a-van that launched last year, has put Los Angeles "in the rearview" and relocated to Providence, R.I., East Side Monthly reported. The mobile bookstore, owned by Alexa Trembly and Emory Harkins, made its debut at the Hope Street Block Party last month.
"We got a car wash near Julian's, and as we were driving down Broadway some girl came up to our window and was like 'I saw you were coming to town and I'm so excited!' " said Harkins, who grew up in Providence.
The original decision to open a mobile bookstore was a pragmatic one for the "writers-turned-entrepreneurs who wanted to work with books," East Side Monthly noted. Trembly explained: "We both had jobs unrelated to writing and were super dissatisfied. So we brainstormed. Food trucks are so big in LA. Maybe we could do this."
Twenty Stories features a rotating 20-title selection. On Twitter recently the owners explained their selection process: "The #1 question we get is how we choose our books. Because we have a small selection, 20 books every month, each book is a gem to us. We search high and low through debuts, reviews, awards, and indie presses to bring a new selection every month."
The van "will spend most of the week roaming the city, with weekends reserved for events and markets," East Side Monthly wrote. "Unlike in L.A., where they utilize 'guerilla parking' tactics to show up unannounced in front of coffee shops and along the beach, they're hoping to develop partnerships with local businesses to plan out appearances."
"We'd like them to know who we are and not just show up," said Harkins. They are also offering a subscription service and will host a monthly book club. Trembly said she is "excited by how community focused everyone is here. They really want to support things like this, and you could feel that."