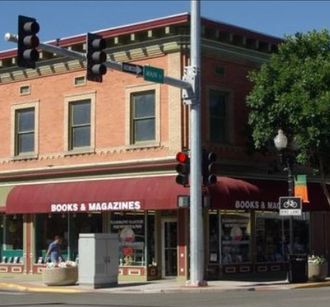 Narrow Gauge Book Cooperative, which aims to establish a co-operative bookstore in Alamosa, Colo., plans to open in late July, according to the Alamosa News. Aiming to fill the gap left by the closing in March of the Narrow Gauge Newsstand after 40 years in business, the Co-op will offer new and used books, food, art supplies as well as host book clubs, author events and writing workshops.
The Co-op has 69 owners and 27 members. Its board is led by Marlena Antonucci, who the paper describes as having "arrived in Alamosa a year ago as an AmeriCorp volunteer. Full of energy and good ideas, she is a natural at community engagement." Other board members include v-p Angela Haynie, secretary Brandon Cox, and treasurer Cathy Morin along with Scott Tate, Jeff Owsley, Katherine Lewis and Patti Lara. The Co-op is an all-volunteer operation.
An Indiegogo campaign raised more than $13,500 to help finance the effort, and in other ways, the group has raised almost the entire $54,000 it estimated it needed to open.