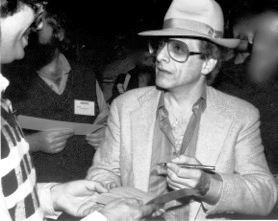 Harlan Ellison at the World Fantasy Convention, in the 1980s. (photo by & copyright ©Andrew Porter)
Harlan Ellison, "who emerged as a major figure in the New Wave of science fiction writers in the 1960s and became a legend in science fiction and fantasy circles for his award-winning stories and notoriously outspoken and combative persona," died June 28, the Los Angeles Times reported. He was 84.
"Ellison was immensely talented, immensely argumentative and immensely controversial, all in equal measure," said author John Scalzi. "Loved or loathed, he was undeniably one of the great figures in science fiction."
Ellison won multiple awards from the Science Fiction and Fantasy Writers of America, the Mystery Writers of America and the Horror Writers Association. The L.A. Times noted that he was the third most anthologized science fiction writer behind Ray Bradbury and Isaac Asimov. In 2006, Ellison received the SFWA's Grand Master Award for lifetime achievement. He also won four Writers Guild of America Awards for TV work.
"He's one of the major post-World War II American writers of science fiction," said Rob Latham, a professor of English and a specialist in science fiction at UC Riverside, which awarded Ellison the university's Eaton Award for Lifetime Achievement in Science Fiction in 2011.
Ellison's story collections include Strange Wine; The Beast that Shouted Love at the Heart of the World; Harlan Ellison's Watching; Deathbird Stories; I Have No Mouth and I Must Scream; and Stalking the Nightmare: Stories and Essays.
In a post on Boing Boing, Cory Doctorow wrote: "Harlan Ellison was an amazing writer; not always, but enough of the time, and with sufficient magnitude, that he shaped generations of writers, and inspired me. The eloquence and passion he brought to fighting injustice were my own apprenticeship (even though we sometimes disagreed thoroughly on what constituted 'injustice'). Ellison has been my lifelong test-case for figuring out how to admire the admirable parts without excusing the parts that couldn't be excused, someone whose good deeds and remoteness gave him a salience without any kind of personal baggage (I could be angry at Ellison without worrying about taking it out on him, because we didn't socialize). As a training ground for finding space for two contradictory feelings, you couldn't ask for better than Harlan Ellison."
"There was no one quite like him in American letters, and never will be. Angry, funny, eloquent, hugely talented," Stephen King tweeted. "If there's an afterlife, Harlan is already kicking ass and taking down names."
At Tor.com, Ryan Britt observed that it "would be a bizarre disservice to write an obituary for Harlan Ellison, and not mention his most famous story, ' "Repent, Harlequin!" Said the Ticktockman.' In this one, a future enslaved under strict schedules is invaded by a rogue figure intent on destroying the 'system.' If Harlan Ellison was constantly presenting his middle finger to the establishment--whether that was science fiction, writing schools, Hollywood, or just an authority in general--then he is well represented by the trickster Harlequin, who flings jellybeans into the cogs of the Orwellian machines. Jellybeans!
"We can only hope, when Ellison approaches the gates of the afterlife, that they know what they're in for. After he basically wrestled the future to the ground, how could the afterlife possibly prepare for Harlan Ellison? And what will they do if he's armed with a bag of jellybeans?"