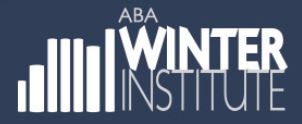 "To ensure every bookseller has the opportunity to apply," the American Booksellers Association has extended the application deadline to July 15 for those who wish to apply for a scholarship to attend the 2019 Winter Institute, which will be held January 22–25 in Albuquerque, N.Mex., Bookselling This Week reported.
Scholarships--which are open to booksellers from ABA member stores that did not have a Winter Institute scholarship winner in 2017 or 2018--cover the conference fee; up to four nights plus tax at a hotel in the ABA block; and transportation costs up to $400.
The application form had opened earlier than in previous years in order for ABA to notify winning booksellers of their scholarship before Winter Institute registration opens in September. Booksellers attending the fall regional trade shows will also have a chance to win a scholarship by submitting a business card at the ABA booth.
The deadline to apply is now July 15 at 5 p.m. Eastern. Winners will be announced in August. Booksellers with questions about Wi14 and/or the scholarship application process should e-mail winterinstitute@bookweb.org.