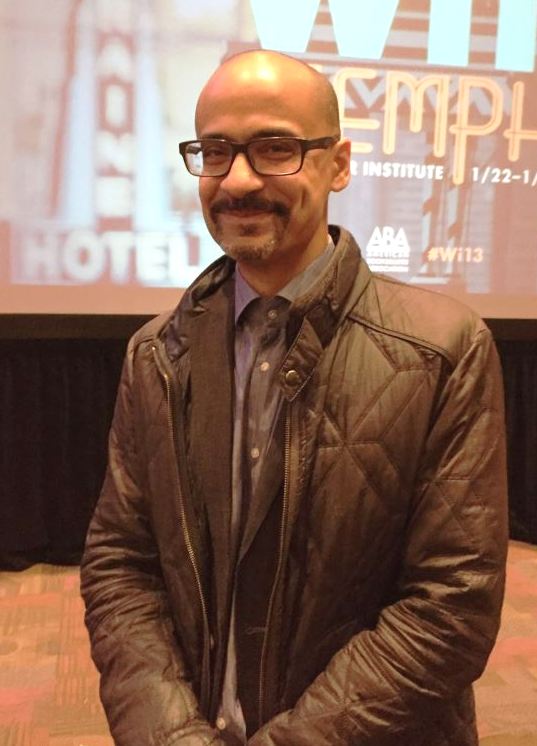 Junot Díaz
In what the Boston Globe calls his "first interview since being accused of inappropriate behavior with women," author Junot Díaz has denied all the allegations and retracted what seemed to be an apology issued two months ago by his literary agent.
That statement, which also referred to the abuse he suffered as a child, read in part, "I take responsibility for my past. That is the reason I made the decision to tell the truth of my rape and its damaging aftermath. This conversation is important and must continue. I am listening to and learning from women's stories in this essential and overdue cultural movement. We must continue to teach all men about consent and boundaries."
The Globe noted that "with a lawyer by his side," Díaz "seemed to disavow that statement and demurred when asked to describe what he meant by 'consent and boundaries.' " He told the paper: "I've written a lot of crap in my life. One does when one's a writer. But, definitely, that statement is the worst thing I've written, the worst thing I've put my name to. Boy, I wish I'd had the presence of mind to rewrite the damn thing."
Díaz won the Pulitzer Prize for fiction in 2008 for The Brief Wondrous Life of Oscar Wao and in March published his first children's book, Islandborn. He is also the recipient of a $100,000 MacArthur "genius" grant.
On May 4, at the Sydney Writers Conference in Australia, during a q&a period following a panel that included Díaz, Zinzi Clemmons, author of What We Lose and also a guest of the festival, questioned Díaz about his behavior when she was a graduate student at Columbia, saying he had cornered and forcibly kissed her after she had invited him to speak at a workshop at the school. Following the panel, Clemmons tweeted about the incident, saying that she is "far from the only one he's done this 2."
Soon after, author Carmen Maria Machado tweeted that Díaz had been enraged by her questioning of one of his fictional character's "unhealthy, pathological relationship with women" and tried to humiliate her in front of others, while author Monica Byrne tweeted that he shouted "rape" in her face at a dinner "after knowing me for maybe ten minutes." Another woman, author Alisa Rivera, said that at a lunch he bullied her, then grabbed her by the wrist and pulled her onto his lap.
The Globe said Díaz described himself as "distressed," "confused," and "panicked" by the accusations. "I was shocked. I was, like, 'Yo, this doesn't sound like anything that's in my life, anything that's me.' " He insisted, the paper continued, that he had not bullied the women or done anything sexually inappropriate.
He added that he didn't offer a denial in Sydney because, "I didn't feel like anyone would listen to me. I felt like people had already moved on to the punishment phase."
The Globe observed that Díaz has been cleared to continue teaching at MIT, where he is a professor of creative writing, after an investigation by the school. Also, the Boston Review, where Díaz has been a fiction editor since 2003, said it would continue its "relationship" with the author (although three poetry editors resigned in protest). Díaz remains on the Pulitzer Prize board after stepping aside as chair, while an independent investigation of the allegations is being made.
The newspaper also wrote: "So far, Díaz has been spared, largely because the deluge of #MeToo stories his accusers predicted hasn't come. Also, some of the allegations have withered under scrutiny: An exchange recalled by one woman as 'a blast of misogynist rage and public humiliation' sounded, to others, like an author being defensive about his work. And Clemmons, who accused Díaz of forcibly kissing her in a stairwell, has refused to say whether it was on the lips."
The Globe wrote that Byrne "like other accusers, contends there are additional women who have not spoken out, but she will not disclose their names. She said she's compiling a list that includes secondhand stories and published accounts, like that of a man who tweeted about Díaz belittling his manuscript in a writing workshop." Asked whether belittling a manuscript in a writing workshop "describes a sexual abuser or a jerk," Byrne answered, "What is the difference? MeToo covers a huge spectrum of behaviors as problematic and as specifically misogynist."
Speaking in general of his life, Díaz told the paper: "There is a line between being a bad boyfriend and having a lot of regret, and predatory behavior."
Some people seem to agree with him. The Globe quoted Stanford University English professor Paula Moya, who said that if the allegations are true, "does that then put him in the same category with Harvey Weinstein or Bill Cosby? It doesn't. And if you care about what happens to women, then one of the things you have to care about is what real damage is and what maybe [jerky] behavior is. I'm not saying [jerky] behavior is OK. We need to be able to make distinctions."
On the other hand, Sarah J. Jackson, a Northeastern University associate professor of communications, said, "Some women have taken the position that we need to be careful to not 'water down' #MeToo by including things that aren't rape or assault, physical assaults. But I think we need to be extremely cautious about that. Because often the men who do engage in egregious bad behaviors do it because they've gotten away with lesser bad behaviors and they escalate. At some point Harvey Weinstein wasn't today's Harvey Weinstein."