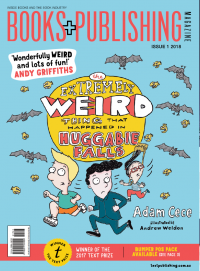 Books+Publishing, Australia's main book industry publication, has been sold by ProQuest, the U.S. subsidiary of Cambridge Information Group, to a new company called Books and Publishing Pty Ltd, founded by Gary Pengelly, general manager of Thorpe-Bowker, which is ProQuest's subsidiary in Australia. Books+Publishing announced the news yesterday.
The new Australian company is also managing BookNet, the inventory management system used by more than 300 bookshops in Australia and New Zealand.
Pengelly commented: "The opportunity to be custodian of an iconic Australian publishing industry brand was irresistible, and I must thank ProQuest for recognising the importance of B+P to our local industry and helping to facilitate the transfer back to local ownership."
In news that Book+Publishing said was unrelated to the sale of the company, its editor-in-chief Jackie Tang has announced she will step down from the position on July 13. Tang, who has been with Books+Publishing since 2015, will be replaced by publishing and digital media coordinator Andrew Wrathall, who has been with the company since 2009.
"I feel immensely privileged to have worked for this vital component of our local industry over the past three years," Tang said. "I look forward to seeing the company continue to flourish under its new ownership, with the guidance of Andrew and his dedicated and talented team: Sarah and Nathania. And I'll be eagerly opening each daily newsletter as it lands in my inbox!"
Wrathall said: "I'm looking forward to taking command of the publication and its hardworking crew. With all hands on deck, we'll continue to shoot out newsletters each day, and I'll keep the publication on course this year and steer it towards the centenary."
Known first as Australian Stationery and Fancy Goods Journal, then Ideas, then Australian Bookseller & Publisher, then Bookseller & Publisher, Books+Publishing was founded by D.W. Thorpe in 1921. It has included a magazine, weekly newsletter and now is mainly a quarterly magazine and daily e-newsletter. In 1992, Thorpe was sold to Reed, which sold it to Bowker in 2001.