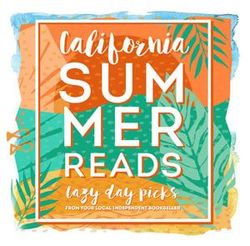 The Northern California Independent Booksellers Association and the Southern California Independent Booksellers Association together have launched a summer catalogue that is part of a campaign to encourage people to bring books on their vacations.
Called California Summer Reads, the eight-page catalogue highlights 49 books in a range of categories. Some 400,000 copies of the catalogue have been distributed since June 4 through more than 80 participating independent bookstores as well as 50 newspapers, including the San Diego Union-Tribune, the Los Angeles Times, the San Jose Mercury News and the San Francisco Chronicle.
Continuing through August 12, the marketing campaign supporting the catalogue includes advertising in AAA publications, and regional Facebook ads highlighting each title with a call to action to shop at the participating bookstore in that region. Stores have also embedded the catalogue on their websites and are posting titles on social media.
The model combining a catalogue with extensive marketing was tested last holiday season when NCIBA added a supporting marketing campaign for its holiday catalogue. The effort, the association said, was "hugely successful, with 95% of the participating bookstores opting in again and 80% attributing increased sales to the program." After that, NCIBA decided to create a summer program and partner with SCIBA to expand the reach to the entire state of California.
"NCIBA was thrilled to join forces with SCIBA on this project and deliver the whole state to participating publishers," NCIBA executive director Calvin Crosby said. "The art and messaging for the campaign is so much fun for our readers who are loving the title selections."
"Our booksellers are loving this promotion and opportunity to sell more books this summer," said SCIBA executive director Andrea Vuleta. "This multi-faceted program encouraged the majority of stores to participate because they can adapt it to their needs and market."
The project manager is Vicki DeArmon, head of All Things Booked, an events marketing agency, and former marketing and events director at Copperfield's Books for eight years. She will also work on the One California Holiday Catalog and Campaign, another joint project of the two associations in which 1.2 million catalogues will be distributed in November and December and be supported by advertising and marketing.