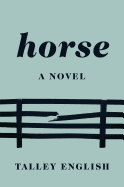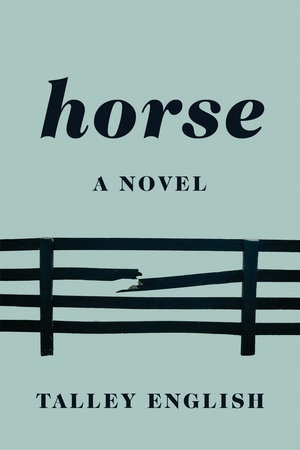 A girl in her early teens, a punchy thoroughbred horse and a father who leaves his family for a younger woman--a familiar tale. In the able hands of Gertrude Claytor Poetry Prize-winner Talley English, however, this scenario plays out with sensitivity and the graceful prose of a poet. Her first novel,
Horse
, takes place in rural Virginia, where Teagan French lives with her brother and parents on a farm with a menagerie of horses, dogs, barn cats, occasional adopted geese and other stray critters. In this seemingly idyllic family life, Teagan struggles to find her place in the world--taking long horseback rides on the old pasture horse Zepher, with her mother alongside on the docile mare Duchess.
No surprise, the French family is not as mellow as it seems. Teagan's father is a high school principal nursing a midlife hankering for a fast horse, a sports car and an erotic fling. Until he abruptly leaves, he's largely just a weekend fix-it kind of guy, "even though it always made him angry in the end, or at the beginning, depending on how complicated the thing was." Teagan's mother is a preschool teacher, horsewoman and the rock of the family, who can "nurse a horse, take care of cats and dogs, and a house, and a farm, and two children." Obsidian (nicknamed Ian) is her father's impulse buy: a 16-hand thoroughbred gelding trained for freewheeling fox hunt jumping. Charlie is the typical older brother with his first driver's license and an attitude.
When Zepher has to be put down, Teagan begins to ride Ian even though he is too much horse for her. If she can't have her father, she can at least have his horse. Sensing Teagan's increasing detachment, her mother agrees to send her and Ian to a nearby boarding school with a highly regarded riding program. Together, Ian and Teagan become a working team--"removed from the turmoil of her house, the unsettling absence of her father, her brother's interminable silence, her mother's sad face and pretense that life was going on as usual."
English knows too much to end this girl-and-her-horse tale with a wall full of show ribbons and a neat family reconciliation. In one of the first-person chapters set in the future, Teagan rummages through boxes of childhood detritus with the clarity of maturity: "There isn't enough time to go back in time... what I want is to move on, to move forward, and also to take a shower."
Horse
is no
National Velvet
. It is a sensitive story of a young girl coming to grips with her broken family--and yes, a horse helps her find her way. --
Bruce Jacobs
, founding partner,
Watermark Books & Cafe
, Wichita, Kan.
Shelf Talker: In an accomplished debut novel, poet Talley English captures a family coming unraveled and leaving its teen daughter to find her way with the help of a stalwart thoroughbred.