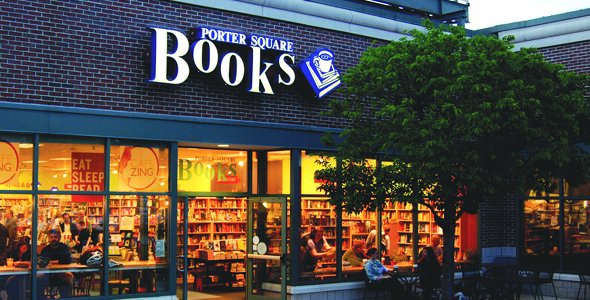 Porter Square Books, Cambridge, Mass., has launched its own Writers in Residence program "in order to make the resources needed to write books more available to the writers and aspiring writers in our community." Porter Square will select two writers, one for adults and one for young readers, to serve a term from February 1 to October 31, 2019.
The chosen writers will receive a staff discount (40% off on "nearly everything") at the store and at Cafe Zing; access to the office after 5 p.m. during the week and all day on weekends when the store is open; access to galleys/ARCs; and "the chance to advocate for the books they love through staff picks."
Responsibilities include writing three bookish pieces for the blog; three event introductions or "in conversation" events for other authors; a "Welcome Reading" in February; and availability for Independent Bookstore Day. If the book being worked on while a resident is published, Porter Square will be the first choice to launch the book when it is released.
Introducing the initiative, Josh Cook, author of An Exaggerated Murder, wrote on the store's blog: "Working as a bookseller at Porter Square Books gave me access to the book world in ways I could never have imagined when I took the job. I learned about the inner workings of publishing, formed relationships with people throughout the industry, and stayed current with the books being written today. Not only did my work as a bookseller help me connect to publishers, I was also able to get to know other authors at all stages of their careers and, perhaps most importantly, through the staff discount and advance reader copies, I was able to afford far more new books than I ever could otherwise. Working at Porter Square Books gave me access and resources that directly helped me as a writer, both in terms of my career and my work....
"Over the last couple of years, we've had an ongoing conversation about how we can best provide the resources of the book world to our community. Writers are, of course, part of our community. Though we can't hire every writer in the greater Porter Square area, we still want to make some of the resources that were so important to our writers available to others."