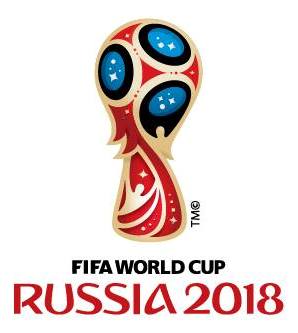 "If England win tonight, come & celebrate with us at our Late Shopping evening tomorrow!" the London Review Bookshop tweeted on Tuesday, just hours before the Three Lions advanced to the World Cup quarterfinals with a win over Colombia. With hard-earned British practicality/fatalism, the bookseller also hedged its bets: "If England lose tonight, come & commiserate with us at our Late Shopping Evening tomorrow! If you couldn't care less either way, come to our Late Shopping Evening!"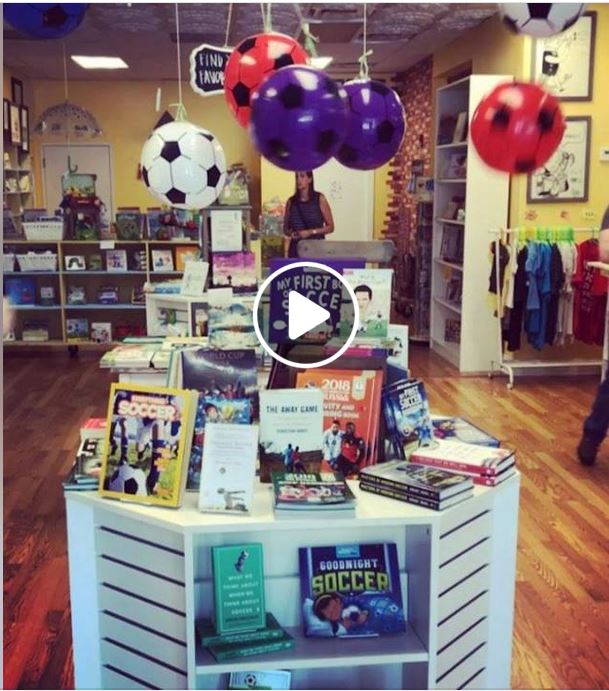 Despite the failure of the U.S. men's team to qualify for the 2018 World Cup, there's plenty of excitement on this side of the pond as well. For example, Little Shop of Stories, Decatur, Ga., tweeted: "We are WORLD CUP CRAZY at Little Shop! We think we might have more soccer books than anyone. Ever. In the history of books. Come by and peruse our extensive collection! #worldcup."
In today's issue of Shelf Awareness for Readers, I highlight a few books on the beautiful game and celebrate the fact that this weekend's quarterfinal matches will include England, my "home side" by heritage (Gray and Turner are surnames on my father's side). Also mentioned with fondness are Roger Bennett and Michael Davies, the legendary (since the 2014 World Cup anyway) Men in Blazers, who also happen to be co-authors of Men in Blazers Present Encyclopedia Blazertannica: A Suboptimal Guide to Soccer, America's Sport of the Future Since 1972 (Knopf). Their recent national tour was considerably more than suboptimal.
George Carroll, whose review of Encyclopedia Blazertannica appeared not long ago in Shelf Awareness for Readers, posted a Roger Bennett quote on Facebook last month from a huge MiB event in Seattle, Wash.: "I just want to thank Elliott Bay Book Company... The first time I came to Seattle, I wandered into the Elliott Bay bookstore. I spent hours there perusing it. I loved it. It's a passionate place of wonder... Support Elliott Bay bookstore; it's truly amazing."
Bennett, a Brit who just became a U.S. citizen on June 1, wrote an extended analysis of the state of American soccer on Facebook recently, making several cogent points, including:
American Football Fandom is both hyper-local and deeply connected to the global, with no contradiction between the two.
The audience is so young.
It is hard to exaggerate the level of hope invested in the U.S. Women's Team ahead of the 2019 World Cup.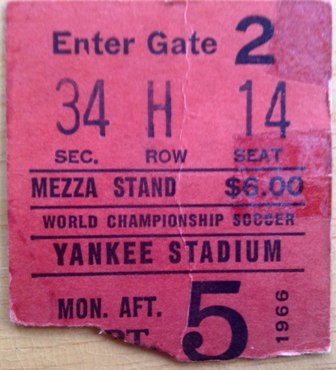 Even if the American men's team had qualified, however, I'd still be rooting for England because of a tradition I can trace directly back to 1966 for three key reasons: I was playing soccer every day; England won its lone World Cup championship; and I experienced a once-in-a-lifetime (or my lifetime, at least) event, the memories of which I can still conjure up from an old, talismanic ticket stub, faded red, with a few words and numbers printed on it:
Enter Gate 2
Section 34, Row H, Seat 14
Mezza Stand $6.00
World Championship Soccer
Yankee Stadium
Mon. Aft. Sept. 5, 1966
Just an old ticket stub, but mnemonic and iconic. That I can read it and find a story says a lot about imagination, memory, and the art of storytelling.
I was 16 years old when I used this ticket. A few weeks before, my high school soccer coach had asked if I wanted to join him and a couple of my teammates to see an exhibition game at Yankee Stadium: Santos of Brazil, featuring a 26 year old star named Pelé, against Inter Milan of Italy.
I surprised myself by saying yes to my coach. I was terrified by the idea of taking a trip like that. I was just a Vermont kid who'd never been within a hundred miles of New York City; who'd just begun his love affair with an old, international game that was still new to most of the U.S., and certainly new to my little town. Our high school had launched a club soccer team in 1965. We were about to begin our first season as a sanctioned team in the Marble Valley League, which was dominated in those days by Proctor High School's players, many of whom were the sons or grandsons of immigrant marble workers. They knew the game from birth in ways we never would. They literally and figuratively kicked our ass every time we played them.
But none of that mattered on a hot September day in Yankee Stadium, which was packed with 41,598 fans (I looked it up). Both teams were late. The crowd got restless and a little crazy, but when the players finally hit the field, all was forgiven. The noise didn't stop until long after the game ended.
Santos won. Pelé scored. It was a good day. If I hadn't been a soccer convert before then, I certainly was after. I continued to play the game through high school and college, and my love for it has never wavered. Therein lies the path to real passion for a sport; the kind of passion that can be rekindled simply by reading an old ticket stub, faded red.