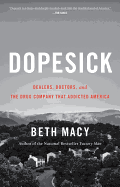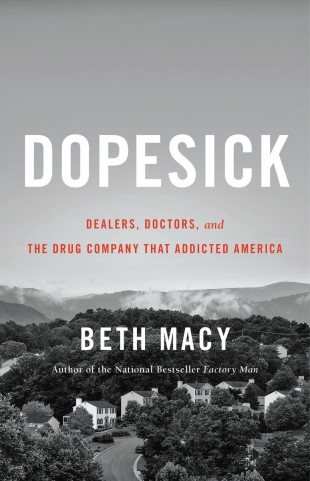 It's hard to read Roanoke, Va., journalist Beth Macy's
Dopesick
without a mounting anger. A searing account of the U.S. opioid epidemic, it methodically follows that scourge along its murderous path--a 20-year journey that began with a drug company's aggressive promotion of a powerful pain medication to a credulous medical profession, and eventually caused 66% of the 64,000 deaths from drug overdoses in 2016, with no end in sight.
The book takes its title from the term addicts use to describe the physical and psychological hell of withdrawal, something they will go to almost any length to avoid. Macy (Factory Man) began reporting on the crisis in 2012, after it had migrated from the poverty-stricken former coal and factory towns of Appalachia to affluent neighborhoods in and around her hometown.
The event that detonated this deadly explosion was the introduction of the powerful opioid OxyContin, in 1996, by Purdue Pharma. Encouraged by bonuses that totaled as high as $40 million by 2001, its sales representatives fanned out across the country, promoting the drug as safe for conditions that included low back pain. Their efforts coincided with a reassessment by the medical profession of protocols for pain treatment that encouraged doctors to be more aggressive in prescribing analgesics. By the time Purdue and three of its executives were called to account in a Virginia federal courtroom, in 2007, for fraudulently marketing their highly addictive drug, the company had earned over $2.8 billion from its sale, and had sparked a massive substance abuse problem.
As Macy describes it, that problem only worsened after Purdue released an abuse-resistant OxyContin in 2010 and users turned to heroin to avoid dopesickness. When drug dealers traversing what she calls the "heroin highway" (Interstate 81) later began lacing their shipments with the frighteningly potent synthetic opioid fentanyl--25 to 50 times stronger than heroin--overdose deaths skyrocketed.
Although she effectively deploys studies and statistics to support her argument, what makes Macy's book so devastating are her intimate portraits of addicts and their tortured families, trapped in the cycle of addiction, recovery and relapse. Perhaps the most tragic belongs to Roanoke's Tess Henry, the daughter of a surgeon and hospital nurse, and mother to a young son, who saw her promising life spiral downward into drug dealing and prostitution in five years of addiction.
Macy spares few harsh words for a public response so feeble that "getting addicted is far easier than securing treatment." As long as the system treats addiction as a "crime problem rather than a health problem," she's pessimistic any solution is near. Macy argues for medication-assisted treatment (MAT), which uses buprenorphine (Suboxone) to wean addicts in recovery, but efforts to broaden the reach of such programs too often have met with intense, effective opposition from policymakers and law enforcement. Absent more enlightened responses from those quarters, it seems, the United States is doomed to live with the consequences of this self-inflicted tragedy for many years to come. --
Harvey Freedenberg
, freelance reviewer
Shelf Talker: A veteran journalist's frightening exposé of the American opioid-addiction epidemic.