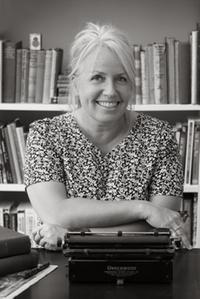 photo: Alexander James
AJ Pearce grew up in Hampshire, England, and studied at the University of Sussex and Northwestern University. A chance discovery of a 1939 women's magazine became the inspiration for her first novel,
Dear Mrs. Bird
(Scribner, July 3, 2018). She lives in the south of England.
On your nightstand now:
I'm writing the sequel to Dear Mrs. Bird, so most of my reading is either nonfiction research, or novels written in the 1930s and '40s. I've just read Martha Gellhorn's The Face of War, which is obviously superb, and at the other end of the scale I always have wartime cookery books that I pick up to see what everyone was eating. And I'm reading Old Baggage by Lissa Evans, which has just been published in the U.K. It is set in 1928 and is funny and moving, and an absolute masterclass in characterisation.
Favorite book when you were a child:
I was horse mad when I was young, and as I couldn't have one of my own I was a compulsive reader of pony novels. I read dozens by the Pullein-Thompson sisters (Josephine, Diana and Christine) and Ruby Ferguson. That's probably where I learnt that books are a way of living in another world.
Your top five authors:
That's really hard! I feel I should be down the pub discussing this over gin and crisps. I'm going to say D.E. Stevenson, Angela Thirkell, Joyce Dennys, Elizabeth Wein, Fredrik Backman and Katie Fforde. All incredible, for many different reasons. I am hoping no one will notice I've put six.
Book you've faked reading:
Umberto Eco's The Name of the Rose. I remember carrying it around at college in an attempt to look deep, while secretly reading Alexander Dumas novels instead.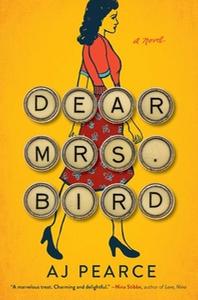 Book you're an evangelist for:
I more or less insisted everyone I knew read A Man Called Ove by Fredrik Backman because it made me so happy, and I felt passionately that it would do the same for them (which, of course, it did). And for the last year I haven't stopped talking about Gail Honeyman's joyous Eleanor Oliphant Is Completely Fine. I also tell anyone looking for a children's book about Morag Hood, who is brilliant. Her books are funny and clever and kind. Colin and Lee, Carrot and Pea is about two very different vegetables who are best friends. Everyone should read it. And Nadia Shireen's Billy and the Beast is equally wonderful. I would love Billy and her sidekick Fatcat to have their own animated TV series.
Book you've bought for the cover:
I buy far too many books about gardens and houses based entirely on lovely covers! In terms of novels, I remember buying Pure by Andrew Miller because the (U.K.) cover was so beautiful. Sepia and turquoise with gold embossing, and very dramatic. I loved the novel itself, too.
Book that changed your life:
It's hard to pick just one, but I think perhaps Winifred Watson's Miss Pettigrew Lives for a Day. It has the most exquisite lightness of touch and it made me want to discover more authors from that era. Without me realizing at the time, they all became hugely influential in how and what I wanted to write.
Favorite line from a book:
"For she was one of those who loved life, not because it was beautiful, but because it was life." -- from Virginia by Ellen Glasgow. It's almost a throwaway comment about a minor character, but you could write an entire novel from that one line.
Five books you'll never part with:
Most modern books I can replace, but I have several bound volumes of magazines going back to the 1890s that are almost irreplaceable. They aren't valuable as no one else is very interested in them, but I am. And an 1,100-page, 1939 Army & Navy Stores hardcover catalogue that I use for research. I realise this makes me sound an absolute geek! It gives details of which days the Army & Navy vans came down from London to make deliveries in my village. I rather like that.
Book you most want to read again for the first time:
The Boy in the Striped Pyjamas by John Boyne. Actually, I would like anyone who hasn't read it to read it for the first time.