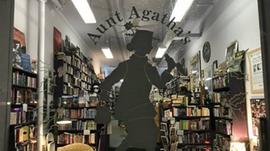 Aunt Agatha's Mystery Bookshop in Ann Arbor, Mich., which announced its impending closure last May, will shutter for good this Sunday "to the dismay of locals and visitors alike who enjoyed browsing new and used mysteries, attending countless author events and engaging in long conversations with the shop's owners, husband and wife Jamie and Robin Agnew," WDIV-4 reported.
"We've been thinking about it for about a year," Robin Agnew said of the decision made by the 2013 MWA Raven Award-winning bookshop. "We're getting older and books--it's a really physical business. It's just my husband and I and we have one employee who's older than we are. So hauling boxes around is getting hard and the authors that we are friends with are getting older and they don't want to be on book tour anymore.... Literati [Bookstore] was a factor. Amazon is also, of course, a factor. People will come in and they'll take a picture of a book and I know they're going to leave and buy it on Amazon, which is really annoying."
Over more than 25 years, the Agnews saw their customers have kids and raised two of their own in the store. "My son was born after we opened and my daughter was 18 months when we opened," she said. "They were in here a lot. I'd nurse my son on the sofa we're sitting on (right now) and whenever a mom comes in and she looks like she needs to nurse, I'm like, 'Go sit down.' "
After the closing, Agnew said she "would love to travel. I've never been out of the country except for Canada. I'd like to go to Europe, especially England. Golden Age mysteries are set (there). I'd want to go see Agatha Christie's house." The store's book club will continue. Agnew also plans to write a blog and partner with the district library to put on events.
Asked what will she miss the most, she said, "Our customers. There are authors that I love that I am definitely going to miss. I love author events--they took a while to learn. I'll just miss talking about books with other people. I'm really sad right now."