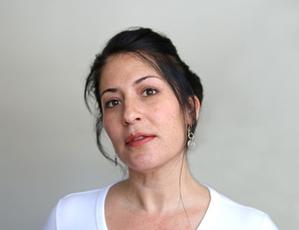 photo: Lucas Marquardt
Ada Limón is the author of
The Carrying
(Milkweed, August 14, 2018) and four other books of poetry, including
Bright Dead Things
, which was named a finalist for the 2015 National Book Award in Poetry, a finalist for the Kingsley Tufts Poetry Award, a finalist for the 2016 National Book Critics Circle Award, and one of the Top Ten Poetry Books of the Year by the
New York Times
. Her other books include
Lucky Wreck
,
This Big Fake World
and
Sharks in the Rivers
. She serves on the faculty of the Queens University of Charlotte Low Residency M.F.A program and the 24Pearl Street online program for the Provincetown Fine Arts Work Center. She also works as a freelance writer in Lexington, Ky.
On your nightstand now:
I travel so much that I often get homesick for my book-laden nightstand, but right now I'm home and savoring every stacked book. I am reading Southernmost by Silas House. Man, can he write a sentence. American Sonnets for My Past and Future Assassin by Terrance Hayes. I actually don't know how he just keeps getting better and better, but he does. He's an inspiration. I am almost done with Carrie Fountain's young adult novel I'm Not Missing, and I love the half-Mexican protagonist. Such a good book for young people.
Favorite book when you were a child:
At a very young age, I think it was Where the Wild Things Are by Maurice Sendak. I loved the idea of secret worlds, anything where another parallel universe of magical creatures lived. Especially a secret world that can be accessed by rage or loneliness. I loved the idea that magic existed, but we just didn't always notice it. Actually, let's be honest, I still love that idea. I continue to believe magic is real somewhere and we just have to find it. I felt the same way about C.S. Lewis's the Chronicles of Narnia. Some part of me is always opening closets and expecting another land to be on the other side.
Your top five authors:
This feels like a nearly impossible task. They are always changing. But I can tell you the authors I return to over and over when I feel as if I need to be re-lit all over again, turned on by language.
Lucille Clifton is someone who I re-read a great deal; her poems defy classification. She has such a keen and almost brutally observant eye, yet she manages to practice great empathy, connection and gratitude at the same time. Elizabeth Bishop was the first poet that I really loved. I discovered her work when I was 15, and I still think Geography III is near perfect. The patience she takes with each seemingly minor image as well as her secretive tendencies--both hiding the self and exposing it--have always amazed me.
It might seem cliché, but Pablo Neruda was an early influence, and I continue to turn toward him. It wasn't the love poems that I was first drawn to, but rather Ode to Common Things. I loved the idea of writing about the smallest, simplest, mundane objects and turning them into odes. Perhaps that goes back to my wish for real magic to exist. Since then I've been to all of his houses in Chile and even though, like any historical figure, he's problematic, I can't help but admire his absolute dedication to the strangeness of the world.
Larry Levis is another poet that I return to. His book Elegy is an essential book for me. He moves in a way that no other poet moves; his willingness to extend an image or a metaphor over numerous complex lines and truly map the wildness of the mind is extraordinary. Toni Morrison is another writer that I lean on when I want to be reminded of what brings me to language in the first place. I feel like I get lifted and schooled by every single sentence.
Book you've faked reading:
I think there was a time when I faked having read A Heartbreaking Work of Staggering Genius. I'm sure it's a good book, but I was living in Brooklyn in 2000 and everyone was talking about it constantly. I think I just heard so much about it and was inundated with so much hipster hubbub that I secretly held a grudge against that book. I never picked it up. I'm sorry, Dave Eggers. I'll read it.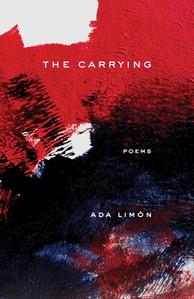 Book you're an evangelist for:
The book that I most likely have told people to read, or sent copies of, or taught, or mentioned in my own work is Robin Wall Kimmerer's Braiding Sweetgrass. It's a book that really shifted the way I thought about my own relationship to nature and to the earth. But it's more than a book of indigenous wisdom or the power of plants, but a book that makes you look at the connectedness of all things. When I feel untethered and breathless, Braiding Sweetgrass reminds me that there is beauty here and that I can belong here. It's a hugely important book to me.
Book you've bought for the cover:
The Ocean at the End of the Lane by Neil Gaiman. And the cover was right; it's amazing. I already had read pretty much everything Gaiman has written, but the cover intrigued me and I am notoriously drawn to watery images (Pisces Moon and all), so I had to have it as soon as I came across it.
Book you hid from your parents:
I am pretty sure that I hid Anaïs Nin's Delta of Venus in my closet or under my bed. Erotica has always held a certain allure for me. It must be so hard to write good erotica, interesting erotica, without being clumsy or crude, and very early on Delta of Venus was a book I couldn't put down.
Book that changed your life:
I think Sharon Olds's The Dead and the Living was one of the first books of poems that made me want to really be a poet. Or made me believe that I could be a poet. Her voice, her courage, her sense of sight and self still ignite a large impulse in me to write when I pick it up. It was around the time that I was reading that book while working as a receptionist for King County Water and Land Resources Division in Seattle that I decided to attempt to take poems seriously and start to apply for graduate school. I'd apply between answering incoming calls, and read on my breaks in the lobby of the Seattle high rise. In the end, I went to NYU and had the extraordinary chance to study with Olds. A great honor. So, in a way, The Dead and the Living made me into poet.
Favorite line from a book:
"I had the idea that the world's so full of pain/ it must sometimes make a kind of singing,/ and that the sequence helps, as much as order helps--/ first an ego, and then pain, and then the singing." That's from Robert Hass's poem "Faint Music" in Sun Under Wood. I say it all the time to myself. It seems so true to me. I also think that's a way of understanding poetry.
Five books you'll never part with:
I have a signed copy of Stanley Kunitz's The Collected Poems. I have a confession: I rarely get my books signed. I never want to bother people. I see the long lines and the patient time they take with each person and I think I don't need or deserve their extra time. But that means I am left with very few signatures of people who have passed, and I wish I had been braver. So the book is very dear to me. I also have a first edition of Elizabeth Bishop's Questions of Travel that was given to me as a gift and I cherish it so. The Art of Losing is a gorgeous anthology on grief edited by Kevin Young and I cannot live without that book. My other favorite anthology is Reversible Monuments: Contemporary Mexican Poetry. It's such a wide variety of voices and every page holds something new and exciting. The only book I ever stole: How Does a Poem Mean by John Ciardi. I was much too young to really grasp the book, but I stole it off my English teacher's shelf when I was 15 and never gave it back. Since then I've read it many times looking for language to describe why I love both reading and making poems. I am sorry I stole it, but hopefully she forgives me. I have used it only for good.
Book you most want to read again for the first time:
Oh, that's tough, because with poems that's what we do. We read them over and over. Each time getting something new, something widening the eye. I suppose I'd love Alejandro Zambra's Multiple Choice again for the first time. I love what that book did to my brain. I had no idea what I was getting into and I just went with it and let the multiple-choice questions unfold without trying to "figure them out." That book is such a force and a pleasure.