As Hurricane Florence continues to bear down on the Southeast, indie bookstores in the region are prepping for severe weather. We'll continue to keep tabs on the storm's further developments and impact. Here's a sampling from early social media updates: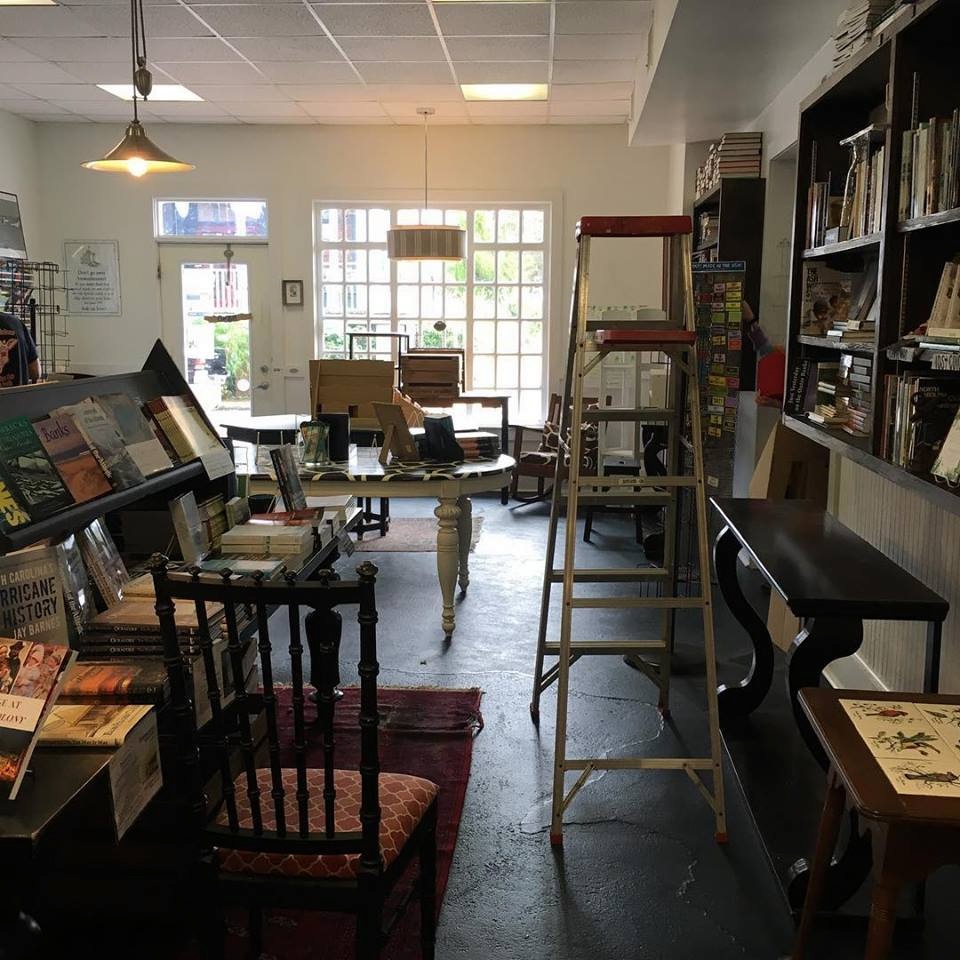 Downtown Books hurricane prep
North Carolina
Downtown Books, Manteo & Duck's Cottage Books, Duck: "As Florence approaches, we will do our best to keep our loyal customers and social media fans abreast of all updates.... We usually say 'follow the fun' but this time we'll say 'follow the storm!' and will post as often as we can... thanks for all you support and best wishes as we get ready to ride out another one!" And: 'The books are high and hopefully will stay dry..."
Page 158 Books, Wake Forest: "Hopefully you have all the bread you need to ride out the coming storm, don't forget entertainment!"
Quarter Moon Books & Gifts, Topsail Beach: "All packed up and prepared (I hope) for hurricane Florence! Socks is NOT happy to relocate to my house."
Island Bookstore OBX, Outer Banks: "It's stock-up time!"
Flyleaf Books, Chapel Hill: "Hi folks, due to the severity of the weather, all events Wednesday to Sunday have been either cancelled or rescheduled for a later (drier) date. As of now, the shop will remain open as long as it makes sense, so please stay tuned to our website & social media for any further updates. We'll likely close as things intensify. Please stay safe & prep as necessary!"
Page After Page Bookstore, Elizabeth City: "There is beauty in all things... except you Florence! So peeps, we are closing today at 6PM and will reopen when the storm clears. We have the very best flashlights by NEBO and hall, closet, etc lights. And the best books, toys, hurricane puzzles ever! Stop in if you can! We wish you all well & Be safe!!"
Read With Me, A Children's Book & Art Shop, Raleigh: "Heads up that we will be open today & Wednesday but Thursday we will close early to prep the store for this beast of a storm. Bookstore + water = super bad."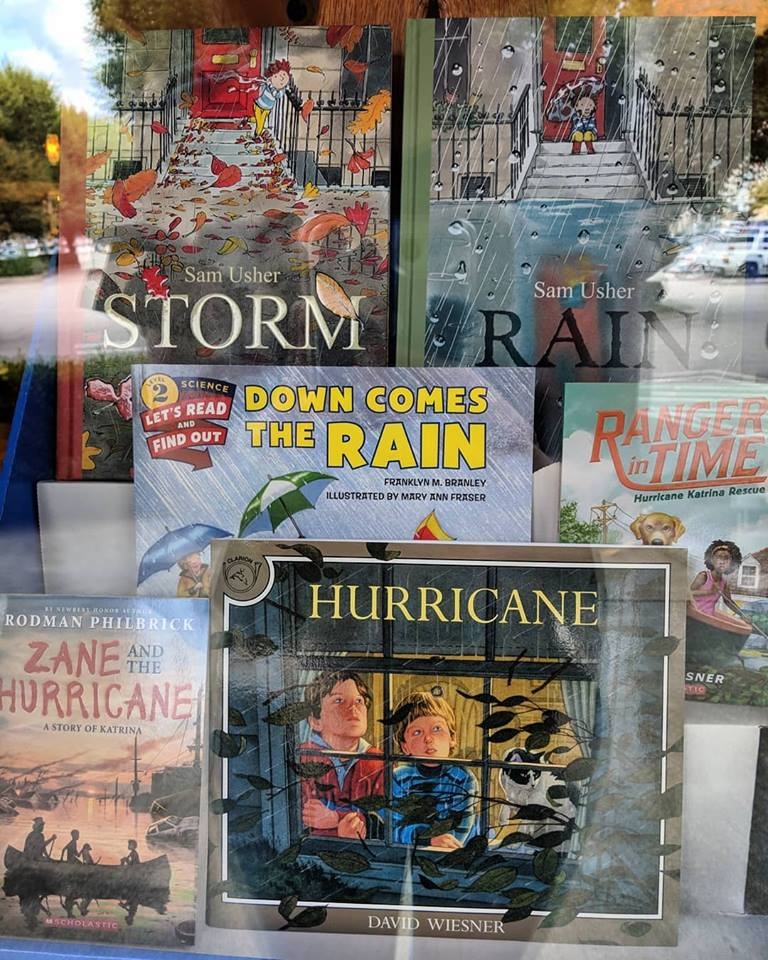 A suitable display at Quail Ridge Books
Quail Ridge Books, Raleigh: "We hope you've been able to gather all the supplies you'll need to stay safe during Florence. If you've got little ones at home, here are some good books for learning about these storms and how they affect people. Make sure to swing by soon; we will be closed starting Thursday afternoon until it's safe to return."
Diana's Books and More, Elkin: "Get blown away with super savings instead of a hurricane!! Come by land, sea or air and claim your deals today!!"
Sunrise Books, High Point: "#ifthepowergoesout #kids #hurricaneplans #justsaying"
The Country Bookshop, Southern Pines: "Now that the grocery stores are out of water.... stock up on some Lo-Fi entertainment with our great books, games and puzzles! We will be ready for you Florence!"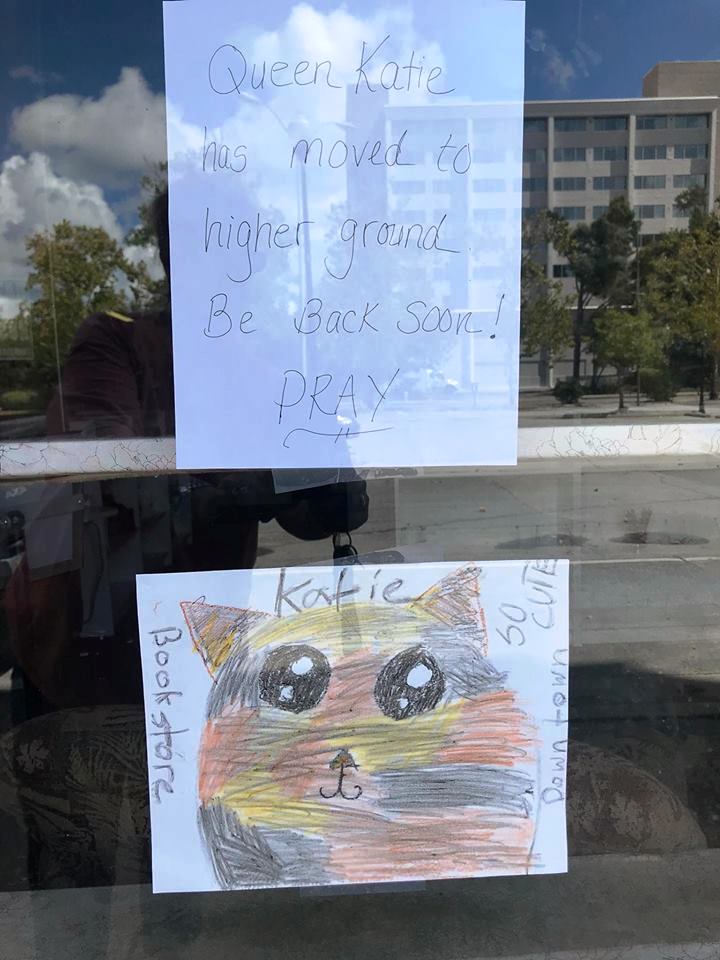 Two Sisters wants everyone to know store cat Katie is safe.
Two Sisters Bookery, Wilmington: "We will be open today until Susan and I have finished our hurricane preparations and anticipate being closed the remainder of the week. For the Katie Fan Club, she will be in safe hands and return to the store when we reopen. We are praying for all of those in the path of Florence. Be safe and we'll see you on the other side." And: "Y'all... Alexandra Wilson gave us a shout out on The Weather Channel!!! And by 'us,' I really mean KATIE. I thought her ginormous fan club would love to see this. Katie is currently in my home and at my feet."
South Carolina
Buxton Books, Charleston: "We have packed up, tarped and sandbagged! The store will be closed 9/12- 9/14. We will reopen as soon as the coast is clear! Prayers for everyone's safety."
Litchfield Books, Pawleys Island: "We will be closed until Florence leaves the area. Our customers and all of our bookstore families are in our thoughts. Be safe! See you soon!"
My Sister's Books, Pawleys Island: "The Boarding Up Has Begun, So we will Close at 1. Once you have Prepped and are in a Safe Spot, Share with us the Books you've got."
The Storybook Shoppe, Bluffton: Tuesday: "Due to the Mandatory evacuation The Storybook Shoppe will be closed. Stay safe!" And Wednesday: "We are a bit of a mess but we are OPEN for Business #florencegoaway."
Virginia
Book No Further, Roanoke: "Help us get ready for the crazy rain. All books ON THE FLOOR are half priced! Plus I have a couple of boxes of beat up paper backs in the back room I'll make you a deal on."
Sundial Books, Chincoteague: "Sundial Books will be closed Tuesday. This is our regular day off. After that, we will be closed until further notice due to Hurricane Florence. We hope that everyone takes appropriate measures to stay safe and well. We will see all of you when this storm has passed."