Amazon will increase its minimum wage to $15 for all full-time, part-time, temporary (including those hired by agencies) and seasonal employees across the U.S., effective November 1. According to the company, the move benefits more than 250,000 employees, as well as some 100,000 seasonal employees who will be hired at Amazon sites across the country for the upcoming holidays.
"We listened to our critics, thought hard about what we wanted to do, and decided we want to lead," said Amazon CEO Jeff Bezos. "We're excited about this change and encourage our competitors and other large employers to join us."
Amazon's public policy team will also begin advocating for an increase in the federal minimum wage. "We will be working to gain Congressional support for an increase in the federal minimum wage," said Jay Carney, senior v-p of Amazon Global Corporate Affairs. "The current rate of $7.25 was set nearly a decade ago. We intend to advocate for a minimum wage increase that will have a profound impact on the lives of tens of millions of people and families across this country."
---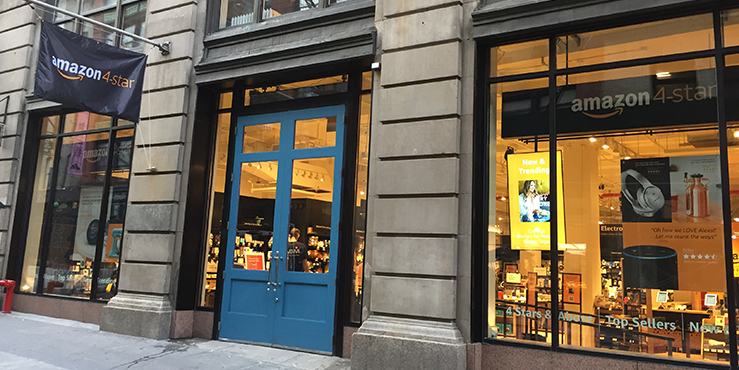 Amazon's latest experiment in retailing--the "four-star store" that opened late last week in New York City--has been described variously as "something like a refreshed version of a Brookstone store," "reminiscent of a novelty gift store," and "half bookstore and half Kmart" (the first two by the Wall Street Journal and the third by CNET).
The store specializes in some 2,000 products that are rated four stars by online customers. Consisting of "a rotating hodgepodge" of books, toys, homewares and electronics, the opening selection included "his and hers mugs, candles, teapots, pet toys, Star Wars droids and vegetable peelers," the Journal reported.
CNet noted that the "most wished-for" items table near the front of the store included a copy of The Subtle Art of Not Giving a F*ck by Mark Manson, a Nintendo Switch controller and a Harry Potter Lego set. Sections include top-selling items in New York City books, trending items in New York City (including a yoga mat, a dust buster and Fear by Bob Woodward), books with more than 4.8 stars and items frequently bought together. Like Amazon Books, there is a large section of Amazon's electronics devices.
Prices are indicated digitally so that they are easily changed as the prices change online, and as at Amazon Books, Prime members receive a discount while non-Prime members pay list price.
Amazon's v-p of physical retail Cameron Janes told the Journal that, as the paper wrote, "the store is set up for discovery. Customers of the company's bookstores have been asking for a similar shopping experience with more selection, he said. And the ability to purchase and test Amazon devices will remain a staple of the consumer experience at 4-star, something he expects to be a continual draw...
"Unlike the web experience, the store offers a chance to test-drive electronics and discover products by wandering through the displays and shelves, said Mr. Janes. 'You don't have to do the filtering yourself because we've done it for you.' "
---
In Canada, Amazon plans to open a new Lower Mainland fulfillment center on Tsawwassen First Nation lands. The 450,000-square-foot facility will join the company's existing British Columbia facilities in Delta and New Westminster. This will be Amazon's third fulfillment center in B.C., in addition to a tech hub in Vancouver.
Glenn Sommerville, director of Amazon Operations in Canada, expressed gratitude for "the network of support we've received from the Tsawwassen First Nation Executive Council, provincial and community leaders, and strong project partners dedicated to innovation."
Chief Bryce Williams commented: "Tsawwassen First Nation welcomes Amazon to our Lands. This is a promising advancement that will continue to unlock the potential of TFN as a leading development partner and key economic driver in Metro Vancouver.