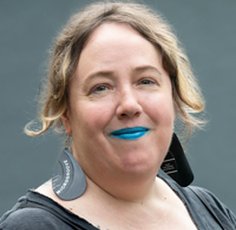 Kelly Link
The 25 recipients of this year's MacArthur Foundation "genius" grants--$625,000 paid out over five years to people who "show exceptional creativity in their work and the prospect for still more in the future"--include these poets, playwrights and writers:
Natalie Diaz, poet, for "drawing on her experience as a Mojave American and Latina to challenge the mythological and cultural touchstones underlying American society."
John Keene, writer, for "exploring the impact of historical narratives on contemporary lives and re-imagining the history of the Americas from the perspective of suppressed voices."
Kelly Link, fiction writer, for "pushing the boundaries of literary fiction in works that combine the surreal and fantastical with the concerns and emotional realism of contemporary life." (She's also co-owner of Small Beer Press.)
Dominique Morisseau, playwright, for "examining the intersection of choice and circumstance in works that portray individuals and communities grappling with economic and social changes."
Lisa Parks, media scholar, for "exploring the global reach of information technology infrastructures and the cultural, political, and humanitarian implications of the flow of information."