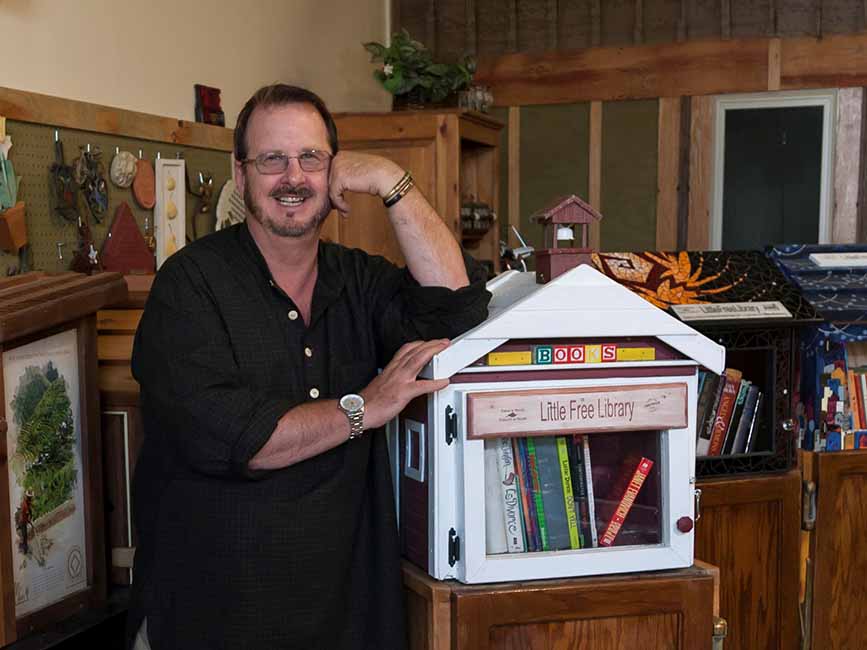 Tod Bol
Todd Bol, founder and executive director of the Little Free Library who "spent much of the last decade working towards his vision of a world where neighbors know each other by name, and everyone has access to books," died October 18. He was 62. LFL noted that he "was heartened by the network of more than 75,000 Little Free Library stewards around the world dedicated to literacy and community." LFLs now exist in 88 countries.
In 2009, Bol "hammered together the first Little Free Library. Then he built a movement around it," the Star Tribune wrote, adding that he "believed the now-ubiquitous little boxes of books--and the neighbors who cared for them--could change a block, a city, the world. So he brought them to front yards all over, often installing them himself."
"He was always looking at how the world could be a better place and believed that people were really how to achieve that," said Margret Aldrich, who wrote The Little Free Library Book. "He never got tired of seeing someone's Little Free Library. Every Little Free Library was his favorite Little Free Library. He genuinely loved this movement and the people behind it."
In a recent interview, Bol reflected on the power of the little libraries and the people behind them: "I can give you thousands of examples of people doing things across the globe, fixing their neighborhood one book, one child at a time."
Bol's younger brother, Tony, told MPR: "He has always used the phrase, he's a social entrepreneur. And the Little Free Libraries are more like a movement than a market. He's more in the creating mindset than the selling mindset.... He just loved the thing so much, and he resonated joy as he talked about it. It was infectious and that worked."
His legacy will endure. In a statement, LFL board chairman Monnie McMahon said the board and senior staff "are pursuing an interim plan to provide continuity of organizational oversight.... Staff, partners, and close business associates of the organization are being informed of changes that may affect them, but daily activity is little-changed. Tony Bol will be taking on some of Todd's public relations and other responsibilities. The organization's staff and board are deeply appreciative of Todd's leadership and good work and are carrying forward his vision of a strong and expanding book-sharing network in his memory."