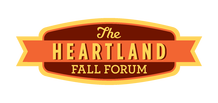 "People often ask me, 'How is it that, in the midst of things, you're writing about joy?' " poet Ross Gay (The Book of Delights: Essays, Algonquin, February) said during the Tasting Notes Dinner at this year's Heartland Fall Forum. "And my response is always--and certainly relative to events now--along the lines of: There's nothing more important than thinking about and writing about and meditating on what you love. So, this book is kind of a gesture toward that, or an exercise in cultivating the possibility of delight, building the possibility of delight."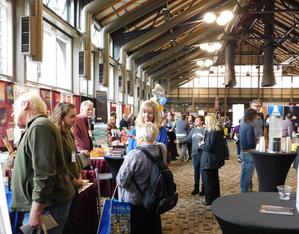 The ongoing chronicle of my fall bookseller trade show path is a bit like that, too. I listened. Amazing conversations occurred everywhere I turned--with booksellers, authors, publishers--on a bustling trade show floor, around dining tables and in the lobbies and corridors of the historic Depot in Minneapolis. I love--I delight--in hearing everyone's takes regarding our complicated world of books, though I tend to keep most of these exchanges confidential. I learn so much more that way.
I can say that what I heard was a generous dose of optimism about the Heartland Fall Forum and the future of indie bookselling, seasoned with a measure of caution about the future in general. So many good words--enlightening and educational, inspiring and, well, just damn delightful--were in the air at Heartland; more than enough to share, including these: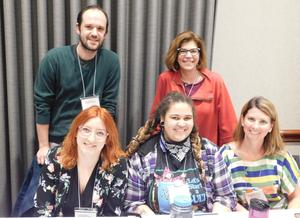 "How Not-So-Big Stores Can Act Big" panel: (front l. to r.) Daley Farr of Milkweed Books, Minneapolis; Riley Jay Davis of Common Good Books, St. Paul; Wendy Sheanin of S&S; (back l. to r.) Eric Obenauf of Two Dollar Radio, Columbus, Ohio; Kelly Estep of Carmichael's Bookstore, Louisville, Ken.
At one of the education sessions, Two Dollar Radio co-founder Eric Obenauf observed: "We had been talking about opening up a storefront [in Columbus, Ohio] for several years before the 2016 election, but that was the fuel, the impetus to actually get out into the community and try to plant a flag and say this is what we're for, to engage in conversations in the community not just about books. About what's happening in the world. And ideally not feel so alone."
I heard author Kate DiCamillo (Louisiana's Way Home, Candlewick) express her gratitude to booksellers "for what you do putting books in readers' hands. I wouldn't be sitting up here without handselling. So I'm deeply grateful to you.... I feel like it matters now more than ever what we do and it's always a good thing to remind ourselves of."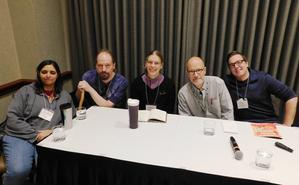 "Fun & Games" panel: (l. to r.) Aman Winslow, Erik Winslow, Zoe Malinchoc of Fair Trade Books, Red Wing, Minn.; Grant Alden of of CoffeeTree Books, Moorehead, Ken.; Zach Matelski of McLean & Eakin Bookstore, Petoskey, Mich.
In a first--at least for me--Zoe Malinchoc of Fair Trade Books in Red Wing Minn., brought two customers, Aman and Erik Winslow, to Heartland for a "Fun & Games" education session. The couple have an extensive private collection of vintage board games and partner with the bookshop to help run its community family board game nights. Aman noted the events allow participants to "get to know the different people in the community at the same time and develop more of a relationship with them.... It becomes like a community center where everybody can get together and relax and have fun."
During the session "How Not-So-Big Stores Can Act Big," Wendy Sheanin, v-p, independent retail sales at Simon & Schuster, left no doubts about her position: "I don't care what size your store is. I care how big your mouth is. And I mean that in the best way.... how passionate you are.... how you care about my books and how you champion them to your customers and how you tell us."
Daley Farr of the 600-square-foot Milkweed Books in Minneapolis noted that "part of what's been successful for our store is just really leaning in to the personality you have.... What we're able to offer that no one else can, even in a town with as many lovely bookstores as we have, is our particular personalities and mix of titles and so we're really trying to extend that impression."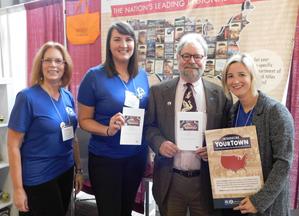 Ron Koltnow, retired Penguin Random House sales rep and author of Barberton Fried Chicken: An Ohio Original (The History Press, Nov. 19) in his publisher's Heartland Fall Forum booth. The team: (l. to r.) Beth Pickens, Erin Ownes, Koltnow, Katie Parry
At the Tasting Notes Dinner, Chicago's Women & Children First co-owner Lynn Mooney introduced Nina Barrett, author of The Leopold and Loeb Files (Agate Midway) and owner of Bookends and Beginnings in Evanston, Ill.
"I was so happy to hear that Lynn was introducing me, because I have this long involvement with Women & Children First, which is where I learned everything I needed to know to open an independent bookstore," Barrett said. "I began what would become my bookselling career at the same time that I began my writing career and it was mainly to combat the isolation of writing that I started moonlighting a day or two a week at Women & Children First.... When the chance presented itself to open Bookends and Beginnings, I jumped at it. So I feel very privileged and honored to be here tonight with you, my tribe, my peeps, and I know firsthand that you can't handsell every single book in your store, but that when you do decide to put the awesome magic and power of bookselling behind a book, you can create miracles."
Sophie Blackall, illustrator of Winnie's Great War (Little, Brown Books for Young Readers) by Lindsay Mattick & Josh Greenhut, kept poetry on the radar during the Children's Author Breakfast by reading Gwendolyn Brooks's "Book Power," which includes the lines:
In all this willful world
of thud and thump and thunder
man's relevance to books
continues to declare.
Then she said: "I am delighted to be here in the Heartland with fellow authors and illustrators who dream up stories that feed and cure and chortle and collide; with publishers who help us turn them into books; with booksellers who help those books find their way into the arms of readers..."
Good words indeed. Next week, my book path crosses a bridge between the Heartland and the Rockies.