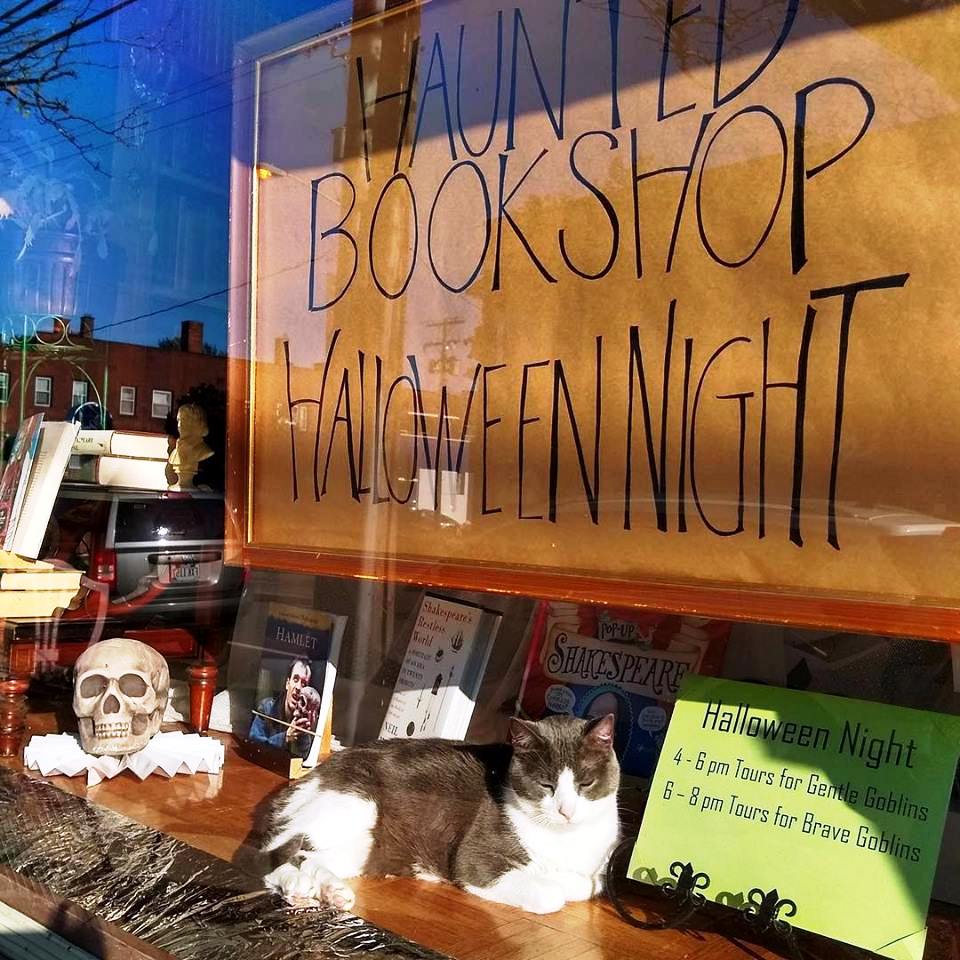 Otis at Loganberry Books is ready for Halloween.
Bookstores nationwide have prepared for Halloween with a variety of window and floor displays, as well as special events leading up to the big celebration tonight. We highlighted some of them recently, but couldn't resist showcasing more creative indie BOOksellers:
Narrow Gauge Book Cooperative, Alamosa, Colo.: "I solemnly swear I am up to no good. We're getting ready for Spooky Story Time!"
McLean & Eakin Booksellers, Petoskey, Mich.: "Happy early Halloween!"
Muddy Water Bookstore, Navasota, Tex.: "The Zombie crawl was a blast. Sadly, I didn't get many pictures. We had for the children Goosebump Punch and yard gnome popcorn! For adults we had a wonderfully disgusting shot called Zombie Brain Hemorrhage and bloody severed fingers!!!!"
Foggy Pine Books, Boone, N.C.: "#HalloweenBooks for all ages! Get into the #SpookySpirit with a nice #HorrorNovel or #Read a cute rendition of #Dracula to the kids for a #ChildFriendly #Spooky book. We have plenty more where that came from on our horror book #Display in the store. Come check it out!"
Bogan Books, Fort Kent, Maine: "Are you cringing at the thought of rotten teeth that might haunt your tricksters or treaters? Come get a Halloween or horror book at Bogan Books for 25% OFF and give your ghoul or goblin a treat they will love and will be kind to their teeth!"
Loganberry Books, Shaker Heights, Ohio: "Happy #nationalcatday from #bookstorecat Otis! He hopes you'll brave the gloomy October weather for a fantastic free Haunted Bookshop tour on Wednesday night (10/31) anytime between 4 p.m. and 8 p.m. Come in costume, leave with candy--and a Halloween experience you won't forget soon!"
The Ripped Bodice, Culver City, Calif.: "HAPPY HALLOWEEN (Bahahahahaha. We know this is a terrible photo. Sometimes running a business means you're going going going and don't really get a chance to do a whole photo shoot. But we wanted to show off our amazing costumes.)"
Nantucket Bookworks, Nantucket, Mass.: "Kritter Klips! Not sure what to go as for Halloween this year? These Kritter Klips at Bookworks are the perfect answer for you and your friend!"
Powell's Books, Portland, Ore.: "Spooky can be fun, but sometimes we want to read books that are only a little spooky. Check out our kids' display of (Not Too) Scary Stories, at our downtown location!"
Storysmith Books, Bristol, England: "Only been open 3 hours but I think we've had our oldest customer."
The Book Seller, Grass Valley, Calif.: "Halloween is just around the corner! We've been busy decorating the store and getting costumes ready for the annual Downtown Grass Valley's Safe Trick-or-Treat event next Wednesday. Until then, if you're in the mood for some spooky reads we have many staff recommendations!"