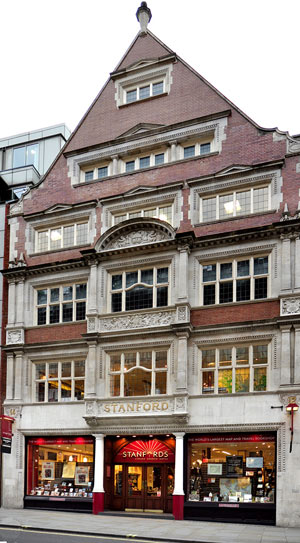 Travel bookshop Stanfords is moving out of its London flagship store "after more than a century at its current address in order to relocate to a new home that's quite literally down the road," TimeOut London reported, noting that "the much-loved map emporium, with its distinctive tapered stone arches and the name in gilded lettering above the entrance, has been on Long Acre since 1901."
The move to 7 Mercer Walk is scheduled for January, "but keep your eyes peeled for the Stanfords Christmas gift boutique popping up on the ground floor of the new store in November," TimeOut wrote, adding that regulars who will "miss the shop's famous map-printed floors will be glad to hear that there are plans for new versions to be installed in the bookshop's new digs.... There'll also be an outdoor space for those seeking a spot of alfresco escapism."
"We will offer the existing, wide range of maps, globes, books and travel related products, and we will grow some areas which are newer to us such as maritime charts," CEO Vivien Godfrey told the Lonely Planet. "We are now the only chart agent in London and are growing our range of products and in particular our 'print-on-demand' charts and digital maritime products. We will use available technology to create many more 'made-to-order' customized maps. We have also seen a very significant increase in the demand for personalized, as well as customized, products."
As Stanfords' staff prepares for the big move, "a wealth of fascinating material has been uncovered which will go on display for the first time from March next year in a six-month-long exhibition at the Mercers' Covent Garden Estate, a few steps from Stanfords' new home," Lonely Planet reported.