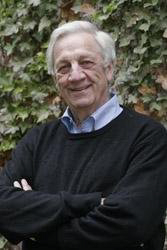 Christopher Lehmann-Haupt
Christopher Lehmann-Haupt, the "nationally influential literary critic for the New York Times for three decades, who wrote some 4,000 reviews and essays, mostly for the daily column Books of the Times," died November 7. He was 84. Lehmann-Haupt was the Times' senior daily book critic from 1969 to 1995 and a critic until 2000. He later wrote obituaries of leading authors, editors and publishers, "an assignment he relished as an opportunity to explore the lives of literati, not just their books," the Times reported.
Readers and colleagues "called him a judicious, authoritative voice on fiction and a seemingly boundless array of history, biography, current events and other topics, with forays into Persian archaeology and fly fishing," the Times noted, adding that his reviews, "which invariably appeared in the paper's culture section, were a mark of distinction for any author, even when the critic's assessments were negative."
Lehmann-Haupt was also an author who wrote the novels A Crooked Man (1995) and The Mad Cook of Pymatuning (2005), as well as a memoir, Me and DiMaggio: A Baseball Fan Goes in Search of His Gods (1986). At his death, he "had completed a memoir, not yet published, about his discovery of his Jewish roots while spending time in Berlin as a boy with his father," the Times reported.