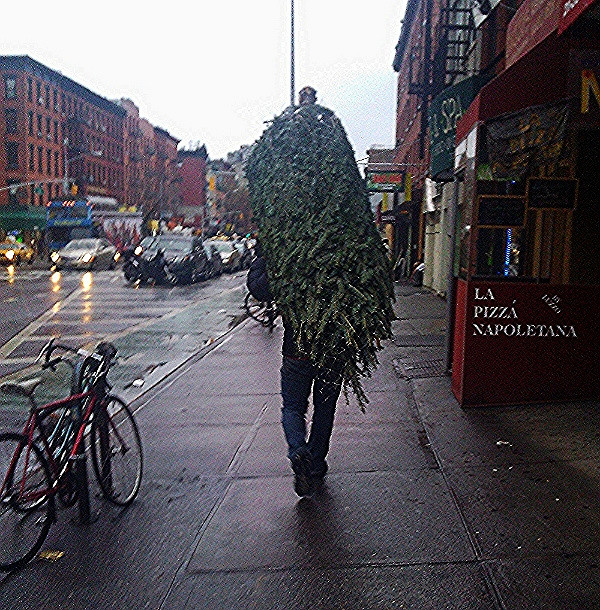 photo: Mike Licht/NotionsCapital
Living in upstate New York, I tend to take Christmas trees for granted, but every year about this time I spend a few days in Manhattan. Walking past the sidewalk Christmas tree vendors, I find myself acutely aware of the scent of freshly cut evergreens (generously seasoned with exhaust fumes and food cart aromas, of course).
I realize there's nothing unique about having Christmas trees on my mind this time of year. Last weekend I also made my annual pilgrimage to the Metropolitan Museum of Art to see its beautiful Christmas Tree and Neapolitan Baroque Crèche in the Medieval Sculpture Hall. On the other hand, there was a special Christmas tree moment in a subway station while I was in the city, so my traditional holiday season trip was enhanced a bit more than usual.
I've also been monitoring the impressive growth of a bookstore Christmas tree forest in social media postings. Now it's time to share some of my finds, beginning with the arrival of Brewery Bhavana's 15-foot-tall holiday tree in Raleigh, N.C.: "We decided this year to pick naturally shaped asymmetrical trees for both Bhavana and Bida Manda to go along with our intention to lean in when things get tough and to embrace all of life's beautiful imperfections."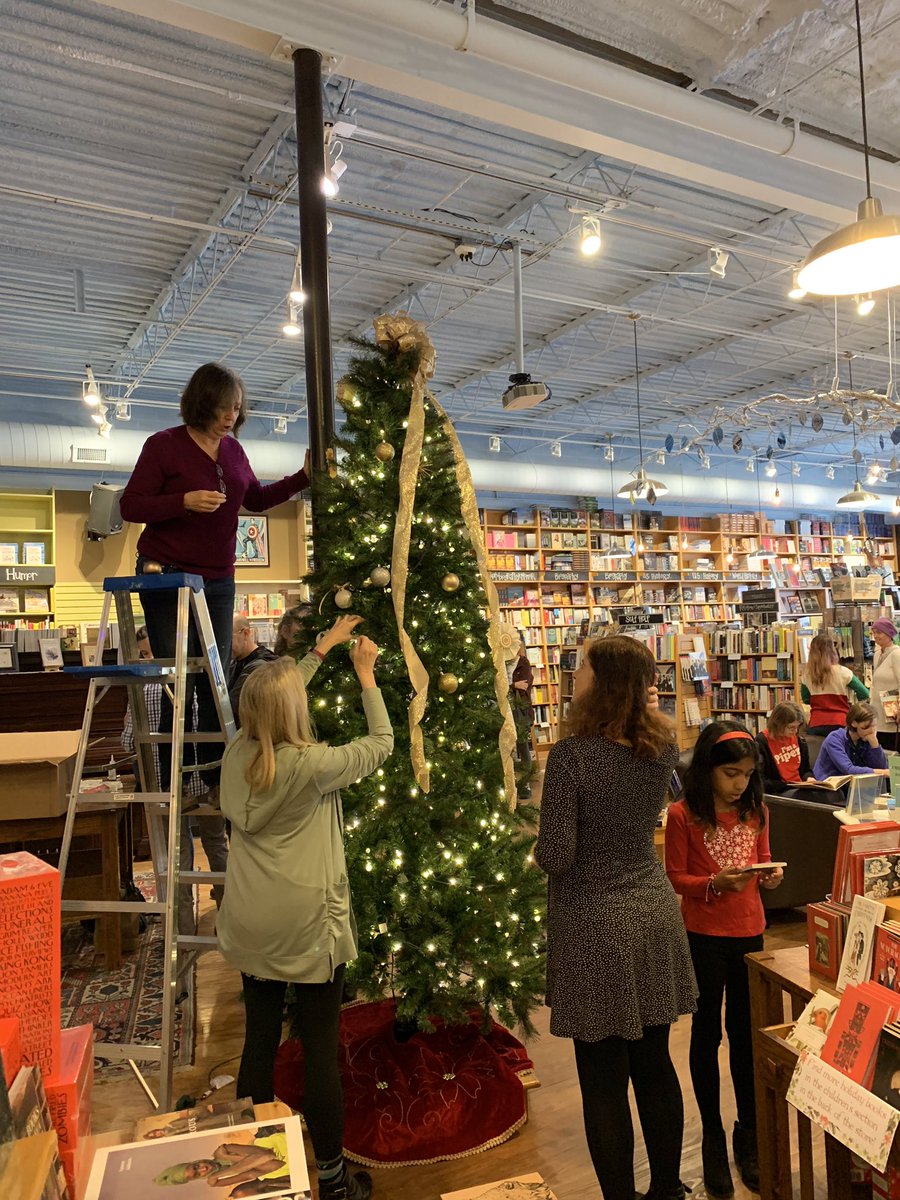 Tree trimming at Parnassus
The decorating process was shared by Yardstick Bookshop and Gallery in Algoma, Wis., and Parnassus Books, Nashville, Tenn ("Tree trimming in progress!"); while final results were on display at Browse Awhile Books, Tipp City, Ohio ("Come See us!"); the Open Book Canyon Country, Santa Clarita, Calif. ("It's official, the Open Book has hit peak holiday spirit."); the Mulberry Bush Bookstore in Parksville, B.C.; and Goldsboro Books in London, England ("It's beginning to look a lot like Christmas...").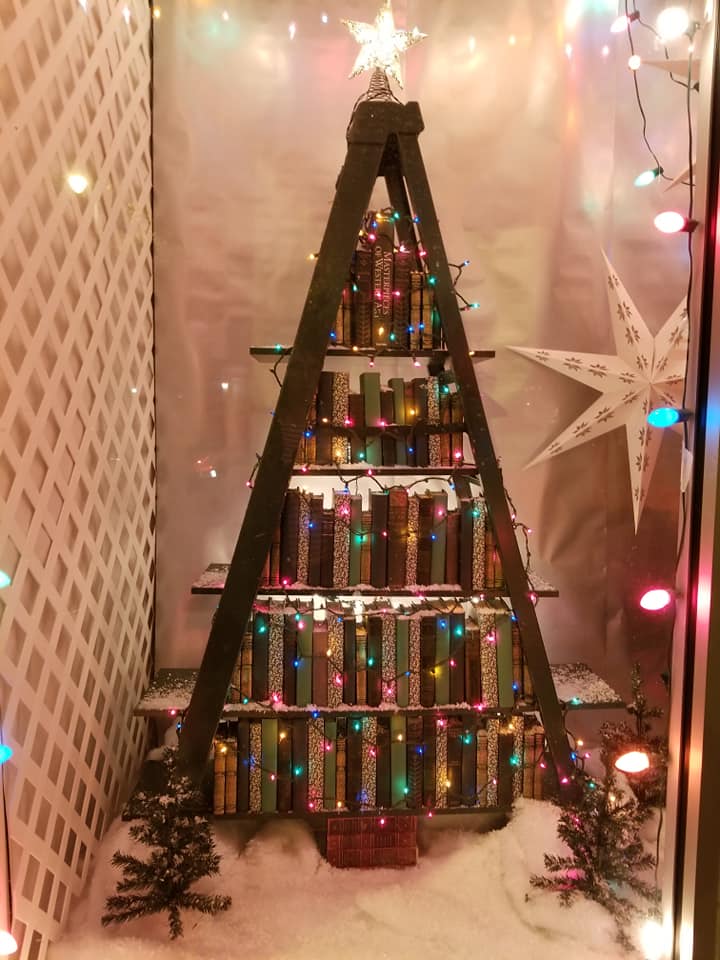 At Burke's Book Store
Christmas trees constructed from books seem less popular than they were a few years ago, but there are still some fine ones on display, including Burke's Book Store's creative spin in Memphis, Tenn.; a holiday bookstack at Book No Further, Roanoke, Va.; and Penguin Bookshop's befogged tree in Sewickley, Pa. ("Our event last night was so steamy our windows fogged up, creating this beautiful image of our book tree, seen from outside.").
Many booksellers decorate their in-store holiday trees with variations on the theme of book angel donation initiatives to get books into the hands of children who might have limited access to them.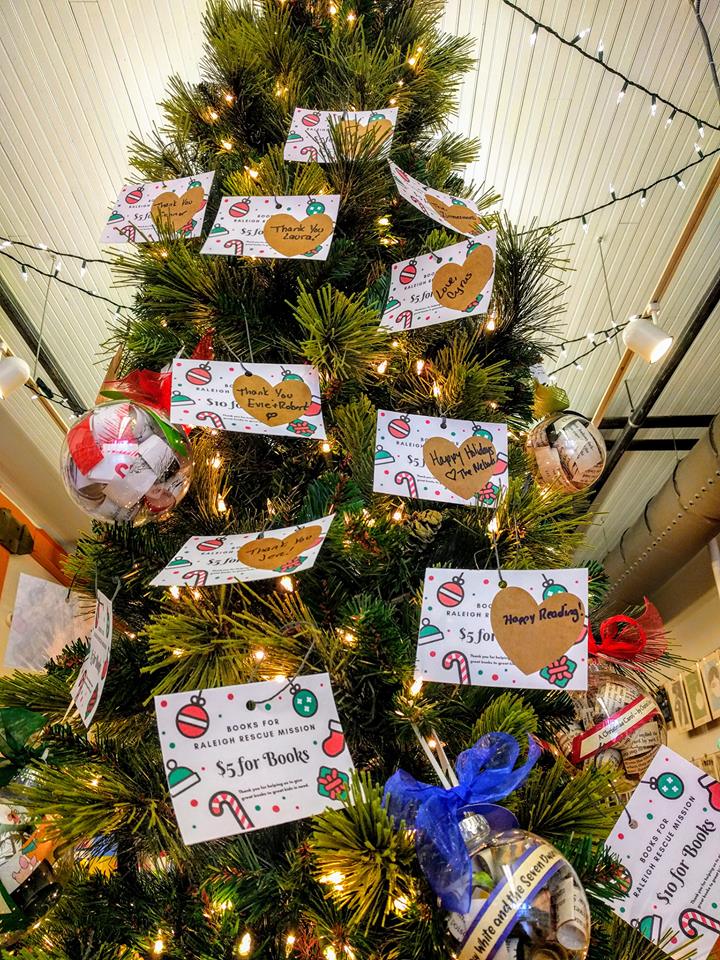 Giving Tree at Read With Me
"Soon this tree will become our Book Angel tree. Tags will be hung with the names of local children who will get a gift-wrapped book for the holidays thanks to your generosity," Northshire Bookstore, Manchester Center, noted. "Our Angel Tree has arrived!" Page After Page Bookstore, Elizabeth City, N.C., announced last week. Read With Me, Raleigh, N.C., shared a photo of its Giving Tree, "filled with families' names who have helped us give great new books to great kids in need at the Raleigh Rescue Mission."
Mary F. Buckley, co-owner of Eight Cousins Books in Falmouth, Mass., told the Enterprise that their Giving Tree has returned: "It is a wonderful program. It was Betty Borg's idea, and when Carol [Chittenden] took over the store, she kept the tradition alive, and we continued it.... We thought it was a wonderful project. It is a way to provide books to kids who may not have them during the holiday season."
Indigo Bridge Books and Café, Lincoln, Neb., featured a book tree as well as a Giving Tree program that accepts blanket donations for Prescott Elementary's Family Literacy Program: "Each family member will receive a new blanket and a book in their native language. Choose an ornament from the tree and bring your blanket back to Indigo by December 15."
Although not strictly speaking a bookstore, Longwood Gardens in Kennett Square, Pa., has blended the concepts: "Created from more than 1,500 children's books, this 14-foot tree symbolizes the act of book giving. Each book on this tree will be donated to local schools at the end of our Christmas display."
Carmichael's Bookstore, Louisville, Ken., is offering an alternative: "We love books AND animals so are happy to help our friends No Kill Louisville. Stop by our Frankfort Avenue store and grab an ornament today!"
For sheer Christmas tree forest ambition, however, a special shout-out must go to the Galilean Christian Bookstore in Leesville, La., which "dazzles customers with more than a dozen Christmas trees... sprinkled throughout the store," KALB reported.
All this has brought to mind a book that I used to handsell this time of year: Christmas on Jane Street: A True Story by Billy Romp and Wanda Urbanska. Every year, Vermonter Romp and his family spent December living in a camper and selling Christmas trees on Jane Street in Greenwich Village. In the book, he writes: "I'm a modest man, but I will tell you this: I have this gift for matching the right tree with the right customer... In my view, a Christmas tree is not merely a piece of merchandise, it's something worthy of respect." Sounds like he'd make a good bookseller, or at least know the perfect tree to recommend for your store.