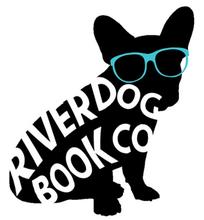 River Dog Book Co., a bookstore and planned bookmobile in Beaver Dam, Wis., has made its debut as a bookstore without a storefront. At present, owner BrocheAroe Fabian sells new and used books, along with e-books and audiobooks, through the store's website and hosts a variety of events, book clubs and pop-ups around Beaver Dam.
"I want to be focused on engaging the community," explained Fabian, who has worked at bookstores around the country over the past 12 years. "I don't want people to think of it as a transactional relationship only--I want to disrupt what people think of as a bookstore."
Although Fabian moved to Beaver Dam only in October, she started running River Dog events in late summer, with the launch of the Armchair Travel Bookclub. The book club, which is open to anyone, anywhere in the world, reads a new book every two months and meets either virtually through Facebook or in person, depending on location, to discuss the title. So far, the club has three "chapters," in North Carolina, Minnesota and New York. In January, Fabian plans to launch a mystery and YA-for-adults book club in Beaver Dam, possibly followed by a romance book club in February.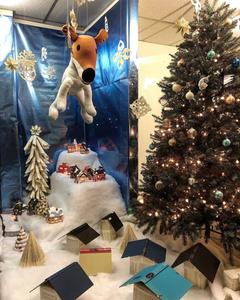 River Dog's downtown window display
Fabian has started working with the local library and, as part of the #IndiesGiveBack promotion, began distributing copies of Ghost by Jason Reynolds to local middle school students on November 24. On January 19, Fabian and Beaver Dam's youth services librarian will host a discussion group at the library. Fabian hosts roughly one pop-up event per month, and most recently, she participated in downtown Beaver Dam's window-display contest, setting up an Olive the Other Reindeer-themed holiday display.
Fabian's decision to open a store in Beaver Dam came about in an unusual way. In November 2017, the town's mayor, who was elected on a platform of revitalizing Beaver Dam's ailing downtown, reached out to the Midwest Independent Booksellers Association about bringing in an indie bookstore to serve as an anchor for the downtown. At the time, Fabian and her partner were already looking to make their next move, and after visiting Beaver Dam earlier in the year, they decided to take the plunge.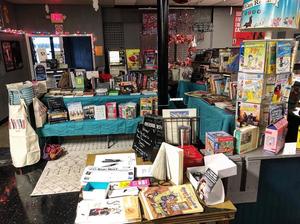 River Dog pop-up store
Since her arrival in Beaver Dam, Fabian has been constantly looking for organizations to partner with, including senior centers, hospitals, schools and libraries, the local humane society and even prisons.
"How can I partner with anyone, anywhere?" Fabian mused. In some ways, she said, not having a bricks-and-mortar location actually helps her mission, because otherwise she worried that her sole focus would be on trying to drive people into the store. "Obviously I have to make money at the end of the day. But if that's my sole purpose, then I feel like I've failed the community."
When asked about how the Beaver Dam community has responded to her plans, Fabian answered that the reaction has been "split between overwhelmingly positive, and a little confused." People are extremely enthusiastic, she explained, but don't quite know what she means when she says things like bookmobile or pop-up. The downtown holiday display, she added, is another way of "helping people understand how to interact with what's open."
The gradual roll-out of River Dog Book Co. is part of a flexible, scalable business plan that Fabian has been working on for some time. At various times over the years, while working as a bookseller in Massachusetts and again in Oregon, Fabian began seriously considering opening a store of her own, but couldn't get the financials to work. In recent years, Fabian has taken inspiration from some of the less traditional business models used by booksellers like Angela Maria Spring of Duende District Bookstore and Deborah Cohen of the bookmobile The Story House, and modified her plans.
Fabian is currently in the hunt for a bookmobile, with her dream being a big, beautiful trolley and her second choice a large bus. Her two major requirements, she said, are that the vehicle can be made ADA-accessible and that she won't have to replace the transmission in the first three months. She's looked at a few so far, but hasn't found anything quite right yet. Fabian added that she's always been so drawn to the idea of a bookmobile because it allows her to reach people wherever they are, whether they live in book deserts, are homebound or live in senior centers or hospitals.
Once the bookmobile is out and about, Fabian plans to divide the inventory roughly in half between a set selection of books, including some of her favorites as well as titles on the MIBA bestseller list or Indie Next List, and a rotating selection curated to whatever organization she's partnering with or event at which she's set up. Her selection at a school book fair, she said, is going to look at lot different from what she takes to a senior center, which will also look different from what she might bring to a gardening club meeting. And regardless of where she's set up, she'll always have a wide range of price points and a mix of new and used.
"I'm all about accessibility," she said. --Alex Mutter