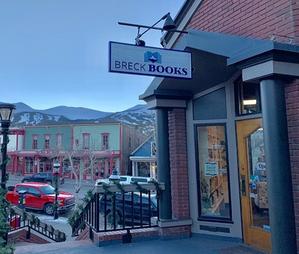 Richard and Kim Sims, who have 20 years of experience in bookselling, opened Breck Books last month in Breckenridge, Colo., and are "seeing signs they found the ideal place," Summit Daily wrote.
"We have a lot to learn," Richard Sims said of running a bookstore in a resort community. "But we have begun to see it in the last few days, and it makes us feel confident that--I don't want to say we know what we're doing--but it's falling into place a little bit and keeping us optimistic.
Based on their research, they believe that Breckenridge can support a bookstore that has "a robust children's section and carries new releases, time-honored classics, hiking and snow-trekking guides and high-altitude cookbooks," the paper continued.
"The people that come [to Breckenridge] have some money to travel with, they're only here for four or five days, and they're not going to order from Amazon," Richard Sims commented. "They see something, they buy it; that was the picture we got."
Besides books, the store carries a range of gift items from book-themed baby clothing to note cards, greeting cards, puzzles, mugs, and wooden games.
Kim Sims said, "My big find for the year, I think--it's already quite popular--is Cards Against Muggles. It's all Harry Potter and just as racy as Cards Against Humanity, so it's not recommended for the 10-year-olds, but it's a fun game."